30 Second Wine Advisor: Today's Sponsor
• Brentwood Wine Company
http://www.brentwoodwine.com

In This Issue
• Getting to know Bourgueil
• Domaine de la Chanteleuserie 2000 "Cuvee Alouettes" Bourgueil
• Brentwood Wine Company - The Best Wines, Online.
• Last Week's Wine Advisor Index
• Administrivia
Getting to know Bourgueil
In a world with literally hundreds of thousands of choices in wine, it's all too easy to shun an item with a name we don't know, particularly if that name seems difficult to pronounce.
But fear of the unfamiliar and the unpronounceable can cause us to miss out on some excellent wine - and this is certainly true in the case of the wine we're examining today: Bourgueil.
Bor-gay? Bur-gee? Bur-gooey, even? It's certainly one of those French names that can prove daunting to English-speaking tongues. But persistence, and a couple of practice tries, will get you close enough to ask for it without embarrassment in the wine shop or restaurant. Break it into three syllables (or maybe two-and-a-half) as Bour-gue-il and say it "Boor-guh-y."
The rest of the story is simple enough: The wine, as most French wines are, is named for its region of origin, not the grape. In the heart of the Loire valley, not too far from the Atlantic, Bourgueil lies on the north bank of the river and Chinon on the south, in the sub-region known as Touraine.
While most of the Loire is known for white wines, Bourgueil and Chinon specialize in reds, made mostly from the Cabernet Franc grape that's locally known as Breton. (Recent regulatory changes now allow some Cabernet Sauvignon to be added to the blend, but Cabernet Franc still predominates.)
These wines represent a real change of pace for palates accustomed to hearty, inky, tooth-staining reds: They're relatively subtle and delicate - some authorities refer to them as "Beaujolais-style," although I find that misleading. They usually show mixed-berry aromas and flavors - raspberry in particular - along with marked herbal scents that often remind me of tarragon or that familiar "pencil-sharpener" aroma of fresh oregano, all backed by a snappy acidity that makes the wines sing with food.
Today's example comes from a property nearly two centuries old, whose current owner, Thierry Boucard, represents the seventh generation of his family in the business since 1822. Its light but bright flavors make it an exceptional red-wine match with chicken dishes.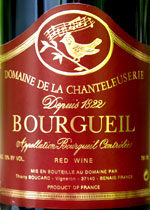 Domaine de la Chanteleuserie 2000 "Cuvee Alouettes" Bourgueil ($12.99)
Dark garnet in color, with aromas of fresh red fruit and a distinct herbal impression of oregano. Bright and juicy red-berry fruit flavors over "green" herbaceous notes and fragrant black pepper, nicely structured with zippy acidity. U.S. importer: Kermit Lynch Wine Importer, Berkeley, Calif. (May 19, 2002)
FOOD MATCH: Its fresh berry and herb notes make it a natural with pan-grilled chicken breasts with mushrooms and red bell peppers over pasta.
VALUE: Thanks to its flavor, balance and fine expression of the best qualities in Loire reds, it exceeds expectations in the $13 range.
Brentwood Wine Company - The Best Wines, Online.
The first continuous online wine auction website, we've been bringing the finest in rare and collectible wines to consumers and professionals since 1998. Our selection and service is unmatched, and our hammer prices and buyers premiums are some of the lowest in the industry. Discover why the world's top collectors and restaurants already buy from us.
We specialize in providing the wines you don't see on the racks in your favorite local shops - our selections are almost exclusively gathered from wine lovers and collectors like yourself who have extended the opportunity to us to purchase some or all of their cellars. Classic First-Growths, robust Super Tuscans, luscious "stickies", and extremely limited production bottlings that have NEVER seen a store are our forte, not just unexpected finds. Our auctions close weekly - no waiting months for your dream wines to arrive. To learn more and sign up for our complimentary newsletter, visit us at:
As mentioned, we also buy your well-stored private collections at competitive prices and pay within days - not weeks or months. We'll appraise your collections for free using current pricing date from our partner company, the Wine Market Journal. To learn more:
http://www.brentwoodwine.com/auctions/buy.html.
We look forward to your visit!
Cheers,
The Brentwood Wine Team
Last Week's Wine Advisor Index
For Monday-only readers who'd like to read specific daily Wine Advisor articles, here's last week's index:
• Popping a Prosecco (May 17)
http://www.wineloverspage.com/wineadvisor/tswa020517.phtml
• A secret from Spy Valley (May 16)
http://www.wineloverspage.com/wineadvisor/tswa020516.phtml
• Two more U.S. wineries embrace screw cap (May 15)
http://www.wineloverspage.com/wineadvisor/tswa020515.phtml
• Tasting Torrontes (May 14)
http://www.wineloverspage.com/wineadvisor/tswa020514.phtml
• Do I ever dislike a wine? (May 13)
http://www.wineloverspage.com/wineadvisor/tswa020513.phtml
• Complete 30 Second Wine Advisor archive:
http://www.wineloverspage.com/wineadvisor/thelist.shtml
• Last week's Wine Advisor Foodletter: Creating a dish: Smoked salmon and eggs (May 16)
http://www.wineloverspage.com/wineadvisor/tsfl020516.phtml
• Wine Advisor Foodletter archive:
http://www.wineloverspage.com/wineadvisor/foodlist.phtml
Administrivia
To subscribe or unsubscribe from The 30 Second Wine Advisor, change your E-mail address, switch from weekly to daily distribution, or for any other administrative matters, click to http://www.wineloverspage.com/wineadvisor/admin.phtml. In all administrative communications, please be sure to include the exact E-mail address that you used when you subscribed, so we can find your record. If you must unsubscribe, please take a moment to tell us why you're leaving, and to offer any comments or suggestions you may have.
We welcome feedback, suggestions, and ideas for future columns. To contact me, please click to http://wineloverspage.com/ask_a_question.phtml. You may also send E-mail to wine@wineloverspage.com, but the link above is the simplest way to reach me directly.
We do not use this E-mail list for any other purpose and will never give or sell your name or E-mail address to anyone.
All the wine-tasting reports posted here are consumer-oriented. In order to maintain objectivity and avoid conflicts of interest, I purchase all the wines I rate at my own expense in retail stores and accept no samples, gifts or other gratuities from the wine industry.
Monday, May 20, 2002
Copyright 2002 by Robin Garr. All rights reserved.
Subscribe to the 30 Second Wine Advisor
Wine Advisor archives