30 Second Wine Advisor: Today's Sponsor
• PinotReport
http://www.pinotreport.com

In This Issue
• Popping a Prosecco
• Nino Franco "Rustico" Prosecco di Valdobbiadene
• Administrivia
Popping a Prosecco
Pardon me for popping off, but I thought it might be fun to end this week with a bang ... specifically, the festive noise of a cork coming out of a bottle of sparkling wine.
We're not talking about Champagne today, though, but the lighter, simpler and frankly more casual sparkle of Prosecco ("Pro-seh-ko"), a delightful (and relatively inexpensive) Italian sparkler from the pretty Veneto hills around Conegliano, Pieve di Soligo and Valdobbiadene north of Venice.
Made primarily from the local Prosecco grape and an optional bit of Verdiso, the sparkling wine may add up to 25 percent Pinot Bianco, Pinot Grigio and Chardonnay in the blend. Most Prosecco is fully sparkling (spumante), but some is frizzante (lightly sparkling), and a smaller amount of non-sparkling white wine is made.
These sparkling wines are not made by the labor-intensive Champagne process in which the bubbles come from fermentation in the individual bottle; rather, Prosecco was one of the first wine regions to develop the simpler Charmat or tank process, in which a large vessel of wine is carbonated in bulk before being bottled. Although this process is not highly regarded world-wide, it seems to work in Prosecco, where the wines - if not comparable to the potential depth and character of Champagne - are almost always crisp and enjoyable.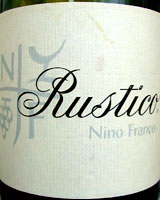 Nino Franco non-vintage "Rustico" Prosecco di Valdobbiadene ($11.99)
Clear, pale straw color, the wine pours up with a frothy mousse that falls back fast, leaving a prickly carbonation that's cleansing but a bit less bubbly than Champagne. Yeasty white fruit and a light fresh-milk scent reminiscent of ricotta cheese add aroma interest, and its flavor is clean and snappy, with tingly carbonation that works well to wash down food. U.S. importer: Vin DiVino Ltd., Chicago. (May 15, 2002)
FOOD MATCH: Prickly carbonation and crisp dry fruit make a surprising match with a "gourmet-style" Thai chicken pizza with spicy peanut sauce.
VALUE: Purists might downgrade Prosecco because it is not made by the traditional fermented-in-the-bottle process, but when you compare it to Champagne prices, it's hard to deny the value of a clean, fresh $12 sparkler with good balance and flavor interest.
WEB LINKS: The official consortium of Prosecco producers has a Website in Italian and English at
http://www.prosecco.it/.
Click the link "The Land of Prosecco from Conegliano to Valdobbiadene" for the English-language pages.
Administrivia
To subscribe or unsubscribe from The 30 Second Wine Advisor, change your E-mail address, switch from weekly to daily distribution, or for any other administrative matters, click to http://www.wineloverspage.com/wineadvisor/admin.phtml. In all administrative communications, please be sure to include the exact E-mail address that you used when you subscribed, so we can find your record. If you must unsubscribe, please take a moment to tell us why you're leaving, and to offer any comments or suggestions you may have.
We welcome feedback, suggestions, and ideas for future columns. To contact me, please click to http://wineloverspage.com/ask_a_question.phtml. You may also send E-mail to wine@wineloverspage.com, but the link above is the simplest way to reach me directly.
We do not use this E-mail list for any other purpose and will never give or sell your name or E-mail address to anyone.
All the wine-tasting reports posted here are consumer-oriented. In order to maintain objectivity and avoid conflicts of interest, I purchase all the wines I rate at my own expense in retail stores and accept no samples, gifts or other gratuities from the wine industry.
Friday, May 17, 2002
Copyright 2002 by Robin Garr. All rights reserved.
Subscribe to the 30 Second Wine Advisor
Wine Advisor archives