30 Second Wine Advisor: Today's Sponsor
• PinotReport
http://www.pinotreport.com

In This Issue
• A secret from Spy Valley
• Spy Valley 2000 Marlborough Pinot Noir
• Administrivia
A secret from Spy Valley
If you ever tour New Zealand's mountainous and stunningly beautiful South Island, you won't want to miss the Marlborough and Central Otago wine regions, and of course you must take in the spectacular, snow-capped Southern Alps.
But it's unlikely that you'll be invited to drop in on the Waihopai satellite interception station.
Better known as the "Waihopai spy station," this high-tech and super-secret facility eavesdrops on all the electronic communications - telephone, fax, telex, even E-mail - that cross the Pacific.
A key link in a global, multi-national spy system called ECHELON, the Waihopai station uses powerful computers to sift through billions and billions of bytes in search of selected key words. Suspicious communications are copied and sent off in "real time" to intelligence agencies in New Zealand, Australia, the United States, Canada or Great Britain.
Critics - and there are plenty of them - complain that ECHELON, in contrast with Cold War-era spy operations, listens in on non-military communications of governments, businesses, organizations and individuals. The station has been the site of frequent demonstrations and calls for the government to restrict it or scale it back.
But at least one canny Kiwi wine producer has placed tongue firmly in cheek to convert a controversy into a marketing opportunity.
Spy Valley Winery, located just down the valley from the spy station's golfball-shaped "radomes," adorns its high-tech wine labels with a mysterious pixelated logo that suggests a stream of digital bytes flying through a spy station. Adding slogans like "New Zealand's Top Secret" and "For Your Lips Only," they're producing wines of real flavor interest and value. The brand has just arrived in our market, where the 2000 caught my attention last week at Louisville's hot new restaurant, Avalon. Based on its quality, I'll be trying Spy Valley again.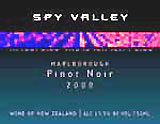 Spy Valley 2000 Marlborough (New Zealand) Pinot Noir ($28/restaurant price)
Pretty cherry color, not overly dark, with the "green" tobacco-leaf aromas I associate with New Zealand Pinot, followed by bright and pleasantly herbaceous tart-cherry fruit. Good structure and balance, fruity but not sweet, excellent with food. U.S. importer: Broadbent Selections, San Francisco. (May 10, 2002)
FOOD MATCH: The wine's herbal fruit did a great job of bridging two disparate restaurant dishes: Rare lamb tenderloin over wild-mushroom risotto, and a "burger" made of lightly ground veal and foie gras.
VALUE: At $28 on a restaurant wine list, it fell within the realm of reason for dinner for two. Based on the standard markup, I would expect it to retail for $15 to $20, at which point it would be a good value.
WEB LINKS: You'll find the winery Website at
http://www.spyvalleywine.co.nz/.
The U.S. importer's Spy Valley fact sheet is at
http://www.broadbent-wines.com/spyvalley.html.
And for more on Spy Valley, visit Sue Courtney's New Zealand Wine of the Week Website,
http://www.wineoftheweek.com/hist/wine201203.html.
Administrivia
To subscribe or unsubscribe from The 30 Second Wine Advisor, change your E-mail address, switch from weekly to daily distribution, or for any other administrative matters, click to http://www.wineloverspage.com/wineadvisor/admin.phtml. In all administrative communications, please be sure to include the exact E-mail address that you used when you subscribed, so we can find your record. If you must unsubscribe, please take a moment to tell us why you're leaving, and to offer any comments or suggestions you may have.
We welcome feedback, suggestions, and ideas for future columns. To contact me, please click to http://wineloverspage.com/ask_a_question.phtml. You may also send E-mail to wine@wineloverspage.com, but the link above is the simplest way to reach me directly.
We do not use this E-mail list for any other purpose and will never give or sell your name or E-mail address to anyone.
All the wine-tasting reports posted here are consumer-oriented. In order to maintain objectivity and avoid conflicts of interest, I purchase all the wines I rate at my own expense in retail stores and accept no samples, gifts or other gratuities from the wine industry.
Thursday, May 16, 2002
Copyright 2002 by Robin Garr. All rights reserved.
Subscribe to the 30 Second Wine Advisor
Wine Advisor archives