30 Second Wine Advisor: Today's Sponsor
• PinotReport
http://www.pinotreport.com

In This Issue
• Two U.S. wineries embrace screw cap
• Argyle 2000 Willamette Valley (Oregon) Pinot Noir
• A message from PinotReport: Are You Passionate About Pinot Noir?
• Administrivia
Two more U.S. wineries embrace screw cap
Almost as if it were timed to underscore this week's Wine Lovers' Voting Booth question about "wine closures of the future," a respected Oregon winery has announced plans to start bottling some of its quality red wines using a screw cap instead of the traditional cork.
Argyle Winery of Dundee, Oregon, will be the first winery in the Pacific Northwest to use screw caps to secure a premium red wine, reported Christina Kelly on the regional wine-news Website www.Oregon-Wine.com. Argyle's Cabernet Franc and Merlot - both of which retail in the $30 range - started coming off the bottling line with screw caps last month.
In a similar move, California's Bonny Doon Vineyard recently announced that it will immediately begin using screw caps for its "Big House" red and white wines under the Ca' del Solo label, $10 wines with annual production of 80,000 twelve-bottle cases. Bonny Doon, which had switched much of its production from natural cork to colorful synthetic stoppers, intends to shift its entire wine production to screw caps within the next few years. (Earlier, the boutique PlumpJack winery made headlines in 2000 when it released some of its $100 Cabernet with screw caps; and Sonoma-Cutrer announced plans last autumn to use a screw cap on its high-end Chardonnay.)
Of all the emerging alternatives to natural cork, the screw cap may be the most controversial and maligned, because it has long been associated with cheap, "rotgut" wines, a prejudice that the makers of the original "Muppet Movie" captured with great comedy in the memorable scene where the actor Steve Martin, playing a wine steward, dramatically unscrewed a bottle for Miss Piggy and Kermit the Frog.
Or as two respondents in our Voting Booth commented, "screw caps will take 100 years to catch on," and "Screwcaps are for rot-gut!"
Clearly the screw cap lacks the romance of the cork. But consumer resistance to the cork is rising as an increasingly sophisticated market discovers the reality that as many as one in 20 bottles of premium wine may be afflicted by tainted corks that impart a mushroomy, musty aroma that spoils the wine.
The cork industry, primarily based in Portugal, has responded aggressively to the issue with a combination of technology approaches and public relations, but alternative closures still seem to be gaining market share. The screw cap has become a widely accepted option in Australia and New Zealand, where extensive testing is showing excellent results; and this week's news from Argyle and Bonny Doon may signal a breakthrough change in attitude by American producers.
It may not be as long as some critics had thought before Steve Martin's question to Kermit turns from comedy to routine reality: "Would you like to smell the ... bottle cap?"
For Ms. Kelly's full article on Argyle's screw cap move, see
http://www.oregon-wine.com/article-screwtop.htm.
And if you haven't yet participated in our Voting Booth on alternative closures, you'll find it at
http://www.wineloverspage.com/votebooth/index.shtml.
Speaking of Argyle, here's a recent report on their basic Willamette Valley Pinot, an excellent introduction to Oregon wine.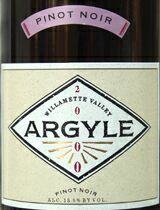 Argyle 2000 Willamette Valley (Oregon) Pinot Noir ($16.99)
Clear ruby, typically light in color for a Pinot Noir. Fresh and complex, floral red fruit and "tomato skin" aromas. Juicy and fresh, light and crisp red-fruit flavors and appropriately tart acidity. Pleasant wine with plenty of Pinot character. (April 5, 2002)
FOOD MATCH: Pinot's fruit and earth go well with mushrooms, and this one makes an excellent marriage with pizza with mushrooms and goat cheese.
VALUE: Good Pinot isn't cheap, and the $17 tag is actually near the lower end of the range for premium Oregon Pinot. It's a fair value.
WEB LINKS: The Argyle Winery Website is at
http://www.argylewinery.com/.
An excellent Oregon wine shop offering many top regional wines (with shipping where permitted by law) is Avalon Wine,
http://www.avalonwine.com/.
A message from PinotReport: Are You Passionate About Pinot Noir?
PinotReport is the only one-stop source for news, reviews, tasting analysis, cuisine and lifestyle content focused on Western Pinot Noir. Published monthly, the newsletter is available by mail, fax, email and online at
http://www.pinotreport.com.
My name is Gregory Walter and I am the writer, taster, editor, publisher and chief wine glass washer for PinotReport. This newsletter is something I've wanted to do for a long time. It's my next step in a 23-year journey in wine and food highlighted by 14 years as a senior editor and president of Wine Spectator magazine, as well as many other food and wine publishing roles. All along I have continued to taste and learn about wine and food in general and Pinot Noir in particular. I've traveled through all the major western Pinot Noir regions and I am driven to learn more and passionate about sharing with others what I've found.
PinotReport is more than just another wine-review newsletter. I'm as fascinated by the people involved in making the wine, the wine regions and the foods that match well at the table. It's that broader perspective that I try to bring to the pages of PinotReport.
I hope that what I've said has you at least interested in trying PinotReport. If so, I'd love to welcome you as a Charter Subscriber with a special price that saves you $25 off the regular one-year rate.
To subscribe or learn more, click on the link below:
http://www.pinotreport.com.
EDITOR'S NOTE: I'm delighted to announce that PinotReport has become a media partner with WineLoversPage.com. For a sample article on Oregon's Ken Wright Cellars, see
http://www.wineloverspage.com/pinotreport/kenwright.phtml.
Administrivia
To subscribe or unsubscribe from The 30 Second Wine Advisor, change your E-mail address, switch from weekly to daily distribution, or for any other administrative matters, click to http://www.wineloverspage.com/wineadvisor/admin.phtml. In all administrative communications, please be sure to include the exact E-mail address that you used when you subscribed, so we can find your record. If you must unsubscribe, please take a moment to tell us why you're leaving, and to offer any comments or suggestions you may have.
We welcome feedback, suggestions, and ideas for future columns. To contact me, please click to http://wineloverspage.com/ask_a_question.phtml. You may also send E-mail to wine@wineloverspage.com, but the link above is the simplest way to reach me directly.
We do not use this E-mail list for any other purpose and will never give or sell your name or E-mail address to anyone.
All the wine-tasting reports posted here are consumer-oriented. In order to maintain objectivity and avoid conflicts of interest, I purchase all the wines I rate at my own expense in retail stores and accept no samples, gifts or other gratuities from the wine industry.
Wednesday, May 15, 2002
Copyright 2002 by Robin Garr. All rights reserved.
Subscribe to the 30 Second Wine Advisor
Wine Advisor archives