30 Second Wine Advisor: Today's Sponsor
• California Wine Club
http://www.cawineclub.com

In This Issue
• Tasting Torrontes
• Santa Julia 2001 Torrontes
• Rhone tour: Last chance!
• Administrivia
Tasting Torrontes
Just as Argentina took a relatively obscure French red grape, Malbec, and turned it into the nation's signature red wine, a similar trans-Atlantic borrowing seems to be underway with a little-known Spanish white variety.
We're talking about Torrontes, today's featured wine and a strong candidate to join your list of fresh and aromatic whites for summer sipping.
Pronounced "Toe-rron-tayz," with a double Spanish trill on the R if you can handle it, Torrontes originated in Galicia, the northwestern corner of Spain, where it's still used to make fresh white wines, most of which don't turn up in the export market but stay at home for casual quaffing.
Argentina, however, grows more than 40,000 acres of Torrontes, where it thrives in the dry conditions of the Mendoza wine region on the eastern slopes of the Andes. If you see this name on a label, you can be all but certain that you've got an Argentine wine.
The wine it makes is typically crisp and may be tartly acidic, but it's the complex perfume that sets this grape apart as an aromatic variety in the same flavor niche as Gewurztraminer or even Muscat.
Today's tasting focuses on a startlingly inexpensive label that shows real aroma interest despite its bargain-bin price.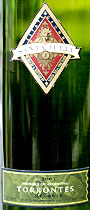 Santa Julia 2001 Torrontes (Argentina) ($5.99)
Pale gold. Aromatic and unusual scent, perfumed exotic flowers and spice with an overtone of spearmint. Fresh and slightly sweet, soft but sufficiently acidic for balance. U.S. importer: Winecellars Ltd., Skokie, Ill. (May 12, 2002)
FOOD MATCH: Fine with a risotto loaded with anise-scented finocchio and onions.
VALUE: The $6 price places this at the extreme low end of premium wines, and its budget price shows in its relative simplicity and a touch of sweetness perhaps aimed at the mass-market. But it's an enjoyable quaff and a very good value.
WEB LINK: The U.S. importer has a Santa Julia fact sheet at
http://www.winesellersltd.com/argentina.htm.
Rhone tour: Last chance!
Our wine tour of the southern Rhone Valley and Provence is now less than a month away, and accordingly, we must finally, regretfully close reservations tomorrow.
We do have a couple of spots left open, so if by any chance you have been procrastinating, this is your last chance to join us for this year's tour. (But stay tuned, as in the near future we'll be announcing plans for a similar jaunt through Bordeaux in the spring of 2003.)
I will join wine experts Lauriann Greene and Jean-Pierre Sollin of French Wine Explorers, a high-quality American tour company that specializes in wine tours of France, for an in-depth exploration of these two beautiful regions and their vineyards and wines.
The mood will be relaxed and the attitude easy as we make our way through some of France's most enjoyable wine regions as a small community of wine-loving friends, taking a close-up, inside look at the wines and food of the region and meeting the people who make them.
For more information or to make that last-minute reservation, click to the French Wine Explorers' Website,
http://www.wine-tours-france.com/RhoneProvence.htm.
Administrivia
To subscribe or unsubscribe from The 30 Second Wine Advisor, change your E-mail address, switch from weekly to daily distribution, or for any other administrative matters, click to http://www.wineloverspage.com/wineadvisor/admin.phtml. In all administrative communications, please be sure to include the exact E-mail address that you used when you subscribed, so we can find your record. If you must unsubscribe, please take a moment to tell us why you're leaving, and to offer any comments or suggestions you may have.
We welcome feedback, suggestions, and ideas for future columns. To contact me, please click to http://wineloverspage.com/ask_a_question.phtml. You may also send E-mail to wine@wineloverspage.com, but the link above is the simplest way to reach me directly.
We do not use this E-mail list for any other purpose and will never give or sell your name or E-mail address to anyone.
All the wine-tasting reports posted here are consumer-oriented. In order to maintain objectivity and avoid conflicts of interest, I purchase all the wines I rate at my own expense in retail stores and accept no samples, gifts or other gratuities from the wine industry.
Tuesday, May 14, 2002
Copyright 2002 by Robin Garr. All rights reserved.
Subscribe to the 30 Second Wine Advisor
Wine Advisor archives