30 Second Wine Advisor: Today's Sponsor
• California Wine Club
http://www.cawineclub.com

In This Issue
• Do I ever dislike a wine?
• Hogue 2000 Columbia Valley Merlot
• Pighin 2000 Friuli Grave Pinot Grigio
• Wine Lovers' Voting Booth: Wine closure of the future?
• California Wine Club: Not your ordinary wine club
• Last Week's Wine Advisor Index
• Administrivia
Do I ever dislike a wine?
A reader asked a question the other day that made me chuckle ... and then it made me think:
"Robin, please don't take this the wrong way," he wrote, "but have you ever met a wine you didn't like? I ask this because you always seem to give a favorable report on each wine. I note that you don't always think the wines are a good value but I don't remember any that you recommended to avoid. Do you only report on the better wines that you taste?"
It's a good question, and I thought it might be worth taking a moment today to go over my policy about wine reports ... and to invite your opinions, if you care to offer them.
The two-part answer isn't quite as simple as it seems.
First, over many years of enjoying wine and quite a few years writing about it, I have always bought the wines I review at my own expense from local retail stores. With this experience, I have become a canny shopper, and I've learned a lot of tricks to maximize my chances of choosing a wine that I'll like. (And of course I try to pass along these tips in my articles.)
Second, based on the E-mail I receive from readers like you, most people say that they would rather have me talk about wines they will probably enjoy, rather than tell them about wines that they won't.
Some wine publications offer a comprehensive guide of dozens of wines in every issue, and in this case it makes sense to grade the wines and report on the losers as well as the winners. But since usually feature only one or two wine reports in a column - and don't even do a wine report with every article - it makes sense to me to tell you about the ones that I like the most, hoping that you'll like them too.
So from the reader's perspective, yes, it might look like I like a lot of wines! But you folks don't have to suffer with me through the ones that don't make the grade.
Finally, every rule has its exceptions. On occasion I will report on a wine that I don't like, if it illustrates a common wine flaw or other interesting point.
I hope you have enjoyed this brief digression, and I welcome your comments if you care to make them. Please feel free to drop me a note at wine@wineloverspage.com. (This kind of question sometimes yields hundreds of responses, so please accept my apology in advance if I can't respond personally to every one. But I'll do my best!)
Now, just for fun, today I'll offer notes on two wines that I had originally chosen not to report, not because the wines were bad - they're really perfectly acceptable - but because I found them unexciting. If I used a 100-point scoring system, I would probably have rated them in the 70s - a passing grade, but well short of the honor roll.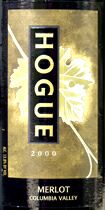 Hogue Cellars 2000 Columbia Valley (Washington State) Merlot ($10.99)
Dark, slightly hazy garnet. Wild cherry, vanilla and spice. Ripe fruit and oak aromas and flavors, simple and conveying an impression of slight sweetness; tannins become somewhat harsh with time in the glass. (April 7, 2002)
FOOD MATCH: Works with pan-grilled filet mignon, and easy match for any red.
VALUE: No bargain, even at the lower end of the mid-range price niche.
WEB LINK: Avalon Wine, an excellent Oregon wine shop, has a good article on Hogue Cellars at
http://www.avalonwine.com/Hogue-Cellars.htm.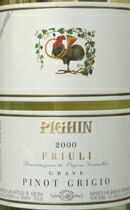 Pighin 2000 Friuli Grave Pinot Grigio ($13.99)
I wanted to like this wine because I met the winemaker as a fellow wine judge in Slovenia, and he's a friendly gent. But we can't let personal considerations override objectivity: This clear, light straw-color wine is pleasant but simple, a mass-market wine without a great deal of aroma or flavor interest beyond a faint musky note in a scent of fresh melon. The flavor is soft and citric, with only a slight acidic snap. US importer: Kobrand Corp., NYC. (April 6, 2002)
FOOD MATCH: Works well enough to wash down pasta with white clam sauce.
VALUE: I expect more than this for $14.
WEB LINK: The importer has an advertisement-style page on Pighin at
http://www.kobrandwine.com/it_85.html.
Wine Lovers' Voting Booth: Wine closure of the future?
While some wine lovers consider natural cork an important part of the romance and mystery of wine, alternative wine-bottle closures - from colorful synthetic "corks" to screw caps - are becoming commonplace. There's little doubt that alternative closures are here to stay, and that they are likely to enjoy increasing market share.
In this week's Wine Lovers' Voting Booth, we invite you to gaze into the crystal ball and tell us what you believe will be "the wine closure of the future." Please drop by
http://www.wineloverspage.com/votebooth/index.shtml and add your opinion to the list.
California Wine Club: Not Your Ordinary Wine Club!
The California Wine Club offers a monthly delivery with two bottles of award-winning wine, hand-selected from the best of California's boutique wineries. There's NO bulk-wines, NO closeouts and NO private labels!
Each month is $32.95 plus shipping and includes a fun 8-page newsletter, Uncorked. Visit the California Wine Club website at
www.cawineclub.com
or call (800) 777-4443.
A great gift for Moms, Dads and Grads!
Last Week's Wine Advisor Index
For Monday-only readers who'd like to read specific daily Wine Advisor articles, here's last week's index:
• Historic Chateauneuf (May 10)
http://www.wineloverspage.com/wineadvisor/tswa020510.phtml
• Red wine and purple teeth (May 9)
http://www.wineloverspage.com/wineadvisor/tswa020509.phtml
• All about Chardonnay (May 8)
http://www.wineloverspage.com/wineadvisor/tswa020508.phtml
• Smoking Loon (May 7)
http://www.wineloverspage.com/wineadvisor/tswa020507.phtml
• Book review: Vino Italiano (May 6)
http://www.wineloverspage.com/wineadvisor/tswa020506.phtml
• Complete 30 Second Wine Advisor archive:
http://www.wineloverspage.com/wineadvisor/thelist.shtml
• Last week's Wine Advisor Foodletter: Favorite recipes/Crab cakes (May 9)
http://www.wineloverspage.com/wineadvisor/tsfl020509.phtml
• Wine Advisor Foodletter archive:
http://www.wineloverspage.com/wineadvisor/foodlist.phtml
Administrivia
To subscribe or unsubscribe from The 30 Second Wine Advisor, change your E-mail address, switch from weekly to daily distribution, or for any other administrative matters, click to http://www.wineloverspage.com/wineadvisor/admin.phtml. In all administrative communications, please be sure to include the exact E-mail address that you used when you subscribed, so we can find your record. If you must unsubscribe, please take a moment to tell us why you're leaving, and to offer any comments or suggestions you may have.
We welcome feedback, suggestions, and ideas for future columns. To contact me, please click to http://wineloverspage.com/ask_a_question.phtml. You may also send E-mail to wine@wineloverspage.com, but the link above is the simplest way to reach me directly.
We do not use this E-mail list for any other purpose and will never give or sell your name or E-mail address to anyone.
All the wine-tasting reports posted here are consumer-oriented. In order to maintain objectivity and avoid conflicts of interest, I purchase all the wines I rate at my own expense in retail stores and accept no samples, gifts or other gratuities from the wine industry.
Monday, May 13, 2002
Copyright 2002 by Robin Garr. All rights reserved.
Subscribe to the 30 Second Wine Advisor
Wine Advisor archives