30 Second Wine Advisor: Today's Sponsors
• LandWare, Inc. Wine Enthusiast Guide 2002
http://www.landware.com/wineguide/
• WineLibrary.com
http://www.winelibrary.com
In This Issue
• Historic Chateauneuf
• Domaine Pontifical 1999 Chateauneuf-du-Pape
• Administrivia
Historic Chateauneuf
Back in the '60s, a maker of deli rye bread came up with a memorable advertising campaign that featured an American Indian taking a bite out of a sandwich, under the slogan, "You don't have to be Jewish to love Levy's Real Jewish Rye."
As we opened today's featured wine, it occurred to me that the vignerons of the Southern Rhone could borrow this concept: You certainly don't have to be Catholic to enjoy Chateauneuf-du-Pape, but a few years spent in parochial school might ease the effort of sorting out such producers of the region as Clos des Papes ("Walled vineyard of the Popes"), Cuvee du Vatican ("The Vatican's blend"), Bosquet des Papes ("The Popes' thicket), and today's wine, Domaine Pontifical ("The Pontiff's winery").
How did all this church imagery end up on wine? It goes back to a byway of history, nearly 700 years ago, when Pope Clement V, fearing political turmoil in Rome, moved the headquarters of the Catholic church to Avignon on the Rhone, bringing along all the papal court and hangers-on ... and, of course, their thirst for good wine. They planted vineyards in the region's unusual stony soil, and made hearty red wines called Chateauneuf-du-Pape, "The new castle of the Pope."
The Papacy returned to Rome after 70 years, a period that Church historians call "the Babylonian Captivity." But the wine stayed on, and seven centuries later, still made very much in the ancient tradition, it remains an international favorite.
Chateauneuf may be made from a blend of 13 grapes, including a few white varieties; but many of them are rare today, and few producers use them all. Grenache, with its bright, berry-scented fruit, is the predominant variety, and you'll usually find the black-pepper fragrance of Syrah and the earthy notes of Mourvedre in the blend. (It's worth noting, in fact, that the popular Australian blend called "GSM" - Grenache/Syrah/Mourvedre - pays homage to the Chateauneuf tradition - and it's no coincidence that one noteworthy example of this Australian style is Melton's "Nine Popes.")
For the record, the 13 permissible varieties are Bourboulenc, Cinsaut, Clairette, Counoise, Grenache, Mourvedre, Muscardin, Picardan, Picpoul, Roussanne, Syrah, Terret Noir and Vaccarese.
I'm looking forward to visiting this region again during next month's Rhone and Provence tour. Offering a heady blend of fine wine and food and intriguing history, it's a first-rate wine destination.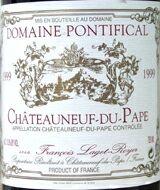 Domaine Pontifical 1999 Chateauneuf-du-Pape ($22.99)
Dark ruby. Fragrant black pepper and plummy fruit fill the aroma and flavor. Ripe and full, tart and tannic flavors provide good structure and balance in a wine that may be a bit simple in youth but that shows potential to blossom with cellar time. U. S. importer: Wines of France, Inc., Mountainside, N.J. (April 20, 2002)
FOOD MATCH: The wine's peppery fruit makes it a natural with a pan-grilled T-bone steak crusted with black pepper.
VALUE: After the big, fruity 1998 vintage brought across-the-board price increases, the more austere "classic style" 1999s dropped back into perspective, and prices in the lower $20s are more than fair for quality Chateauneuf.
Administrivia
To subscribe or unsubscribe from The 30 Second Wine Advisor, change your E-mail address, switch from weekly to daily distribution, or for any other administrative matters, click to http://www.wineloverspage.com/wineadvisor/admin.phtml. In all administrative communications, please be sure to include the exact E-mail address that you used when you subscribed, so we can find your record. If you must unsubscribe, please take a moment to tell us why you're leaving, and to offer any comments or suggestions you may have.
We welcome feedback, suggestions, and ideas for future columns. To contact me, please click to http://wineloverspage.com/ask_a_question.phtml. You may also send E-mail to wine@wineloverspage.com, but the link above is the simplest way to reach me directly.
We do not use this E-mail list for any other purpose and will never give or sell your name or E-mail address to anyone.
All the wine-tasting reports posted here are consumer-oriented. In order to maintain objectivity and avoid conflicts of interest, I purchase all the wines I rate at my own expense in retail stores and accept no samples, gifts or other gratuities from the wine industry.
Friday, May 10, 2002
Copyright 2002 by Robin Garr. All rights reserved.
Subscribe to the 30 Second Wine Advisor
Wine Advisor archives