30 Second Wine Advisor: Today's Sponsors
• LandWare, Inc. Wine Enthusiast Guide 2002
http://www.landware.com/wineguide/
• WineLibrary.com
http://www.winelibrary.com
In This Issue
• Smoking Loon
• Smoking Loon 1999 California Syrah
• Bogle Vineyards 2000 California Petite Sirah
• Administrivia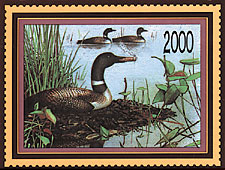 Smoking Loon
The wine label looks like an oversize postage stamp with an artful, peaceful scene of waterfowl swimming on a lake ... until you take a closer look and realize that one of the birds has a cigarette clamped in its bill.
Today we taste Smoking Loon, a California Syrah that sells for well under $10. It's the latest hot-selling item from Don Sebastiani, the one-time California state assemblyman who until last year was the third-generation head of the gigantic winery that bears his family name.
Sebastiani once earned a footnote in California wine history for a marketing ploy of rare chutzpah, having sought federal label approval for a wine to be called "Domaine Chardonnay" - that contained no Chardonnay. (The approval was actually forthcoming, but the regulators reversed this decision after a storm of angry complaints from other wineries.)
Sebastiani, who took over as chairman and chief executive officer of Sebastiani after a much publicized battle with his older brother Sam (who left after the family fight to start Viansa winery), left that post last year after the company sold its massive jug-wine properties to focus on premium-level wines.
Now Sam Sebastiani has turned his full-time attention to Sebastiani-Cecchetti, the business he started in 1985 with his brother-in-law, Roy Cecchetti, to make and market wine from purchased grapes.
Already garnering favorable attention for Pepperwood Grove, a line of wines that has earned critics' praise for surprising quality at a low-end price, they have recently added several varieties in the Smoking Loon line.
The slightly wacky label includes a tongue-in-cheek "history" in fine print, claiming that the name came from the ancient Egyptian "Book of Loons," a document previously unknown to historians and scholars.
"To date, only one sentence has been translated from this important work," the label claims. "It states, 'The path to Ongmadral (heaven) runs through the chungdra (swamp) of the smoking loon.' While the exact meaning of the words has been lost in time, the spirit of the ancient Husame lives on in every bottle of Smoking Loon."
The ultimate test of any wine, of course, is what's in the bottle. And by that test, Smoking Loon 1999 Syrah is not bad at all. If a bit on the simple side, its big, juicy fruit and gulpable texture will make it a natural for restaurant service by the glass.
As a bonus tasting report, we offer a big, fruity and structured California Petite Sirah (which, you'll recall, is an entirely different grape from Syrah) from Bogle Vineyards.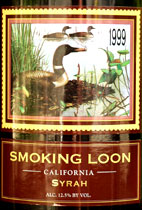 Smoking Loon 1999 California Syrah ($8.99)
Dark and rather hazy garnet in color. Warm and plummy aromas add a whiff of black pepper and a sweet, citric note of orange peel. Soft and simple and a bit sweet on the palate, it's an easy quaffing wine if not one for contemplation. (May 5, 2002)
FOOD MATCH: Served at a buffet brunch, its soft fruitiness made a good match with grilled chicken and sweet baked beans.
VALUE: Not an overly complex wine, but pleasant and well-made fruit makes it a good value for the price.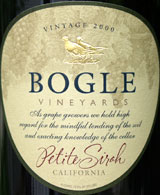 Bogle Vineyards 2000 California Petite Sirah ($10.99)
Clear but very dark reddish-purple. Ripe and forward fruit is as full and true as biting into a juicy plum; sweet oaky vanilla and soft, ripe black fruit carry into a simple but appealing flavor. (May 6, 2002)
FOOD MATCH: Warm, ripe fruit makes it exceptionally appealing with pork loin chops braised with onions.
VALUE: Fans of big fruit and oak in a wine will find a lot to like here for 10 bucks.

Administrivia
To subscribe or unsubscribe from The 30 Second Wine Advisor, change your E-mail address, switch from weekly to daily distribution, or for any other administrative matters, click to http://www.wineloverspage.com/wineadvisor/admin.phtml. In all administrative communications, please be sure to include the exact E-mail address that you used when you subscribed, so we can find your record. If you must unsubscribe, please take a moment to tell us why you're leaving, and to offer any comments or suggestions you may have.
We welcome feedback, suggestions, and ideas for future columns. To contact me, please click to http://wineloverspage.com/ask_a_question.phtml. You may also send E-mail to wine@wineloverspage.com, but the link above is the simplest way to reach me directly.
We do not use this E-mail list for any other purpose and will never give or sell your name or E-mail address to anyone.
All the wine-tasting reports posted here are consumer-oriented. In order to maintain objectivity and avoid conflicts of interest, I purchase all the wines I rate at my own expense in retail stores and accept no samples, gifts or other gratuities from the wine industry.
Tuesday, May 7, 2002
Copyright 2002 by Robin Garr. All rights reserved.
Subscribe to the 30 Second Wine Advisor
Wine Advisor archives