30 Second Wine Advisor: Today's Sponsors
• LandWare, Inc. Wine Enthusiast Guide 2002
http://www.landware.com/wineguide/
• WineLibrary.com
http://www.winelibrary.com
In This Issue
• Book review: Vino Italiano
• Allegrini 1998 "Palazzo della Torre" Veronese
• Allegrini 1998 "La Grola" Veronese
• Wine Tasting 101: Chardonnay
• A message from LandWare, Inc.
• A message from WineLibrary.com
• Last Week's Wine Advisor Index
• Administrivia

Book review: Vino Italiano
As much as I resist declaring a single wine, grape or region a favorite, it would be hard for me to deny that there's a soft spot in my heart - and my taste buds - for the wines of Italy.
Italy boasts vineyards in just about every part of the country from the top to the heel of its boot-shaped landscape. Its vinous history goes back to ancient times, the era of the Caesars and before; and its wines have evolved over the millennia with a sense of joy and the assumption that wine is made to go with food. It's no coincidence that the saying "A meal without wine is like a day without sunshine" is Italian.
But a lot of people are nervous about getting to know Italian wine simply because this happy diversity makes it all seem so complicated. Wines go by the name of the region they're from and generally not the name of the grape, so it's hard to know what to expect from an unknown bottle unless you carry a guide book and an atlas.
Moreover, it's a changing landscape that merges both the ancient and the innovative. Significant regulatory changes have occurred several times in the past generation, and Italy's creative wine makers are always coming up with something new. As a result, some of the most useful Italian wine guides on my shelf have grown out of date.
I'm pleased to report, however, that an excellent new guide and overview has been published this year. Joseph Bastianich (the co-owner of several well-known Italian restaurants in New York and Philadelphia) and wine writer David Lynch have collaborated on the new "Vino Italiano: The Regional Wines of Italy," a thorough and well-organized overview of all the Italian wine regions and their major wines.
At 528 hardcover pages, this magisterial volume is a bulky tome, better for reading before you go on a trip than taking along in your backpack. But that leaves room for a huge amount of information, written in straightforward prose. Perhaps better for looking up specific regions or wines of interest than reading straight through, it's neatly organized into 19 geographical chapters covering all the wine regions of Italy.
Each chapter briskly covers its region in travelogue style, followed by details of the wines of that area, "Fast Facts" pages summarizing the basics of the region's wines, grape varieties, vintages and wine touring in quick-reference format; and tasting notes on a selection of typical wines. Finally, in a feature that will delight "foodies," each chapter ends with a recipe for a regional dish to match the local wines, presented by the restaurateurs Lidia Bastianich (the co-author's mother and founder of the restaurant Felidia) and Mario Batali (of FoodTV fame).
A brief introduction offers a quick survey of the history and basic facts about Italian wine; a wrap-up section includes a glossary of Italian wine terms, capsule summaries of all the Italian wine zones, grape varieties and selected producers, and a list of Italian wine importers and retailers in the U.S.
This book might offer more detail than the everyday wine sipper needs to know, but if your interest in Italian wine goes at all beyond the casual, you'll definitely want to add this book to your collection.
Here's the Vino Italiano page on Amazon.com, where the book is available for $24.50, which is 30 percent off the $35 list price. Should you choose to purchase the book using this link, a small commission will go to WineLoversPage.com:
http://www.amazon.com/exec/obidos/ASIN/0609608487/robingarrswineloA/
Let's celebrate Italian wine today with notes on two hearty reds from Allegrini, a producer in the Verona area (Valpolicella) whose wines are a bit controversial, earning high marks from those who like the big, fruity "California" style but drawing fire from critics who prefer more traditional Italian wines. Both these wines are primarily made with the Corvina and Rondinella grapes of Valpolicella but are designated "Veronese" because of non-traditional variations; the La Grola adds a decidedly non-Italian taste of Syrah to the blend.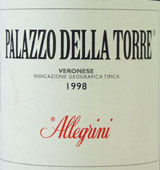 Allegrini 1998 "Palazzo della Torre" Veronese ($19.99)
Inky blackish-purple, opaqe. Ripe black-cherry and dark chocolate aromas and flavors, juicy and concentrated fruit and sweet oak, good acid balance. Very appealing, a crowd-pleaser, but thoroughly "international" in style. U.S. importer: Winebow Inc., NYC. (May 4, 2002)
FOOD MATCH: The wine's abundant fruit makes it a very good partner with a fresh morel ragout over spaghetti.
VALUE: Allegrini's popularity in the U.S. pushes its price toward the very high end for Valpolicella and its kin; but at well under half the price of modern wines of similar quality from Tuscany and Piemonte, it's an acceptable value.
WEB LINK: To visit the Allegrini Website (in Italian, English and German), click to
http://www.allegrini.it/.
A fact sheet on this wine (in English) is at
http://www.allegrini.it/eng/sch_torre02.htm.
The importer's fact sheet is at
http://www.winebow.com/shortdet.asp?ID=207.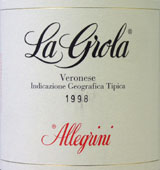 Allegrini 1998 "La Grola" Veronese ($19.99)
Very dark ruby, black at the center. Warm and full on the nose and palate, distinct dried-cherry and plum and a hint of vanilla. Tart and rather tannic, mouth-filling and ripe. U.S.importer: Winebow Inc., NYC. (May 5, 2002)
FOOD MATCH: Good flavor match if a bit tannic for carrot and arugula risotto with fresh tomatoes.
VALUE: As above.
WEB LINK: The Allegrini fact sheet on this wine (in English) is at
http://www.allegrini.it/eng/sch_grola02.htm.
The importer's fact sheet is at
http://www.winebow.com/shortdet.asp?ID=208.
Wine Tasting 101: Chardonnay
Learn to taste wine analytically with no "wrong" answers, in the friendly, supportive environment of our Wine Lovers' Discussion Group forums. For this month's Wine Tasting 101, we turn to an immensely popular grape that many of us either love or hate: Chardonnay! Louis Jadot 2000 Macon-Villages and Penfolds 2001 Koonunga Hill Chardonnay are proposed as the wines of the month. Click to Wine Tasting 101, http://www.wineloverspage.com/forum/wt101.phtml,
for details about how to participate in this free, interactive wine-education project.
A message from Landware, Inc.
Fellow wine lover,
LandWare Inc, a leading developer of handheld software and hardware solutions, has teamed with respected Wine Enthusiast Magazine to produce the premier mobile companion for choosing, evaluating, managing and enjoying wine.
The Wine Enthusiast Guide 2002 for Palm Powered handhelds can be downloaded from:
http://www.landware.com/wineguide/.
A CD-ROM and Palm Expansion media card is also available.
Key features include:
• Quickly select wines by cost, rating, style, grape variety, and region
• Authoritative up-to-date reviews, ratings, and details for over 9,000 wines
• Complete wine cellar and buying list management
• Comprehensive wine glossary with over 1,400 terms and definitions
• Interactive vintage chart with wine maturity and harvest quality ratings
• Maintain personal tasting records and notes
• Beam wine details to another Palm OS handheld
• Supports removable Palm OS memory cards
• Sophisticated compression minimizes memory usage
The Wine Enthusiast Guide 2002 can be installed on devices running Palm OS 3.0 or higher including Handspring, Palm and Sony branded handhelds. Full details can be found by visiting:
http://www.landware.com/wineguide/
A message from WineLibrary.com
http://www.WineLibrary.com
The nation's Number 1 online wine merchant! Wine Library.com features a huge collection of top wines from around the world, great gifts and accessories. Search our quick loading/high speed database of the hottest new wines from California, France, Italy, Australia, New Zealand, Spain, Germany, Austria, South America and more. Browse our selection of 2,000 Bordeaux Futures, all at the lowest prices around!
Find the world's hottest wines like Silver Oak, Dominus, and Opus One by joining our E-mail service. Each E-mail features the newest selections BEFORE they hit the shelves. Over the years, we have turned thousands on to wine at the best time ... before it's rated! Future E-Mails will include some of the hottest new wines from the explosive 1997 Brunello crop along with other exciting new releases!
Don't miss a single mailer! Log on to
http://www.WineLibrary.com
and join today! It's online wine shopping made easy ... and it's only at
http://www.WineLibrary.com

Last Week's Wine Advisor Index
For Monday-only readers who'd like to read specific daily Wine Advisor articles, here's last week's index:
• A wine Conundrum (May 3)
http://www.wineloverspage.com/wineadvisor/tswa020503.phtml
• About Robert Parker (May 2)
http://www.wineloverspage.com/wineadvisor/tswa020502.phtml
• A taste of Fiano (May 1)
http://www.wineloverspage.com/wineadvisor/tswa020501.phtml
• Carmenere: Old, yet new (April 30)
http://www.wineloverspage.com/wineadvisor/tswa020430.phtml
• Complete 30 Second Wine Advisor archive:
http://www.wineloverspage.com/wineadvisor/thelist.shtml
• Last week's Wine Advisor Foodletter: About okra: Sausage gumbo (May 2)
http://www.wineloverspage.com/wineadvisor/tsfl020502.phtml
• Wine Advisor Foodletter archive:
http://www.wineloverspage.com/wineadvisor/foodlist.phtml
Administrivia
To subscribe or unsubscribe from The 30 Second Wine Advisor, change your E-mail address, switch from weekly to daily distribution, or for any other administrative matters, click to http://www.wineloverspage.com/wineadvisor/admin.phtml. In all administrative communications, please be sure to include the exact E-mail address that you used when you subscribed, so we can find your record. If you must unsubscribe, please take a moment to tell us why you're leaving, and to offer any comments or suggestions you may have.
We welcome feedback, suggestions, and ideas for future columns. To contact me, please click to http://wineloverspage.com/ask_a_question.phtml. You may also send E-mail to wine@wineloverspage.com, but the link above is the simplest way to reach me directly.
We do not use this E-mail list for any other purpose and will never give or sell your name or E-mail address to anyone.
All the wine-tasting reports posted here are consumer-oriented. In order to maintain objectivity and avoid conflicts of interest, I purchase all the wines I rate at my own expense in retail stores and accept no samples, gifts or other gratuities from the wine industry.
Monday, May 6, 2002
Copyright 2002 by Robin Garr. All rights reserved.
Subscribe to the 30 Second Wine Advisor
Wine Advisor archives