30 Second Wine Advisor: Today's Sponsor
• eRobertParker.com
http://www.eRobertParker.com
In This Issue
• A wine Conundrum
• Caymus 2000 Conundrum California White Table Wine
• Administrivia
A wine Conundrum
What's a Conundrum?
Even the dictionaries can't quite agree on the meaning of this 350-year-old English word (pronounced "ca-NUN-drum") borne on the label of the unusual and appealing wine from California's Caymus Vineyards that we feature today.
Two popular modern dictionaries - American Heritage and Merriam-Webster - define "conundrum" in similar terms, as a riddle with a fanciful question whose answer is a pun. But you have to go back to the Webster Dictionary of 1913 to find a definition that makes more sense for this wine: "A kind of riddle based upon some fanciful or fantastic resemblance between things quite unlike."
That comes close: Conundrum, the wine, is a blend of five grapes that are "quite unlike" indeed, most of them seldom if ever seen in the same blend, grown in five counties that span the length and breadth of the Golden State. (Specifically, it's made of Sauvignon Blanc, Semillon, Chardonnay, Viognier and Muscat Canelli grown in Napa, Marin, Monterey, Santa Barbara and Tulare counties.)
The winery's Conundrum fact sheet says, "Our intention ... has been to combine these flavors in a way that highlights the unique qualities of each grape but results in a wine that is greater than the sum of the parts, making it complementary to a wide range of foods."
Making the wine involves an extended process in which each of the grape varieties is crushed and vinified separately, some fermented in stainless steel, others in barrels; some aged in tanks, some in French oak and some in American oak, then ultimately blended in proportions based on wine maker Jon Bolta's tasting and judgement. I think he's rung the bell with the 2000 vintage. It's a wine of exceptional complexity and flavor interest, a great aperitif but also complementary with a range of foods, as detailed in my notes below.
Caymus, founded in 1972, is surely best known for its Cabernet Sauvignons, both the pricey regular bottling and the even more pricey "Special Select." They have been making Conundrum since 1989, and it has earned a reputation for high quality in an odd blend that's as offbeat as, well, a conundrum. (Speaking of price, when Conundrum first hit the market, I felt that its near-$20 tag put it out of reasonable reach. But to the winery's credit, Conundrum's price has pretty much held the line while many others rose to meet or even pass it.)
Finally, a brief non-wine digression: If you're interested in words and language, you might enjoy a side trip to the 1913 Webster's Revised Unabridged Dictionary, a free online service built by the Project for American and French Research on the Treasury of the French Language (ARTFL) at the University of Chicago:
http://humanities.uchicago.edu/forms_unrest/webster.form.html.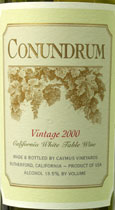 Caymus 2000 Conundrum California White Table Wine ($22.99)
Clear, light brass color. Intriguing aromas, remarkably complex; apples, figs, oranges, a hint of oak; brown spices like nutmeg and cinnamon mingle with dark, leafy fresh herbs. Big and mouth-filling, it is saved from unctuousness by a tart acidic snap unexpected in a California wine. Just off-dry, fruit sweetness nicely balanced by crisp acidity. Juicy mandarins, a slight, pleasant orange-peel bitterness and a hint of brown sugar persist in a long finish. (May 2, 2002)
FOOD MATCH: A fine partner with a "conundrum" of a dish with a mix of flavors crafted specifically to match: A gentle, subtle potato and leek soup with a swirl of carrot puree and walnut oil, accented with black and white pepper.
VALUE: Not cheap for a white wine, but unusual complexity and flavor interest make the $20-plus price a fair one for a special occasion.
WEB LINK: The Caymus Website is at
http://www.caymus.com/.
You'll find its Conundrum page at
http://www.caymus.com/00conundrum.html.
Administrivia
To subscribe or unsubscribe from The 30 Second Wine Advisor, change your E-mail address, switch from weekly to daily distribution, or for any other administrative matters, click to http://www.wineloverspage.com/wineadvisor/admin.phtml. In all administrative communications, please be sure to include the exact E-mail address that you used when you subscribed, so we can find your record. If you must unsubscribe, please take a moment to tell us why you're leaving, and to offer any comments or suggestions you may have.
We welcome feedback, suggestions, and ideas for future columns. To contact me, please click to http://wineloverspage.com/ask_a_question.phtml. You may also send E-mail to wine@wineloverspage.com, but the link above is the simplest way to reach me directly.
We do not use this E-mail list for any other purpose and will never give or sell your name or E-mail address to anyone.
All the wine-tasting reports posted here are consumer-oriented. In order to maintain objectivity and avoid conflicts of interest, I purchase all the wines I rate at my own expense in retail stores and accept no samples, gifts or other gratuities from the wine industry.
Friday, May 3, 2002
Copyright 2002 by Robin Garr. All rights reserved.
Subscribe to the 30 Second Wine Advisor
Wine Advisor archives