30 Second Wine Advisor: Today's Sponsor
• eRobertParker.com
http://www.eRobertParker.com
In This Issue
• About Robert Parker
• Tresantos 2000 Tierra del Vino de Zamora
• A message from eRobertParker.com
• Administrivia
About Robert Parker
Ask any serious wine enthusiast about Robert M. Parker Jr. and you're bound to get an instant opinion.
Some love the guy and follow every word of his advice. Some, frankly, enjoy matching their own wine judgement against his ratings and concluding, "Hey, what does he know that I don't?" But one thing's certain: Just about everybody who cares about wine pays attention to Parker.
The Los Angeles Times, in a lengthy, mostly flattering profile, declared Parker "the world's most influential wine critic," and few would argue with that. His print publication, The Wine Advocate (which carries no advertising and is supported entirely by subscription), is circulated to only about 40,000 subscribers; but when he bestows a rating of 90 points or above on a wine, regardless of its previous popularity or price, it almost invariably goes flying off retail shelves around the world.
For the first decade of his adult life, Parker, a 54-year-old native of Baltimore, was a practicing attorney, rising to the post of assistant general counsel for the Farm Credit Banks of Baltimore.
But he also loved wine from the moment he discovered the real stuff during a Christmas-season visit to his wife-to-be, Patricia, in Alsace as a 20-year-old college student. He published the first Wine Advocate as an "independent consumer guide to wine" with 600 subscribers in 1978.
He created a 100-point system for scoring wine, then an innovative concept, now widely imitated. And just six years later - boosted by publicity when he became the first critic to declare the fabled 1982 vintage in Bordeaux a great one - he fulfilled many a wine enthusiast's dream, quitting his day job to write about wine full-time.
Twenty years later, Wine Advocate is generally considered the world's most influential wine magazine, if not the largest; his books on Bordeaux, Burgundy, the Rhone and buyer's guides on wine sell widely. And his many awards were crowned in 1999 with France's highest honor, Chevalier of the Order of the Legion of Honor.
So influential has he become that some critics worry that a "Parker style" is evolving in wine around the world, as many producers shift from traditional approaches to make wines in a big, fruity, oak-accented style that they believe Parker will like and hope he will rate highly.
Wherever the world of wine goes in coming years, it's safe to assume that Robert M. Parker Jr. will be there to tell us about it.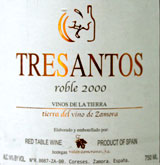 Tresantos 2000 Tierra del Vino de Zamora ($10.99)
Parker rated this wine 90, a grade he rarely bestows on a $10 bottle; and his description almost seemed like an unintentional self-parody of the enthusiastic style that he reserves for wines he really seems to like. "This wine is a thermonuclear fruit bomb," he reported. "Huge levels of hedonistic black currant, cherry and blackberry fruit are presented in an uncomplicated, fleshy succulent style that is a total turn-on."
I don't usually write notes like that ... and a few months in the bottle seems to have somewhat diminished the "explosiveness" in a wine that, nonetheless, remains very appealing and an excellent value. It's very dark reddish-purple in color, almost black; a ring of tiny bubbles lines the glass. Warm and plummy fruit aromas add a whiff of dark chocolate in an attractive but rather light scent; it's hard to see how Parker found it "hedonistic." There's more hedonism in the flavor, though. It's big, ripe and lingering, with black-cherry and chocolatey oak flavors that amplify the nose. U.S. importer: Cuttlng Edge Selections Inc., Fairfax, Ohio. (April 30, 2002)
FOOD MATCH: The wine's lush fruit makes it a natural match with a lightly spicy okra and Italian sausage gumbo. (The recipe will be featured in today's Wine Advisor FoodLetter,
http://www.wineloverspage.com/wineadvisor/foodletter.shtml.
VALUE: At $10 or so, this one is hard to beat for value - if Parker's 90 rating hasn't made it impossible to find.
A message from eRobertParker.com
For many years, Parker published only in print form, maintaining only a limited presence on the Internet. But now our old friends at Wine Technologies, longtime producers of the Robert Parker's Wine Advisor and Cellar Manager software program, have opened an outstanding site that is Parker's authorized "home on the Web."
Here's a word from the producers:
"eRobertParker.com, Robert Parker's new home on the Web, has continued to grow since its launch last November. If you haven't visited in a while perhaps you don't know that we just posted recent tasting notes and articles on: 2000 Bordeaux (the 'Best Ever' according to Parker), California's Rhone Rangers, and Recommended New Releases from Languedoc-Roussillon.
"Every 60 days we add as many as 1,000 new tasting notes from The Wine Advocate. Everything is easily retrieved and reviewed through our four powerful but easy-to-use wine search engines. There is also The Hedonist's Gazette, wine and food commentary by Bob Parker and Pierre Rovani that you won't read anywhere else.
"Finally, our 'Find it Online' feature makes it easy to find rare and difficult wine through an accurate search engine for over 100 online wine stores. eRobertParker.com is a subscription site, but you can sign up for a Free Trial Subscription and take it for your very own test drive."
I think you'll enjoy a visit to eRobertParker.com,
http://www.eRobertParker.com
Administrivia
To subscribe or unsubscribe from The 30 Second Wine Advisor, change your E-mail address, switch from weekly to daily distribution, or for any other administrative matters, click to http://www.wineloverspage.com/wineadvisor/admin.phtml. In all administrative communications, please be sure to include the exact E-mail address that you used when you subscribed, so we can find your record. If you must unsubscribe, please take a moment to tell us why you're leaving, and to offer any comments or suggestions you may have.
We welcome feedback, suggestions, and ideas for future columns. To contact me, please click to http://wineloverspage.com/ask_a_question.phtml. You may also send E-mail to wine@wineloverspage.com, but the link above is the simplest way to reach me directly.
We do not use this E-mail list for any other purpose and will never give or sell your name or E-mail address to anyone.
All the wine-tasting reports posted here are consumer-oriented. In order to maintain objectivity and avoid conflicts of interest, I purchase all the wines I rate at my own expense in retail stores and accept no samples, gifts or other gratuities from the wine industry.
Thursday, May 2, 2002
Copyright 2002 by Robin Garr. All rights reserved.
Subscribe to the 30 Second Wine Advisor
Wine Advisor archives