30 Second Wine Advisor: Today's Sponsor
• WineLibrary.com
http://www.winelibrary.com
In This Issue
• Admin note: Most of our systems now restored
• A taste of Fiano
• Terredora 2000 "Terre di Dora" Fiano di Avellino
• Administrivia
Admin note: Most of our systems now restored
I'm pleased to report that most of the odd jobs surrounding our recent server computer adventure appear to be cleared up. Daily subscribers should receive this edition on Wednesday as scheduled, although it may be a few hours later than usual; and and our Wine Advisor registration and administrative request pages are functional again. Thanks for your patience!
A taste of Fiano
Last week, after I reported on Greco di Tufo from the Southern Italian region Campania, several of you wrote to suggest that I give equal billing to Fiano, another white grape of this sunny region around Naples and Mount Vesuvius. I needed little persuasion. Although not widely known, Fiano is one of the world's great white wines.
Pronounced "Fee-ah-no," it's a variety so old that it got its name from the ancient Romans, who called it "apiano" because its aromatic fruit attracted the honeybee ("apis" in Latin). The Fiano grown around the town of Avellino is generally considered the most desirable, making a wine - like that in today's tasting - labeled "Fiano di Avellino."
Like Greco di Tufo, Fiano is a fine choice for those seeking intersting variations on the widely produced international varieties, so if you're looking for a break from Chardonnay or Sauvignon Blanc, Campania is an excellent place to look. Fiano's complex aromas and rich, balanced flavor make it interesting enough to sip alone as an aperitif, but its affinity for seafood and fish earn it a place at the dinner table.
If the name seems familiar, by the way, you may be recalling that I reported on another producer's Fiano di Avellino early this year; that report is online at
http://www.wineloverspage.com/wineadvisor/wax020103.shtml.
One day soon we'll come back to Campania again for a closer look at the region's top red grape, Aglianico.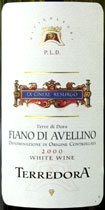 Terredora 2000 "Terre di Dora" Fiano di Avellino ($17.99)
Clear gold. Quite aromatic, almonds and beeswax and fresh white fruit. Ripe and fresh, flavors follow the nose, mouth-filling and long, a really excellent wine. Fermented and aged entirely in stainless steel, it's all fruit, seeing no oak at all. U.S. Importer: VIAS Imports Ltd., NYC. (April 29, 2002)
FOOD MATCH: A wonderful match with linguine in white clam sauce. The recipe was featured in the Wine Advisor FoodLetter on April 4, online at
http://www.wineloverspage.com/wineadvisor/tsfl020404.phtml.
VALUE: There's plenty of white wine available for less than $18, but aromatic intensity and complexity make this one noteworthy. For $2 less than this producer's Greco di Tufo (reviewed April 24), it's an even better buy.
WEB LINK: The importer's fact sheet on this wine is at:
http://www.viaswine.com/prodotti/prod_vini.asp?vino=159.
Administrivia
To subscribe or unsubscribe from The 30 Second Wine Advisor, change your E-mail address, switch from weekly to daily distribution, or for any other administrative matters, click to http://www.wineloverspage.com/wineadvisor/admin.phtml. In all administrative communications, please be sure to include the exact E-mail address that you used when you subscribed, so we can find your record. If you must unsubscribe, please take a moment to tell us why you're leaving, and to offer any comments or suggestions you may have.
We welcome feedback, suggestions, and ideas for future columns. To contact me, please click to http://wineloverspage.com/ask_a_question.phtml. You may also send E-mail to wine@wineloverspage.com, but the link above is the simplest way to reach me directly.
We do not use this E-mail list for any other purpose and will never give or sell your name or E-mail address to anyone.
All the wine-tasting reports posted here are consumer-oriented. In order to maintain objectivity and avoid conflicts of interest, I purchase all the wines I rate at my own expense in retail stores and accept no samples, gifts or other gratuities from the wine industry.
Thursday, May 2, 2002
Copyright 2002 by Robin Garr. All rights reserved.
Subscribe to the 30 Second Wine Advisor
Wine Advisor archives