30 Second Wine Advisor: Today's Sponsor
• WineLibrary.com
http://www.winelibrary.com
In This Issue
• Sorry about the delay!
• Carmenere: Old, yet new
• Calina 2000 Reserve Carmenère
• Voting Booth: Where did you learn to love wine?
• A message from WineLibrary.com
• Last Week's Wine Advisor Index
• Administrivia
Sorry about the delay!
We spent the weekend upgrading the operating system on our Web server computers, and as typically happens, the job took a bit longer than expected. Accordingly, I was unable to distribute The 30 Second Wine Advisor on schedule Monday, so we had to declared an unscheduled holiday. Many of you will receive this edition on Wednesday, two days late; today's daily edition will follow a few hours later. I regret the inconvenience.
Please note also that we're still wrestling with a couple of other computerish problems: For the next day or two, it will not be possible to register a new Wine Advisor subscription or request administrative changes in your current subscription. You may also find other random features not working if you visit WineLoversPage.com. I assure you that we'll restore these capabilities as soon as possible!
Carmenere: Old, yet new
One of the oldest wine-grape varieties around is also one of the newest. How's that for a seeming contradiction?
The story behind today's featured grape, Carmenere, is not quite as contradictory as it sounds, but it's one of the hundreds of things to know that can make wine appreciation interesting - or perhaps confusing - depending on your point of view.
Carmenere is old: Once fairly widely grown in Bordeaux, it was a popular ingredient in the French wine region's great red wines until the 1700s because it added a rich red color to a blend that in those days would otherwise have been pale.
But Carmenere fell out of favor more than 300 years ago for economic reasons - it's particularly subject to a vine malady called "coulure," in which many of the grapevines' spring buds fail to develop into grape bunches if the weather is chilly and damp, as it often is in Bordeaux. A vine that can't produce sufficient fruit doesn't earn its keep in the vineyard, so Carmenere fell out of favor.
But the vine that became rare in France later thrived in Chile, which has always had a significant French accent in its wine-industry heritage, and where coulure isn't much of a problem in the region's arid climate. Carmenere was imported to Chile by the middle of the 1800s, but as time went by, the name was all but lost. Some growers called the grape Grande Vidure, but most of it was eventually mistaken for Merlot, which it somewhat resembles.
So what's new? Within the past 10 years or so, a few Chilean wine makers have rediscovered the vine's heritage, identified some of the "Merlot" vineyards as Carmenere, and are using it to make a varietal wine.
If you, like me, consider wine's infinite variety to be one of its joys, then you'll want to put Carmenere on your list of wines to taste. It is becoming easier to find, as at least one Chilean producer - Calina, a property of California's Kendall-Jackson Wine Estates, is increasing production rapidly to meet the demand: The winery made just 4,500 twelve-bottle cases of the 2000 vintage (reported below), but planned to ship 15,000 cases of the 2001 vintage this month. The wine is affordable, offered for $7.50 at Kendall-Jackson's online store; I paid $8 at local retail.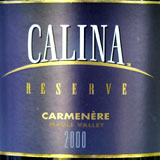 Calina 2000 Reserve Carmenère ($7.99)
Inky dark reddish-purple, almost black. Ripe dark fruit aromas with a smoky note. Fresh and clean, pleasant black-fruit flavors and snappy acidity, with soft tannins that increase in proportion to the fruit as the wine airs in the glass. A bit on the simple side, but fresh and appealing; it shows surprising structure and balance for a wine at this price. U.S. importer: Kendall-Jackson Estates Ltd., Santa Rosa, Calif. (April 28, 2002)
FOOD MATCH: Its fruit and acid made it a natural partner with an Italian-style dinner of eggplant croquettes on pasta with a simple tomato sauce.
VALUE: Very good value, well above much of the competition at the $7 to $8 point.
WEB LINK: The Kendall-Jackson Wine Estates online store has a fact sheet (and offers the wine for sale, where permitted by law), at
http://store.kj.com:8121/item.jsp?item=8000092.
Wine Lovers' Voting Booth:
Where did you learn to love wine?
Some children grow up believing that whatever is good enough for Mom and Dad is good enough for me. Other kids rebel, questioning the old folks' values and eager to sample just about anything that their parents warned them against.
Did your family drink wine when you were a child? Did that make you more or less interested in wine? This is the two-point issue that we seek to resolve as we ask this week's question, "Did your family influence your attitude about wine?"
I hope you'll drop by the Voting Booth,
http://www.wineloverspage.com/votebooth/,
and add your response to the list.
A message from WineLibrary.com
http://www.WineLibrary.com
The nation's Number 1 online wine merchant! Wine Library.com features a huge collection of top wines from around the world, great gifts and accessories. Search our quick loading/high speed database of the hottest new wines from California, France, Italy, Australia, New Zealand, Spain, Germany, Austria, South America and more. Browse our selection of 2,000 Bordeaux Futures, all at the lowest prices around!
Find the world's hottest wines like Silver Oak, Dominus, and Opus One by joining our E-mail service. Each E-mail features the newest selections BEFORE they hit the shelves. Over the years, we have turned thousands on to wine at the best time ... before it's rated! Future E-Mails will include some of the hottest new wines from the explosive 1997 Brunello crop along with other exciting new releases!
Don't miss a single mailer! Log on to
http://www.WineLibrary.com
and join today! It's online wine shopping made easy ... and it's only at
http://www.WineLibrary.com

Last Week's Wine Advisor Index
For Monday-only readers who'd like to read specific daily Wine Advisor articles, here's last week's index:
• How much wine is healthy? (April 26)
http://www.wineloverspage.com/wineadvisor/tswa020426.phtml
• From the toe of the boot (April 25)
http://www.wineloverspage.com/wineadvisor/tswa020425.phtml
• Greco di Tufo (April 24)
http://www.wineloverspage.com/wineadvisor/tswa020424.phtml
• Wine Ireland (April 23)
http://www.wineloverspage.com/wineadvisor/tswa020423.phtml
• When bad things happen to good wine (April 22)
http://www.wineloverspage.com/wineadvisor/tswa020422.phtml
• Complete 30 Second Wine Advisor archive:
http://www.wineloverspage.com/wineadvisor/thelist.shtml
• Last week's Wine Advisor Foodletter: The virtues of minimalism/Pan-seared tuna steak (April 25)
http://www.wineloverspage.com/wineadvisor/tsfl020425.phtml
• Wine Advisor Foodletter archive:
http://www.wineloverspage.com/wineadvisor/foodlist.phtml
Administrivia
For what we hope will be a brief period, it is not possible to use our online forms at http://www.wineloverspage.com/wineadvisor/admin.phtml to subscribe or unsubscribe from The 30 Second Wine Advisor, change your E-mail address, or switch from weekly to daily distribution. Please be patient; we're rewriting this program and intend to have it operational as soon as possible. In all administrative communications, please be sure to include the exact E-mail address that you used when you subscribed, so we can find your record. If you must unsubscribe, please take a moment to tell us why you're leaving, and to offer any comments or suggestions you may have.
We welcome feedback, suggestions, and ideas for future columns. To contact me, please send E-mail to wine@wineloverspage.com.
We do not use this E-mail list for any other purpose and will never give or sell your name or E-mail address to anyone.
All the wine-tasting reports posted here are consumer-oriented. In order to maintain objectivity and avoid conflicts of interest, I purchase all the wines I rate at my own expense in retail stores and accept no samples, gifts or other gratuities from the wine industry.
Tuesday, April 30, 2002
Copyright 2002 by Robin Garr. All rights reserved.
Subscribe to the 30 Second Wine Advisor
Wine Advisor archives