30 Second Wine Advisor: This week's sponsors
• Corkmasters.com
http://www.wineloverspage.com/cork
• Magnum Wines
http://www.magnumwines.com/oswelcome.stm
• California Wine Club
http://www.cawineclub.com
In This Issue
• Special announcement: Corkmasters.com
• From the toe of the boot
• Librandi 1999 Cirò Rosso Classico
• Administrivia
Special announcement: Corkmasters.com
Over 7 out of 10 wine drinkers believe Real Cork is the perfect fit. To see the latest independent international survey of wine drinkers, visit Corkmasters.com, by clicking through
http://www.wineloverspage.com/cork.
Real Cork. Irreplaceable.
From the toe of the boot
Let's stay in Southern Italy for today's wine report, taking a short trip from Campania, the source of yesterday's Greco di Tufo, to the ancient land called Calabria.
To help visualize this part of the world, recall that Italy is shaped like a tall, slender boot. Campania (around Naples and Mount Vesuvius) is its instep. Calabria is the toe of the boot, poised as if to punt the football-shaped island that is Sicily.
With a heritage that goes back to the ancient Greeks, Calabria's oldest, largest and best-known wine region is Cirò ("Chee-roe"), surrounding the village of the same name. Cirò comes in all three colors, Bianco (white), Rosato (rosé) and Rosso (red). The red is generally considered best, and the only Cirò that's widely exported. It's made from an indigenous grape called Gaglioppo ("Gahl-yo-poe"), although - like Chianti and many other Italian reds - it may include a dash of white grapes in the blend.
Consistent with other Italian wine regions, the wines made from grapes grown in the more desirable central section may add "Classico" on the label.
Today's wine from the Librandi winery is made entirely from Gaglioppo. Produced from vineyards totaling 900 acres, nearly 500,000 bottles were made, and it is exported internationally.
Like yesterday's Greco di Tufo, this grape won't likely be mistken for international varieties like Cabernet Sauvignon or Merlot; ripe and plummy fruit tells of its warm-climate origin, and more than a whiff of "earthy," "horsey" aromas bespeak a bit of brettanomyces (see the March 15 Wine Advisor, "What is that smell?). But it's an interesting, "rustic" red, fine at the table, and if you enjoy discovering different wine regions and grape varieties as much as I do, you'll want to look for Cirò.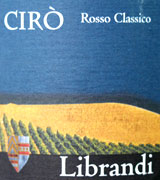 Librandi 1999 Cirò Rosso Classico ($9.49)
Clear, dark ruby color. Ripe plummy fruit and distinct "barnyard" character, earthy and "horsey." Earthy on the palate, too; sweet plums and soft, fresh-fruit acidity. Thoroughly enjoyable ... assuming you like reds in a "rustic" style. U.S. importer: Winebow Inc., NYC; Leonardo Locascio Selections. (April 24, 2002)
FOOD MATCH: A "white" pizza with fresh morels and Italian sausage on ricotta, mozzarella and Parmigiano made a natural partner with the wine's earthy fruit.
VALUE: Appropriately priced near $10.
WEB LINK: You'll find the winery's English-language page on this wine at
http://www.librandi.it/english/vini/rosso.htm.
For the importer's fact sheet, click to
http://www.winebow.com/longdet.asp?ID=186.
Administrivia
To subscribe or unsubscribe from The 30 Second Wine Advisor, change your E-mail address, switch from weekly to daily distribution, or for any other administrative matters, click to http://www.wineloverspage.com/wineadvisor/admin.phtml. In all administrative communications, please be sure to include the exact E-mail address that you used when you subscribed, so we can find your record. If you must unsubscribe, please take a moment to tell us why you're leaving, and to offer any comments or suggestions you may have.
We welcome feedback, suggestions, and ideas for future columns. To contact me, please click to http://wineloverspage.com/ask_a_question.phtml. You may also send E-mail to wine@wineloverspage.com, but the link above is the simplest way to reach me directly.
We do not use this E-mail list for any other purpose and will never give or sell your name or E-mail address to anyone.
All the wine-tasting reports posted here are consumer-oriented. In order to maintain objectivity and avoid conflicts of interest, I purchase all the wines I rate at my own expense in retail stores and accept no samples, gifts or other gratuities from the wine industry.
Thursday, April 25, 2002
Copyright 2002 by Robin Garr. All rights reserved.
Subscribe to the 30 Second Wine Advisor
Wine Advisor archives