30 Second Wine Advisor: This week's Sponsors
• Magnum Wines
http://www.magnumwines.com/oswelcome.stm
• California Wine Club
http://www.cawineclub.com
In This Issue
• Greco di Tufo
• Terredora 2000 Loggia della Serra Greco di Tufo
• Administrivia
LUCIANO PAVAROTTI



Greco di Tufo
Shortly before Luciano Pavarotti came to our town to sing in concert a number of years ago, I got a hurried call from the folks at the Kentucky Opera: The portly tenor expected his dressing room to be stocked with Greco di Tufo, a fine Southern Italian white wine that at the time wasn't easy to find in this part of the world.
Fortunately, a helpful local retailer got a case shipped in to quench the singer's thirst, providing a happy ending ... although the retailer later confided that after Pavarotti took two bottles and I bought one, it took years for him to hand-sell the rest of the 12-bottle case to suspicious customers who had never heard of it before.
As it turned out, Pavarotti knows his wine. To this day, Greco di Tufo remains one of my favorite Italian whites, even though it's still not all that easy to track down and not that cheap once you've found it.
The primary grape variety is Greco (pronounced "Gray-ko" and meaning "Greek"); and as the name suggests, the grape is believed to have come to Southern Italy from Greece, perhaps more than 2,000 years ago. Its growers brag that it may have been the grape used in Falernian, the ancient Roman equivalent of latter-day "cult" wines.
Greco di Tufo is made from Greco grapes grown around the village of Tufo ("Too-foe"), which takes its name from the region's volcanic soil ("tufa") that's the legacy of Vesuvius. Up to 20 percent of the blend may be a local grape called Pallagrello or "Coda di Volpe," literally "tail of the wolf."
As you can see, we've come a long way from Chardonnay and other international varieties here, but it's a side trip worth taking. Aromatic, dry, firmly acidic yet rich, and an excellent match with a variety of seafood and fish, Greco di Tufo always appeals to me ... and not just because of my Pavarotti story.
For more reading on Greco di Tufo, here's a link to an excellent online resource on Italian wine regions, "Italian D.O.C. Wines," an Italian-based source with pages in reasonably fluent English:
http://milioni.com/vini/ingd1/514.htm.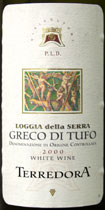 Terredora 2000 Loggia della Serra Greco di Tufo ($19.99)
Clear bright gold. Melon and herbal notes, a whiff of almonds and clean minerality, interesting and complex. Ripe and tangy white fruit and subtle almond flavors, an odd but pleasing combination of rich texture with fresh fruit and zippy acidity. U.S. importer: VIAS Imports, NYC. (April 23, 2002)
FOOD MATCH: A first-rate match with pan-qrilled yellowfin tuna finished with a light teriyaki-style soy sauce and lime juice reduction.
VALUE: At $20 in the U.S., it's moving into the upper reaches for everyday whites. But character and quality make it a fair competitor at this price point, if not a bargain.
WEB LINK: Here's the importer's fact sheet on this wine:
http://www.viaswine.com/prodotti/prod_vini.asp?vino=160.
Administrivia
To subscribe or unsubscribe from The 30 Second Wine Advisor, change your E-mail address, switch from weekly to daily distribution, or for any other administrative matters, click to http://www.wineloverspage.com/wineadvisor/admin.phtml. In all administrative communications, please be sure to include the exact E-mail address that you used when you subscribed, so we can find your record. If you must unsubscribe, please take a moment to tell us why you're leaving, and to offer any comments or suggestions you may have.
We welcome feedback, suggestions, and ideas for future columns. To contact me, please click to http://wineloverspage.com/ask_a_question.phtml. You may also send E-mail to wine@wineloverspage.com, but the link above is the simplest way to reach me directly.
We do not use this E-mail list for any other purpose and will never give or sell your name or E-mail address to anyone.
All the wine-tasting reports posted here are consumer-oriented. In order to maintain objectivity and avoid conflicts of interest, I purchase all the wines I rate at my own expense in retail stores and accept no samples, gifts or other gratuities from the wine industry.
Wednesday, April 24, 2002
Copyright 2002 by Robin Garr. All rights reserved.
Subscribe to the 30 Second Wine Advisor
Wine Advisor archives