30 Second Wine Advisor: Today's Sponsors
• Magnum Wines
http://www.magnumwines.com/oswelcome.stm
• California Wine Club
http://www.cawineclub.com
In This Issue
• When bad things happen to good wine
• Domaine la Blaque 1999 Coteaux de Pierrevert Réserve
• California Wine Club: Mother's Day Offer
• Magnum Wines: Rhone Valley Renaissance
• Last Week's Wine Advisor Index
• Administrivia
When bad things happen to good wine
In an ideal world, every bottle of wine would be perfect. But you don't have to open many bottles to learn that things sometimes go wrong.
Perhaps the most common flaw, as we've discussed from time to time, is "cork taint," the unpleasant musty scent that appears in wine when a random natural cork is afflicted by a fungus that can't be detected until it has spoiled the wine.
Other common wine-making problems include "brett," the nickname for a wild yeast called brettanomyces, which imparts earthy, organic scents of the barnyard to wine - a characteristic that some of us enjoy in subtle amounts but that's hard to like when it gets out of control. Or an unwanted secondary fermentation in the bottle can result in a wine that's unexpectedly fizzy, sometimes showing an unpleasant scent reminiscent of ripe cheese.
And sometimes the shipper or retailer is to blame, leaving a bottle - or a truckload - of bottles exposed to sufficient heat to "cook" the wine, a problem that may not be immediately apparent to the casual taster but that saps the flavor and shortens the life of otherwise ageworthy wine.
Last night I encountered a slightly more unusual but equally troublesome problem. Looking forward to a French white from a favorite Loire producer - Foreau 1999 Vouvray Sec - I was slightly concerned when I peeled off the foil capsule and discovered an unusual amount of bluish-gray mold around the end of the cork, indicating that a little wine had seeped around the cork. This often happens, though, and doesn't always indicate a damaged wine, so I inserted the corkscrew and hoped for the best.
Uh oh.
The gentle pressure of the corkscrew broke the seal between cork and glass, allowing it to twist easily in place; then the cork actually started to push IN. Working with it carefully, I got it out without disaster, but it came out TOO easily, as if the cork wasn't quite big enough to fit. On examination, it was unusually hard, a clear indication that it had dried out and shrunk.
Stored vertically, not on its side? Overheated at some point? Stored for a long time under unusually low-humidity conditions? Any of these things could have done the damage, but damage it was. A quick taste told the sad tale: Although the wine was still drinkable - a testament to the durable nature of the Chenin Blanc grape - its aroma and flavor was dominated by the strong nutlike quality associated with a very old wine long past its peak.
Chalk it up as just another example of the many things that can go wrong with wine if it's not handled with reasonable care.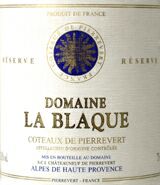 Domaine la Blaque 1999 Coteaux de Pierrevert Réserve ($11.99)
Perhaps one of the least-known French wine-producing regions, Coteaux de Pierrevert ("green rocks") is a new appellation, created in 1998 primarily through the efforts of Domaine la Blaque's producers, Gilles and Laurence Delsuc. Located in the Provence Alps and made from typical Southern French grapes - Grenache, Syrah, Mourvèdre, and Cinsault - it's a wine of surprising elegance for a moderate price. Dark garnet in color. Fragrant black pepper sings soprano over a plummy fruit bass. Full and ripe, black fruit and pepper flavors are structured with zippy acidity and firm tannins. U.S. importer: Vintner Select, Cincinnati, North Berkeley Wine Merchant, Berkeley, and other regional importers. (April 13, 2002)
FOOD MATCH: Fine with "ravioli" of leeks and ricotta made in thin turnip wrappers in place of the usual pasta.
VALUE: Perhaps because it is an obscure appellation and thus not in great demand, it's priced well below its quality level.
WEB LINK: North Berkeley, one of its importers, has a fact sheet on Domaine la Blaque at
http://www.northberkeleyimports.com/Mailer/blaque1.htm.
A message from California Wine Club: Mother's Day Offer
This Mother's Day, give your Mom a gift that says all the "white" (and red) things!
Order your Mother's Day Gift with The California Wine Club and in her first month, they'll include a FREE bottle of the 1998 Ballentine Zinfandel (a $16 value!) The Ballentine Zin has received 92 points from Wine & Spirits Magazine and 90 points from the Wine Advocate! This big, spicy and deliciously jammy Zin is a Napa Valley favorite!
Go ahead, treat your Mom to hand-selected, award-winning wines from the best of California's small family-owned wineries! Each month is just $32.95 plus shipping and includes a fun and entertaining 8-page newsletter, Uncorked! Send as many months as you wish! Special discounts on gifts of 3, 6, 9 or 12 months.
Call (800) 777-4443 or visit their website at
http://www.cawineclub.com.
Whether you get in touch by phone or Internet, be sure to mention this MOTHER'S DAY OFFER from The 30 Second Wine Advisor!
A message from Magnum Wines: Rhone Valley Renaissance
The Rhone Valley Renaissance is resplendent in its full glory, and MagnumWines is happy to offer an excellent selection of Chateauneuf-du-Pape. Most of these wines are blessed with both early drinkability and significant longevity ... and the majority of these wines are in the 20 to 30 dollar range! The following list is an abbreviated sampling of the Rhone Valley wines available in the current auction.
Next Bid per Six-Bottle Lot of Chateauneuf-du-Pape:
250 - Beaucastel 1999
135 - Bois de Boursan 1998
150 - Cailloux Brunel 1999
165 - Clos des Papes 1998
360 - Clos du Caillou Reserve 1999
125 - Clos du Mont Olivet 1998
205 - Cuvee Chaupin Dom de la Janasse 1999
250 - Cuvee de Mon Aieul Usseglio 1999
400 - Cuvee de Papet Mont Olivet 1998
210 - Cuvee Imperiale Raymond Usseglio 2000
225 - Cuvee Prestige Roger Sabon 1999
160 - Cuvee Reservee Pegau 1999
150 - Dom de la Janasse 1998
120 - Guigal 1998
135 - Reserve Roger Sabon 1998
120 - Vieille Julienne 1999
90 - Vieux Telegraphe 1991
165 - Vieux Telegraphe 1999
$15 per case shipping for all customers who mention the Thirty Second Wine Advisor!
Please take a moment to browse though the Rhone Valley Section. See
http://www.wineloverspage.com/wineadvisor/magnum.phtml
for the link.
To visit the Magnum Wines Website, click to
http://www.magnumwines.com.
Last Week's Wine Advisor Index
For Monday-only readers who'd like to read specific daily Wine Advisor articles, here's last week's index:
• Getting with the (wine) program (April 19)
http://www.wineloverspage.com/wineadvisor/tswa020419.phtml
• Rioja as 'food wine' (April 18)
http://www.wineloverspage.com/wineadvisor/tswa020418.phtml
• Moscato d'Asti for springtime (April 17)
http://www.wineloverspage.com/wineadvisor/tswa020417.phtml
• Wine tips from Andrea Immer (April 16)
http://www.wineloverspage.com/wineadvisor/tswa020416.phtml
• How low can you go? (April 15)
http://www.wineloverspage.com/wineadvisor/tswa020415.phtml
• Complete 30 Second Wine Advisor archive:
http://www.wineloverspage.com/wineadvisor/thelist.shtml
• Last week's Wine Advisor Foodletter, Creating a dish: Cauliflower pasta (April 18)
http://www.wineloverspage.com/wineadvisor/tsfl020418.phtml
• Wine Advisor Foodletter archive:
http://www.wineloverspage.com/wineadvisor/foodlist.phtml
Administrivia
To subscribe or unsubscribe from The 30 Second Wine Advisor, change your E-mail address, switch from weekly to daily distribution, or for any other administrative matters, click to http://www.wineloverspage.com/wineadvisor/admin.phtml. In all administrative communications, please be sure to include the exact E-mail address that you used when you subscribed, so we can find your record. If you must unsubscribe, please take a moment to tell us why you're leaving, and to offer any comments or suggestions you may have.
We welcome feedback, suggestions, and ideas for future columns. To contact me, please click to http://wineloverspage.com/ask_a_question.phtml. You may also send E-mail to wine@wineloverspage.com, but the link above is the simplest way to reach me directly.
We do not use this E-mail list for any other purpose and will never give or sell your name or E-mail address to anyone.
All the wine-tasting reports posted here are consumer-oriented. In order to maintain objectivity and avoid conflicts of interest, I purchase all the wines I rate at my own expense in retail stores and accept no samples, gifts or other gratuities from the wine industry.
Monday, April 22, 2002
Copyright 2002 by Robin Garr. All rights reserved.
Subscribe to the 30 Second Wine Advisor
Wine Advisor archives