30 Second Wine Advisor: Today's Sponsor
• Magnum Wines
http://www.magnumwines.com/oswelcome.stm
In This Issue
• Rioja as 'food wine'
• Marqués de Cáceres 1998 Rioja ($12.99)
• Marqués de Riscal 1998 Rioja Reserva ($15.99)
• Administrivia
Rioja as 'food wine'
Wine goes well with food: This truism is one of the core principles of wine appreciation. Even the greatest wines gain an extra dimension when they're paired with an appropriate food match, and this is why - except for serious, laboratory-style analysis or formal wine judging - I rarely open wine except with a meal.
But some wines almost need food. Serve them alone, and something actually seems to be missing - yin looking for yang, black seeking white, an empty space in search of something to fill it.
The term "food wine" is shorthand for this type of wine, one that simply can't be enjoyed fully without a glass in one hand and a fork in the other.
Participants in our Wine Tasting 101 project on WineLoversPage.com are reporting that the two relatively modest Riojas featured this month fall squarely into the "food wine" category. Simple and a bit light or even thin on their own, they wake up when paired with red meat or cheese. (My notes on these wines and a food match are below.)
Rioja ("Ree-oh-hah," in English-accented Spanish) is an arid upland region in northeastern Spain where Spanish-speaking land runs into Basque country. It is one of Spain's, and the world's, classic red-wine regions. (Some white is also produced here, but say "Rioja," and any wine lover will immediately think "red.")
Although Rioja is 100 percent Spanish, its wine heritage includes a touch of France, as many vine growers from Bordeaux migrated across the Pyrenees to Rioja in the late 18th century when the plant louse phylloxera devastated the French vineyards long before it reached Spain.
The predominant grape in Rioja is Tempranillo, although it is usually blended with Garnacha (Grenache) and sometimes Carignan; and modern Rioja producers have been known to experiment with such non-traditional varieties as Cabernet Sauvignon and Merlot in the blend ... a trend that it's not unreasonable to compare to Italian experimentation in Tuscany.
Dark but not heavy, Rioja can be a long-lived wine. The varietal character sometimes shows cherries and often herbaceous qualities ("tobacco leaf" is a common descriptor), but - particularly in young wines - the dominant quality is usually the sweet vanilla of new oak. In Spain, where food and wine go together as natural partners, it's not likely that anyone would consider pouring a glass of Rioja without having something to eat.
To learn about Wine Tasting 101, see
http://www.wineloverspage.com/forum/wt101.phtml.
For more on Rioja, visit the Website of the Centre of Promotion From Rioja,
http://www.redrioja.com/english/index.html.
These pages are also available in Spanish, French and German; simply click on each nation's flag icon from the home page.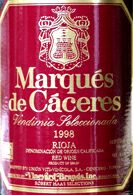 Marqués de Cáceres 1998 Rioja ($12.99)
Clear ruby, with a reddish glint. Oaky vanillins and sweet red fruit on the nose and palate make this wine very accessible, an easy-drinking style that may explain why the label boasts of its award from Wine Spectator magazine. Food clearly adds a dimension to an interesting but rather light wine. U.S. importer: Vineyard Brands Inc., Birmingham, Ala.; a Robert Haas Selection. (April 15, 2002)
VALUE: The $13 price tag places this wine toward the low end of the Rioja range, and its easy drinkability makes it a reasonable value.
WEB LINKS: The importer's page on Marques de Caceres is at
http://www.vineyardbrands.com/brandsheets/mdcaceres.html.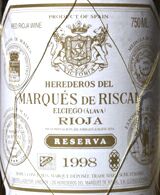 Marqués de Riscal 1998 Rioja Reserva ($15.99)
Clear garnet, shading toward purple. Dark fruit overlain by a distinctly woody scent of oak barrels underscores its "Reserva" status, which requires additional time in oak. Soft fruit and sweet oak mingle in a slightly tannic but rather lightweight flavor, a bit short in the finish. Happily, a good food match fills in the gaps and rounds out the wine. U.S. importer: Shaw-Ross Int'l Importers, Miami. (April 15, 2002)
VALUE: Time in oak adds ageworthiness and a hint of complexity, and it's fine with appropriate food. Still, as it pushes past $15, it's running into stiff competition. Appropriate price but no bargain.
WEB LINKS: The winery Website, available in Spanish and English, is located at
http://www.marquesderiscal.com/.
The importer's product page is at
http://www.shaw-ross.com/www/product.asp?BRAND_ID=129.
FOOD MATCH: Rather than something Spanish, I fashioned a simple dish from neighboring Italy to match: An Abruzzi-style lamb stew with sweet red peppers added significantly to the enjoyment of both these "food wines."

Administrivia
To subscribe or unsubscribe from The 30 Second Wine Advisor, change your E-mail address, switch from weekly to daily distribution, or for any other administrative matters, click to http://www.wineloverspage.com/wineadvisor/admin.phtml. In all administrative communications, please be sure to include the exact E-mail address that you used when you subscribed, so we can find your record. If you must unsubscribe, please take a moment to tell us why you're leaving, and to offer any comments or suggestions you may have.
We welcome feedback, suggestions, and ideas for future columns. To contact me, please click to http://wineloverspage.com/ask_a_question.phtml. You may also send E-mail to wine@wineloverspage.com, but the link above is the simplest way to reach me directly.
We do not use this E-mail list for any other purpose and will never give or sell your name or E-mail address to anyone.
All the wine-tasting reports posted here are consumer-oriented. In order to maintain objectivity and avoid conflicts of interest, I purchase all the wines I rate at my own expense in retail stores and accept no samples, gifts or other gratuities from the wine industry.
Thursday, April 18, 2002
Copyright 2002 by Robin Garr. All rights reserved.
Subscribe to the 30 Second Wine Advisor
Wine Advisor archives