30 Second Wine Advisor: Today's Sponsor
• Magnum Wines
http://www.magnumwines.com/oswelcome.stm
In This Issue
• Moscato d'Asti for springtime
• Saracco 1999 Moscato d'Asti ($14.99)
• A message from Magnum Wines: A Magnum a Month
• International Sake Institute's Sake Summit
• Administrivia
Moscato d'Asti for springtime
Spring came a little late in these parts, but the buds are bursting now, and the weather is quickly segueing toward summer. A hot and humid evening yesterday called for something more frothy and refreshing than the usual dry red.
When I'm in that kind of mood, it's hard to beat an ice-cold bottle of Moscato d'Asti, a light, prickly and sweet treat from the Piemonte (foothills) of Northwestern Italy.
Piemonte is best known for its robust red wines, but the village of Asti and its surroundings (particularly its neighbor Cuneo) is a center for the Moscato Bianco (White Muscat) grape, one of the most ancient of wine varieties and one of the most aromatic. The most commonplace type is Asti Spumante, an intensely sweet and aromatic sparkling wine that's mass-produced and marketed worldwide.
Moscato d'Asti isn't as widely known, but it earns, and probably deserves, greater respect. Deeply fragrant with the peachy-floral perfume of Muscat, it pours with a quick fizz and offers fresh-fruit sweetness and a mouth-tingling prickliness; it's very low in alcohol (usually 5.5 percent, in the same range as beer).
The wine is made by an unusual process: Fresh Moscato juice is fermented in pressurized tanks just a few degrees above the freezing point. While most wines are fermented until all their natural sugar is converted to alcohol, Moscato d'Asti is stopped (by reducing the temperature below freezing, halting the process) while about half the sugar remains unfermented, resulting in a wine that's naturally sweet and very low in alcohol, with a prickly fizz. The wine is then filtered to remove live yeast that could cause an explosive fermentation in the bottle.
The result could be called something like a soft-drink for adults ... and when balmy spring breezes call for something light and sweet, there's nothing the matter with that.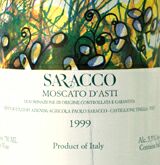 Saracco 1999 Moscato d'Asti ($14.99)
This pale-gold wine pours up with a head of froth and bubbles that quickly falls back. Its ripe peach aroma shows a childhood-evoking whiff of Juicy Fruit chewing gum. Light, fresh and very sweet, very low in alcohol, it's a refreshing quaff for a hot day. U.S. importer: Vin diVino, Chicago (April 16, 2002)
FOOD MATCH: This wine is fine for sipping by itself as an aperitif, but in a food-matching experiment, it made an outstanding partner with an Italian-style dish created to match: Cauliflower and penne pasta with goat cheese and Parmigiano Reggiano. I'll feature this recipe and comments in tomorrow's Wine Advisor FoodLetter. To register, visit
http://www.wineloverspage.com/wineadvisor/foodletter.shtml.
VALUE: Moscato d'Asti usually sells from $12 to $15 in this region, so this one was on the high end of the range at a Southern Indiana retailer, $3 more than I paid for the same wine in the previous vintage in Louisville.
WEB LINKS: The winery Website, in Italian and English, is at
http://www.paolosaracco.com/.
The importer's site, with information on distributors by state in the U.S., is at
http://www.vindivino.com/.
A message from Magnum Wines: A Magnum a Month
Magnum Wines unveils its new monthly Wine Club!
Besides our monthly auctions, Magnum is pleased to announce our new Wine Club. Wines are sourced directly from some of the top wineries. Each month you will also receive a newsletter about the wine and the winemaking techniques. For May the featured winery is the Peter Lehmann Winery, specifically wines from their Barossa Valley Vineyards. Each month members have the opportunity of receiving a Magnum from the wine club. Red wine lovers will be especially pleased with the May offering which includes:
(Reserve Selection Wine Club)
Peter Lehmann Mentor 1997
Robert Parker: The 1997 Mentor, a blend of 60% Cabernet Sauvignon, 17% Malbec, 12% Shiraz, and 11% Merlot, is a tightly-knit effort. It exhibits good aromatics, medium to full body, and pure, sweet red and black currant fruit intermixed with cedar wood and tobacco. Anticipated maturity: now-2015 90 POINTS
RELEASE PRICE $55 (per 750ml)
Magnum Wine Club Price $91.95 (1.5 liter magnum)
To log onto the wine club:
http://www.magnumwines.com/wineclub/index.html
To Log onto the Home Page:
http://www.magnumwines.com/oswelcome.stm.
International Sake Institute's Sake Summit
Once you've enjoyed premium sake, says Grif Frost, chairman of the International Sake Institute, you'll never go back to the hot, sweet stuff served in most sushi bars. In fact, he says, many Americans are beginning to make premium rice wine - better known as sake - their wine of choice.
The Institute will sponsor the first annual Saké Summit on Friday and Saturday, May 3-4, at the Rhiga Royal Hotel in New York City. For more information, visit the Institute's Website,
http://www.sakes.com.
To celebrate the event, we've added several new articles to our collection of sake information on WineLoversPage.com. Mr. Griffith has provided us two reports: "Sake: Wine of the future?"
http://www.wineloverspage.com/reports/sake.phtml,
and How to Buy Premium Sake,
http://www.wineloverspage.com/reports/sakebuy.phtml.
We're also happy to present an article from regular WineLoversPage.com columnist Randy Caparoso, putting on his sake expert's hat as Jane Faris joins him to write "Understanding and cooking for the new chilled sakes,"
http://www.wineloverspage.com/randysworld/sakecook.phtml.
Kampai!
Administrivia
To subscribe or unsubscribe from The 30 Second Wine Advisor, change your E-mail address, switch from weekly to daily distribution, or for any other administrative matters, click to http://www.wineloverspage.com/wineadvisor/admin.phtml. In all administrative communications, please be sure to include the exact E-mail address that you used when you subscribed, so we can find your record. If you must unsubscribe, please take a moment to tell us why you're leaving, and to offer any comments or suggestions you may have.
We welcome feedback, suggestions, and ideas for future columns. To contact me, please click to http://wineloverspage.com/ask_a_question.phtml. You may also send E-mail to wine@wineloverspage.com, but the link above is the simplest way to reach me directly.
We do not use this E-mail list for any other purpose and will never give or sell your name or E-mail address to anyone.
All the wine-tasting reports posted here are consumer-oriented. In order to maintain objectivity and avoid conflicts of interest, I purchase all the wines I rate at my own expense in retail stores and accept no samples, gifts or other gratuities from the wine industry.
Wednesday, April 17, 2002
Copyright 2002 by Robin Garr. All rights reserved.
Subscribe to the 30 Second Wine Advisor
Wine Advisor archives