30 Second Wine Advisor: Today's Sponsor
• WineLibrary.com
http://www.winelibrary.com
In This Issue
• Special announcement: Corkmasters.com
• How low can you go?
• San Francisco de Mostaxal 1999 Vino de Eyzaguirre Colchagua Valley Merlot ($7.99)
• Wine Lovers' Voting Booth: Butter, no butter?
• A message from WineLibrary.com
• Last Week's Wine Advisor Index
• Administrivia
Special announcement: Corkmasters.com
Three out of four wine drinkers prefer Real Cork in their bottles. To see the latest independent international survey of wine drinkers, visit Corkmasters.com, by clicking through
http://www.wineloverspage.com/cork.
Real Cork. Irreplaceable.
How low can you go?
If there has been any consistent trend in the world of wine over the past generation, it has been the inexorable rise in prices. When I started writing about wine in the early 1980s, the conventional wisdom among most retailers - at least in my part of the world - was that consumers would resist paying more than $6 a bottle for any but the most special occasions.
Nowadays, it's almost impossible to find good wine for LESS than $6, and frankly, the cutoff point for wines of real interest seems to be approaching $10 in the U.S., 7 pounds sterling, or the rough equivalent in other countries.
It's not easy to talk about good cheap wine without drifting toward snobbery, a direction that I think most of us would prefer to avoid. And with modern technology in place in virtually every world wine region, it's certainly possible to produce inexpensive wines that are sound and without technical flaws.
If we consider wine just another beverage, then it probably makes sense to purchase the least expensive palatable brand available. But if we approach wine as a hobby interest, something not just to drink but to enjoy thinking about, then it's fair to judge a specific wine on the basis of whether it's, well, interesting.
A I pointed out a while back, in a January 2000 article about "plonk," the old British slang term for cheap, forgettable wine, there's no shame in a wine being cheap, but no good wine should be boring.
In the quest for wines of interest in the single-digit price ranges, I've had good luck in the wines of less sought-after regions - there's not much chance of finding an excellent Bordeaux or Burgundy for $7 or $8, but the pickings may be better in the Languedoc and Provence. The same goes for Italy, where Calabria and Apulia may offer bargains difficult to find in Tuscany or Piemonte. Spain, Portugal, Greece, Eastern Europe offer fruitful hunting grounds for the careful shopper, and so does South America, source of today's burlap-wrapped bargain, an $8 Merlot that's far from boring.
My notes are below. For more notes on some of the more interesting wines of modest price I enjoyed last year, you'll find my annual listing at
http://www.wineloverspage.com/qpr/index.shtml.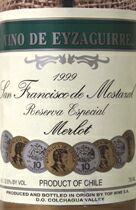 San Francisco de Mostaxal 1999 Vino de Eyzaguirre Colchagua Valley Merlot ($7.99)
Clear dark ruby, reddish-purple at the edge. Ripe black cherries and herbs, a hint of tarragon in the fresh and appealing scent. Juicy and full, bright fruit and fresh acidity. Surprisingly balanced and interesting for a wine of this price. U.S. importer: Cabernet Corp., Novato. Calif. (April 14, 2002)
FOOD MATCH: Bright, full fruit makes it almost more than a match for a thick but delicately flavored celeriac, potato and leek soup, but the flavors work together well.
VALUE: It's hard to find a much better wine at this low-end price.
A message from WineLibrary.com
http://www.WineLibrary.com
The nation's Number 1 online wine merchant! Wine Library.com features a huge collection of top wines from around the world, great gifts and accessories. Search our quick loading/high speed database of the hottest new wines from California, France, Italy, Australia, New Zealand, Spain, Germany, Austria, South America and more. Browse our selection of 2,000 Bordeaux Futures, all at the lowest prices around!
Find the world's hottest wines like Silver Oak, Dominus, and Opus One by joining our E-mail service. Each E-mail features the newest selections BEFORE they hit the shelves. Over the years, we have turned thousands on to wine at the best time ... before it's rated! Future E-Mails will include some of the hottest new wines from the explosive 1997 Brunello crop along with other exciting new releases!
Don't miss a single mailer! Log on to
http://www.WineLibrary.com
and join today! It's online wine shopping made easy ... and it's only at
http://www.WineLibrary.com

Wine Lovers' Voting Booth: Butter, no butter?
For weekly subscribers who missed this question in Friday's edition: Some people love the butter flavor that malolactic fermentation imparts in many "New World" Chardonnays. Some find it offputting, preferring the "Old World" style of White Burgundy. What's your opinion? Just for fun, we've set up this week's Wine Lovers' Voting Booth topic to find out, as we ask, "Do you like 'butter' in your Chardonnay?"
You're invited to drop by the Voting Booth,
http://www.wineloverspage.com/votebooth/index.shtml,
to cast your ballot.
Last Week's Wine Advisor Index
For Monday-only readers who'd like to read specific daily Wine Advisor articles, here's last week's index:
• Butter in your wine? (April 12)
http://www.wineloverspage.com/wineadvisor/tswa020412.phtml
• A top-rank South African red (April 11)
http://www.wineloverspage.com/wineadvisor/tswa020411.phtml
• What's Rosso Piceno? (April 10)
http://www.wineloverspage.com/wineadvisor/tswa020410.phtml
• Regulating wine (April 9)
http://www.wineloverspage.com/wineadvisor/tswa020409.phtml
• Pair o' Merlots (April 8)
http://www.wineloverspage.com/wineadvisor/tswa020408.phtml
• Complete 30 Second Wine Advisor archive:
http://www.wineloverspage.com/wineadvisor/thelist.shtml
• Last week's Wine Advisor Foodletter, Favorite recipes: Radicchio risotto:
http://www.wineloverspage.com/wineadvisor/tsfl020411.phtml
• Wine Advisor Foodletter archive:
http://www.wineloverspage.com/wineadvisor/foodlist.phtml
Administrivia
To subscribe or unsubscribe from The 30 Second Wine Advisor, change your E-mail address, switch from weekly to daily distribution, or for any other administrative matters, click to http://www.wineloverspage.com/wineadvisor/admin.phtml. In all administrative communications, please be sure to include the exact E-mail address that you used when you subscribed, so we can find your record. If you must unsubscribe, please take a moment to tell us why you're leaving, and to offer any comments or suggestions you may have.
We welcome feedback, suggestions, and ideas for future columns. To contact me, please click to http://wineloverspage.com/ask_a_question.phtml. You may also send E-mail to wine@wineloverspage.com, but the link above is the simplest way to reach me directly.
We do not use this E-mail list for any other purpose and will never give or sell your name or E-mail address to anyone.
All the wine-tasting reports posted here are consumer-oriented. In order to maintain objectivity and avoid conflicts of interest, I purchase all the wines I rate at my own expense in retail stores and accept no samples, gifts or other gratuities from the wine industry.
Monday, April 15, 2002
Copyright 2002 by Robin Garr. All rights reserved.
Subscribe to the 30 Second Wine Advisor
Wine Advisor archives