30 Second Wine Advisor: This Week's Sponsor
• California Wine Club
http://www.cawineclub.com

In This Issue
• A top-rank South African red
• Kanonkop 1997 "Paul Sauer" Stellenbosch Red Wine
• Bureau to reconsider "reciotto" as sparkling-wine term
• Administrivia
A top-rank South African red
Turning to pricier wine realms than I often navigate, we splurged over the weekend with an elegant dry red that ranks as one of South Africa's top wines.
Rated capable of five-star status ("Superlative, a Cape classic") in The John Platter South African Wine Guide, the Kanonkop "Paul Sauer" red claimed 4 1/2 stars ("Outstanding") in the lighter 1997 vintage.
Grown in South Africa's noteworthy Stellenbosch region and named after the grandfather of winery owners Paul and Johan Krige, the Paul Sauer bottling is a Bordeaux-style blend of Cabernet Sauvignon (70%), Cabernet Franc (20%) and Merlot (10%).
As I've noted before, South Africa is the one New World wine region that can be counted on consistently to produce "Old World" wines in the European tradition, favoring elegance and balance and a natural earthiness. Kanonkop is one of the country's best and most reliable producers, so even in the $30 range, choosing its top bottling wasn't much of a gamble.
Kanonkop, by the way, takes its name from the Afrikaans words for "hilltop cannon." More than 300 years ago, the Kanonkop Website explains, a cannon would be fired from a nearby "kopje" (hillock), "to warn farmers in outlying areas that sailing ships ... had entered Table Bay for a stopover at Cape Town. The farmers would then load their wagons, hitch their oxen and set off to Cape Town to barter their produce, mainly fresh fruit and vegetables, to the sailors and travelers who had spent many months at sea. Today the land has been tamed completely and rich vineyards now create a patchwork quilt across the landscape."
Featured in the April 2 Wine Advisor, the Platter Guide online is located at
http://www.platterwineguide.co.za.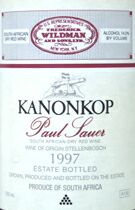 Kanonkop 1997 "Paul Sauer" Stellenbosch Red Wine
Inky dark garnet, almost black. Blackcurrant and tobacco leaf, quite Bordeaux-like in aroma and flavor. Excellent on the palate, ripe but balanced blackfruit flavors and lemony acidity. Stylish enough to be a "ringer" in a tasting of quality Bordeaux, it adds a level of ripe, appealing fruit that you'll only rarely find in France. Definitely ageworthy, but it's hard to resist it now. U.S. importer: Frederick Wildman and Sons Ltd., NYC. (April 8, 2002)
FOOD MATCH: Very well matched with a quick ragout of lamb over couscous.
VALUE: At $29.99, we're moving well into luxury territory, but quality - particularly in comparison with Bordeaux of similar character - brings it into perspective as a good buy for a special occasion.
WEB LINKS: For information on Kanonkop, go to
http://www.natural.co.za/estates.asp
and click the link for Kanonkop Estate. The U.S. importer's fact sheet on the 1997 Paul Sauer is at
http://frederickwildman.com/wildmansite/wmphp/wine.php3?wine_id=172.

Bureau to reconsider "reciotto" as sparkling-wine term
Following up on Tuesday's commentary about the U.S. Bureau of Alcohol, Tobacco and Firearms and its detailed list of words and phrases forbidden for use on non-sparkling wines, a number of you told me that you E-mailed ATF to ask what in the world they were thinking about when they included "reciotto" on the list. This appears to be a mispelling of the Italian "Recioto," a term that has nothing to do with sparkling wine.
Several of you forwarded to me the responses you got from the Bureau, indicating that it now plans to open a "Rule Making" process, apparently to reconsider this term. (The system, apparently, does not provide for a simple, "Oops, we made a mistake, we'll fix that now.")
Anyway, I'm pleased that ATF responded quickly to most of you, and grateful that you took the time to let me know. For whatever reason, although I wrote them before distributing Tuesday's column, they haven't responded to my query yet.
Administrivia
To subscribe or unsubscribe from The 30 Second Wine Advisor, change your E-mail address, switch from weekly to daily distribution, or for any other administrative matters, click to http://www.wineloverspage.com/wineadvisor/admin.phtml. In all administrative communications, please be sure to include the exact E-mail address that you used when you subscribed, so we can find your record. If you must unsubscribe, please take a moment to tell us why you're leaving, and to offer any comments or suggestions you may have.
We welcome feedback, suggestions, and ideas for future columns. To contact me, please click to http://wineloverspage.com/ask_a_question.phtml. You may also send E-mail to wine@wineloverspage.com, but the link above is the simplest way to reach me directly.
We do not use this E-mail list for any other purpose and will never give or sell your name or E-mail address to anyone.
All the wine-tasting reports posted here are consumer-oriented. In order to maintain objectivity and avoid conflicts of interest, I purchase all the wines I rate at my own expense in retail stores and accept no samples, gifts or other gratuities from the wine industry.
Thursday, April 11, 2002
Copyright 2002 by Robin Garr. All rights reserved.
Subscribe to the 30 Second Wine Advisor
Wine Advisor archives