30 Second Wine Advisor: This Week's Sponsor
• California Wine Club
http://www.cawineclub.com

In This Issue
• What's Rosso Piceno?
• Boccadigabbia 1999 Rosso Piceno
• Tom Hyland's "Guide to Italian Wines"
• Administrivia
What's Rosso Piceno?
Open your atlas to the map of Italy and focus on its mid-section, north of Rome.
There on the west is Tuscany, home of Chianti ... just about everyone who knows Italian wine is familiar with that. Next to it lies Umbria, the landlocked "green heart of Italy" in the middle. Not quite as well-known maybe, but still familiar to wine enthusiasts who've discovered the reds of Torgiano. But keep on moving east and you'll find Marche ("The Marches"), third and arguably least-known of this Central Italian trio.
Off the beaten path and largely rural, The Marches lagged in postwar economic development until recent years, and its wines generally aren't well-known. But blessed with an excellent climate and many of the same grape varieties that Tuscany made famous, there's potential here, and it's particularly noteworthy in today's affordably priced wine, Rosso Piceno.
Made from at least 60 percent Sangiovese, the primary grape of Tuscany, blended with Marche's own Montepulciano, a riper, more robust grape that lends power and body to the blend, it's certainly a cousin to Chianti in style, but adds a fruity, robust character all its own.
Next time you're shopping for Italian wine, it's worth a trip down the less traveled roads to Rosso Piceno.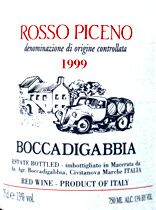 Boccadigabbia 1999 Rosso Piceno ($9.49)
Clear ruby, with a reddish-orange glint when you hold it up to the light. Spicy black cherries and a hint of caramel seem consistent with the central Italian style. Fall and ripe, on the robust side, with tart acidity and firm but palatable tannins. U.S. importer: a Marc Di Grazia Selection, various regional importers including Skurnik (NYC), Vin DiVino (Chicago) and Vintner Select (Cincinnati). (April 9, 2002)
FOOD MATCH: The wine's slightly bitter finish makes a perfect "like with like" match with a radicchio risotto.
VALUE: The wine's relative unfamiliarity translates into good value. It's an unusually stylish and balanced wine for less than $10.
Tom Hyland's "Guide to Italian Wines"
Speaking of Italian wines, I'm delighted to announce that my pal Tom Hyland, a Chicago-based wine writer who I met in Friuli-Venezia Giulia last autumn, has launched "Guide to Italian Wines," a digital newsletter available by E-mail.
We'll be publishing selections from this publication from time to time, beginning today with Tom's report on wines of value from Puglia (Apulia), the "heel" of the Italian "boot." The article is online at
http://www.wineloverspage.com/italwineguide/puglia.phtml,
and you can subscribe to the E-mail newsletter by contacting Tom at tnapawine@aol.com.
Administrivia
To subscribe or unsubscribe from The 30 Second Wine Advisor, change your E-mail address, switch from weekly to daily distribution, or for any other administrative matters, click to http://www.wineloverspage.com/wineadvisor/admin.phtml. In all administrative communications, please be sure to include the exact E-mail address that you used when you subscribed, so we can find your record. If you must unsubscribe, please take a moment to tell us why you're leaving, and to offer any comments or suggestions you may have.
We welcome feedback, suggestions, and ideas for future columns. To contact me, please click to http://wineloverspage.com/ask_a_question.phtml. You may also send E-mail to wine@wineloverspage.com, but the link above is the simplest way to reach me directly.
We do not use this E-mail list for any other purpose and will never give or sell your name or E-mail address to anyone.
All the wine-tasting reports posted here are consumer-oriented. In order to maintain objectivity and avoid conflicts of interest, I purchase all the wines I rate at my own expense in retail stores and accept no samples, gifts or other gratuities from the wine industry.
Wednesday, April 10, 2002
Copyright 2002 by Robin Garr. All rights reserved.
Subscribe to the 30 Second Wine Advisor
Wine Advisor archives