30 Second Wine Advisor: This Week's Sponsor
• California Wine Club
http://www.cawineclub.com

In This Issue
• Pair o' Merlots
• Falesco 2000 Umbria Merlot
• Hogue 2000 Columbia Valley (Washington State) Merlot
• California Wine Club: Can't tell the good from the bad?
• A few places remain open on our Rhone trip
• Last Week's Wine Advisor Index
• Administrivia
Pair o' Merlots
As I have occasionally noted, not without a touch of cynicism, Merlot for centuries was considered a blending grape, a variety not generally regarded as sufficiently interesting or balanced to stand alone in a 100 percent varietal wine.
In Bordeaux, its natural home, it is usually a minor component in a blend with Cabernet Sauvignon, sometimes Cabernet Franc and occasionally Malbec and Petit Verdot, each ingredient adding its own character to a whole that the wine maker hopes will be greater than the sum of its parts.
Even in the "Right Bank" regions, St.-Emilion and Pomerol and their satellites - the Bordeaux regions where Merlot dominates - Merlot is rarely the only grape in the blend; and in fact, some of the greatest Right Bank Bordeaux - like Chateau Cheval Blanc - contain more Cabernet Franc than Merlot. (In fairness, though, it must be noted that one of the most sought-after and costly Bordeaux of all - Chateau Petrus - is a rare exception, being 95 percent Merlot and just 5 percent Cabernet Franc.)
Be that as it may, all-Merlot wines have become wildly popular in recent years. Merlot has soared to third place among reds (and fifth among all grapes) in tons of grapes crushed to make wine per year in California. In an even more telling statistic, Merlot's growers receive an average of $993 per ton, barely trailing Cabernet Sauvignon at $1,062 as California's most expensive high-production wine grape in 2001. (For the record, Pinot Noir led the value list at $1,849 per ton, followed by Cabernet Franc at $1,481, but these varieties have much smaller production.)
So, let's get to the point: If Merlot works best as a blending grape, why is it so popular in wines where it stands alone? Perhaps because the very characteristics that make it desirable in the Bordeaux blend - ripe, approachable fruit and a mellow, uncomplicated flavor that softens the harsher edges of the Cabernets - make it an easy wine to enjoy if rarely one to contemplate.
As popularity and demand push up Merlot's price, however, it may be no coincidence that consumers and the wine industry are already looking around for other easy-drinking alternatives - like Malbec, for example, another increasingly popular grape (and another historic bit player in the Bordeaux cast) that we've given some recent attention here.
For today's report, I compared two popular Merlots - the 2000 rendition of an Italian Merlot from Umbria that received rave reviews in 1999, and an affordable Merlot from Washington State, a region that in my opinion surpasses California in its potential to produce Merlot of great quality. They're both decent wines and at least fair values, although I'm not sure either makes a compelling case that Merlot is any better on its own than in the traditional blends.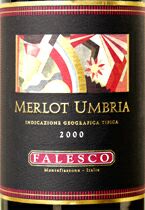 Falesco 2000 Umbria Merlot ($17.99)
Clear dark garnet with an almost day-glo purple edge. Fresh cherry and plum aromas; juicy fruit flavor, fresh acidity and a tannic edge with a hint of black coffee. A good wine, but perhaps not up to the level that led the critic Robert M. Parker Jr. to declare the 1999 vintage one of the year's best values. U.S. importer: Winebow Inc., NYC.; Leonardo Locascio Selections. (April 7, 2002)
VALUE: Pushing the upper limit for everyday Merlot.
WEB LINK: The importer's fact sheet on Falesco Merlot is at
http://www.winebow.com/shortdet.asp?ID=156.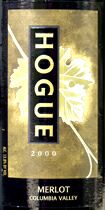 Hogue 2000 Columbia Valley (Washington State) Merlot ($10.99)
Dark, slightly hazy garnet. Wild cherry, vanilla and spice on the nose and palate. Ripe fruit and new oak in a simple flavor that conveys an impression of slight sweetness. Harsh tannins become more evident with time in the glass. (April 7, 2002)
VALUE: Its $10 price puts it at the low end for high-quality wines, but I wouldn't spend much more. Fair value.
WEB LINK: Hogue Cellars' Website is at
http://www.hoguecellars.com/home.asp.
An excellent Pacific Northwest wine retailer that ships wine to "reciprocal" states in the U.S. is Avalon of Oregon,
http://www.avalonwine.com/.

FOOD MATCH: Both wines work well with pan-grilled filet mignon.
California Wine Club: Can't tell the good from the bad?
When it comes to selecting great wine, the choices can sometimes be daunting.
With The California Wine Club, each month's two bottle shipment is hand-selected from the best of California's small, "Mom & Pop" wineries! Their credo? To only sell wines that they would serve to their own family and friends.
Each month is $32.95 plus shipping and includes a fun 8-page newsletter, Uncorked. Visit their website at
http://www.cawineclub.com
or call (800) 777-4443.
Makes a FUN and UNIQUE gift too!
A few places remain open on our Rhone trip
In just over two months, I'll be making a rendezvous in France with a select group of wine lovers for a week-long tour through the southern Rhone Valley and Provence.
We will join with wine experts Lauriann Greene and Jean-Pierre Sollin of French Wine Explorers, a high-quality American tour company that specializes in wine tours of France, for an in-depth exploration of these two beautiful regions and their vineyards and wines.
The mood will be relaxed and the attitude easy as we make our way through some of France's most enjoyable wine regions as a small community of wine-loving friends, taking a close-up, inside look at the wines and food of the region and meeting the people who make them.
I had originally announced that reservations would close March 31, but we are willing to make last-minute additions for a couple more weeks or until the tour fills. So, if you thought you were too late but are still interested, there's still room ... if you contact French Wine Explorers soon. I hope you'll consider it: We're going to have a great time!
For more information about the tour, click to the details at http://www.wineloverspage.com/tour. And if you have any questions you would like to ask me first, please don't hesitate to use the form at http://www.wineloverspage.com/ask_a_question.phtml to get in touch.
Last Week's Wine Advisor Index
For Monday-only readers who'd like to read specific daily Wine Advisor articles, here's last week's index:
• Tasting Note: Acinum Ripasso (April 5)
http://www.wineloverspage.com/wineadvisor/tswa020405.phtml
• Which way do you swirl your wine? (April 4)
http://www.wineloverspage.com/wineadvisor/tswa020404.phtml
• Gray market under attack in California (April 3)
http://www.wineloverspage.com/wineadvisor/tswa020403.phtml
• South African Platter Guide online (April 2)
http://www.wineloverspage.com/wineadvisor/tswa020402.phtml
• Discovering Bonarda (April 1)
http://www.wineloverspage.com/wineadvisor/tswa020401.phtml
• Complete 30 Second Wine Advisor archive:
http://www.wineloverspage.com/wineadvisor/thelist.shtml
• Last week's Wine Advisor Foodletter, "Favorite recipes: Linguine with white clam sauce":
http://www.wineloverspage.com/wineadvisor/tsfl020404.phtml
• Wine Advisor Foodletter archive:
http://www.wineloverspage.com/wineadvisor/foodlist.phtml
Administrivia
To subscribe or unsubscribe from The 30 Second Wine Advisor, change your E-mail address, switch from weekly to daily distribution, or for any other administrative matters, click to http://www.wineloverspage.com/wineadvisor/admin.phtml. In all administrative communications, please be sure to include the exact E-mail address that you used when you subscribed, so we can find your record. If you must unsubscribe, please take a moment to tell us why you're leaving, and to offer any comments or suggestions you may have.
We welcome feedback, suggestions, and ideas for future columns. To contact me, please click to http://wineloverspage.com/ask_a_question.phtml. You may also send E-mail to wine@wineloverspage.com, but the link above is the simplest way to reach me directly.
We do not use this E-mail list for any other purpose and will never give or sell your name or E-mail address to anyone.
All the wine-tasting reports posted here are consumer-oriented. In order to maintain objectivity and avoid conflicts of interest, I purchase all the wines I rate at my own expense in retail stores and accept no samples, gifts or other gratuities from the wine industry.
Monday, April 8, 2002
Copyright 2002 by Robin Garr. All rights reserved.
Subscribe to the 30 Second Wine Advisor
Wine Advisor archives