30 Second Wine Advisor: In This Issue
• Tasting Note: Acinum Ripasso
• Acinum 1997 Valpolicella Classico Superiore Ripasso "Rondinella"
• A few places remain open on our Rhone trip
• Administrivia
Tasting Note: Acinum Ripasso
After a week of columns that have ranged from the serious (wine-shipping and "gray market" legislation) to the silly ("clockwise or counter-clockwise,") let's wrap it up for the weekend with a straightforward tasting note on a wine that I found particularly appealing.
Valpolicella, as you'll recall, is a fresh red wine from the scenic hill country of the same name above Verona in Northeastern Italy's Veneto region. An all-Italian wine made entirely with local grape varieties, it features primarily Corvina with Rondinella and Molinara in the blend. The basic Valpolicella is light, fruity and typically forgettable; but when made as Amarone, from selected ripe grapes air-dried to concentrate their flavors, it goes to the other extreme, a huge, hulking and robust wine that works best with hearty game on the table or sipped after dinner with a block of Parmigiano.
And then there's Ripasso: Made in a special way by placing some basic Valpolicella into the barrels vacated in the spring by the previous autumn's Amarone - hence "ripasso" or "re-passed" over the sediment (lees) of its sibling wine - this variation is no light quaffer but a Valpolicella with a backbone, full of both fruit and structure.
Today's featured wine, a fairly widely distributed brand that recently turned up in our local market, is a particularly good one, ripe and fresh, a fine example of the style.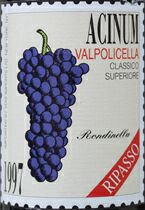 Acinum 1997 Valpolicella Classico Superiore Ripasso "Rondinella" ($15.99)
Dark ruby. Delicious dried-cherry and spice aromas. Full and ripe, juicy fruit flavors follow the nose, fresh and so fruity that it communicates an impression of sweetness even though the wine is dry. Excellent wine. U.S. importer: VIAS imports Ltd., NYC (March 29, 2002)
FOOD MATCH: Fine with the earthy flavors of tortellini with a mushroom sauce.
VALUE: It's pushing the upper end of the Valpolicella price range at $16, but it's an exceptional Ripasso. Call it a fair price if not a bargain.
WEB LINK: The U.S. importer offers a fact sheet on this wine, with links to distribution and vendor information, at http://www.viaswine.com/prodotti/prod_vini.asp?vino=104.

A few places remain open on our Rhone trip
In just over two months, I'll be making a rendezvous in France with a select group of wine lovers for a week-long tour through the southern Rhone Valley and Provence.
We will join with wine experts Lauriann Greene and Jean-Pierre Sollin of French Wine Explorers, a high-quality American tour company that specializes in wine tours of France, for an in-depth exploration of these two beautiful regions and their vineyards and wines.
The mood will be relaxed and the attitude easy as we make our way through some of France's most enjoyable wine regions as a small community of wine-loving friends, taking a close-up, inside look at the wines and food of the region and meeting the people who make them.
I had originally announced that reservations would close March 31, but we are willing to make last-minute additions for a couple more weeks or until the tour fills. So, if you thought you were too late but are still interested, there's still room ... if you contact French Wine Explorers soon. I hope you'll consider it: We're going to have a great time!
For more information about the tour, click to the details at http://www.wineloverspage.com/tour. And if you have any questions you would like to ask me first, please don't hesitate to use the form at http://www.wineloverspage.com/ask_a_question.phtml to get in touch.
Administrivia
To subscribe or unsubscribe from The 30 Second Wine Advisor, change your E-mail address, switch from weekly to daily distribution, or for any other administrative matters, click to http://www.wineloverspage.com/wineadvisor/admin.phtml. In all administrative communications, please be sure to include the exact E-mail address that you used when you subscribed, so we can find your record. If you must unsubscribe, please take a moment to tell us why you're leaving, and to offer any comments or suggestions you may have.
We welcome feedback, suggestions, and ideas for future columns. To contact me, please click to http://wineloverspage.com/ask_a_question.phtml. You may also send E-mail to wine@wineloverspage.com, but the link above is the simplest way to reach me directly.
We do not use this E-mail list for any other purpose and will never give or sell your name or E-mail address to anyone.
All the wine-tasting reports posted here are consumer-oriented. In order to maintain objectivity and avoid conflicts of interest, I purchase all the wines I rate at my own expense in retail stores and accept no samples, gifts or other gratuities from the wine industry.
Friday, April 5, 2002
Copyright 2002 by Robin Garr. All rights reserved.
Subscribe to the 30 Second Wine Advisor
Wine Advisor archives