30 Second Wine Advisor: Today's Sponsor
• WineLibrary.com
http://www.winelibrary.com
In This Issue
• Special announcement: Corkmasters.com
• Discovering Bonarda
• Alamos 2000 Mendoza Bonarda
• Wine Lovers' Voting Booth: Wine, the Web and you
• A message from WineLibrary.com
• Wine News: Virginia wine-shipping ban declared unconstitutional
• Last Week's Wine Advisor Index
• Administrivia
Special announcement: Corkmasters.com
Which says more about the wine: The label? Or the cork? To see the latest independent international survey of wine drinkers, visit Corkmasters.com, by clicking through
http://www.wineloverspage.com/cork.
Real Cork. Irreplaceable.
Discovering Bonarda
When you start listing the most prominent red-wine grapes, you'll surely put Cabernet Sauvignon, Merlot, Pinot Noir, Syrah/Shiraz and Zinfandel near the top of the list, with more spaces reserved for favorites from Sangiovese to Nebbiolo to Malbec to Gamay.
But it's not likely that Bonarda would make anyone's top ten.
Pronounced "Boe-nahr-dah," this grape has its roots in Italy but is currently most planted in South America, where it's a fairly prominent player in Argentina.
Just to confuse matters a little further, the name "Bonarda" is used in Northern Italy for three entirely different grapes: It's a synonym for Croatina and for Uva Rara and - as Bonarda Piemontese - was widely grown during the 1800s, lost popularity but is coming back in modern times, generally used in a blend with Barbera. What's more, some authorities believe that it's the same grape as California's Italian-style Charbono, another grape that enjoyed more popularity a generation ago than it does today.
All this grape genealogy aside, it's a grape worth getting to know. Full and fruity, it makes an easy quaff and a good food match, particularly in this affordable version from Alamos, a label produced by the respected Argentine wine maker Nicolas Catena.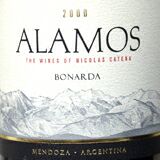 Alamos 2000 Mendoza Bonarda ($9.99)
This inky dark-purple offers a ripe and juicy scent that's warm and plummy with a ripe-fruit character that can only be described as "grapey." Full and soft and slightly sweet, its flavor mingles plums and the vanilla aromas of oak. It's a very accessible wine and a good match with roast beef. U.S. importer: Billington Imports, Springfield, Va. (March 31, 2002)
FOOD MATCH: OK with deli roast beef on an Easter buffet, but would be better yet with a slab of prime rib or steak.
VALUE: A good buy in the $10 range.
WEB LINK: Nicolas Catena has a Website in English at http://www.nicolascatena.com.

Wine Lovers' Voting Booth: Wine, the Web and you
The evolution of the World Wide Web has created a remarkable new medium for gathering information, conducting E-commerce and, perhaps most important, locating and becoming involved with online communities who share your interests.
All this is certainly true of wine and those who love it: Plugging the single word "wine" into Google.com yields 8,370,000 results! This week's Wine Lovers' Voting Booth digs a little more deeply into the specific ways that nurture your wine enthusiasm online, as we ask, "How do you use the Internet to advance your interest in wine?"
Please take a moment to add your comments to the list. You'll find the online ballot at
http://www.wineloverspage.com/votebooth/index.shtml.
A message from WineLibrary.com
The nation's Number 1 online wine merchant! WineLibrary.com features a huge collection of top wines from around the world, great gifts and accessories - Search our quick loading/high speed database of the hottest new wines from California, France, Italy, Australia, New Zealand, Spain, Germany, Austria, South America and more. Browse our selection of 2000 Bordeaux Futures, all at the lowest prices around! Find the world's hottest wines like Silver Oak, Dominus, and Opus one by joining our e-mail service. Each e-mail features the newest selections BEFORE they hit the shelves. Over the years, we have turned thousands onto wine at the best time ... before it's rated!
Today's e-mail features new wines from hot winemakers Telmo Rodrigez (Spain), whose Valderez Ribera del Duero - 92 WS will be found at
http://www.winelibrary.com/reviewwine.asp?item=17158
and Michael Rolland, whose Yacochuya 1999 Malbec - 91RP is online at
http://www.winelibrary.com/reviewwine.asp?item=16828
and much more!
Don't miss a single mailer - log on to
http://www.winelibrary.com
and join today! It's online wine shopping made easy ... and it's only at
http://www.winelibrary.com
Virginia wine-shipping ban declared unconstitutional
In what appears to be a severe blow to the wine-and-liquor wholesale industry's efforts to discourage the direct shipment of wine to U.S. consumers, U.S. District Judge Richard L. Williams has declared unconstitutional the long-standing laws that had banned such shipment in Virginia.
Judge Williams's Friday ruling is "far-reaching," said Matt Cooper, attorney for a group of consumers who had challenged the Virginia law. He said the decision "has handed a major setback to wine and beer wholesalers in Virginia as well as in other States."
Williams found the Virginia law unconstitutional because it discriminated against non-Virginia wineries and breweries in their efforts to sell products to Virginia residents, thus violating the Constitution's Interstate Commerce clause.
For more on this story, see
http://www.wineloverspage.com/winenews/virginia.phtml.
Last Week's Wine Advisor Index
Because of my travels, the Wine Advisor was published only three days last week:
• Dolcetto: myth and value (March 29)
http://www.wineloverspage.com/wineadvisor/tswa020329.phtml
• Diary of a wine judge (March 28)
http://www.wineloverspage.com/wineadvisor/tswa020328.phtml
• Slovene wine: Why should you care? (March 25)
http://www.wineloverspage.com/wineadvisor/tswa020325.phtml
• Complete 30 Second Wine Advisor archive:
http://www.wineloverspage.com/wineadvisor/thelist.shtml
Administrivia
To subscribe or unsubscribe from The 30 Second Wine Advisor, change your E-mail address, switch from weekly to daily distribution, or for any other administrative matters, click to http://www.wineloverspage.com/wineadvisor/admin.phtml. In all administrative communications, please be sure to include the exact E-mail address that you used when you subscribed, so we can find your record. If you must unsubscribe, please take a moment to tell us why you're leaving, and to offer any comments or suggestions you may have.
We welcome feedback, suggestions, and ideas for future columns. To contact me, please click to http://wineloverspage.com/ask_a_question.phtml. You may also send E-mail to wine@wineloverspage.com, but the link above is the simplest way to reach me directly.
We do not use this E-mail list for any other purpose and will never give or sell your name or E-mail address to anyone.
All the wine-tasting reports posted here are consumer-oriented. In order to maintain objectivity and avoid conflicts of interest, I purchase all the wines I rate at my own expense in retail stores and accept no samples, gifts or other gratuities from the wine industry.
Monday, April 1, 2002
Copyright 2002 by Robin Garr. All rights reserved.
Subscribe to the 30 Second Wine Advisor
Wine Advisor archives