30 Second Wine Advisor: Today's Sponsor
• Chateau Palmer
http://chateau-palmer.com/wineadvisor.php
In This Issue
• Admin note: Yesterday's edition
• Dolcetto: myth and value
• Marenco 2000 Bric Dolcetto di Dogliani
• A message for you from Chateau Palmer
• Administrivia
Admin note: Yesterday's edition
I haven't tracked down the problem, but it appears that a large number of yesterday's editions did not reach their destination. We're counting on the "cross-fingers-and-hope" technology to deter a similar glitch today. If you didn't receive your Wine Advisor, "Diary of a wine judge," but would like to see it, you'll find an archived copy online at
http://www.wineloverspage.com/wineadvisor/tswa020328.phtml.
Dolcetto: myth and value
One of the best value wines from Northwestern Italy's Alpine foothill region called Piemonte - a region generally better known for wines of quality than value - is Dolcetto. It's one of my Italian favorites, and it's often available for as (relatively) little as $10 to $15.
But in one of wine appreciation's most enduring myths - perhaps because of its name, which translates as "The little sweet one" - Dolcetto is often mistakenly categorized as a light, fruity wine, something like an Italian Beaujolais.
Even the usually reliable Frank Schoonmaker, in his classic "New Encyclopedia of Wine," declared Dolcetto "soft, lush, supple ... at its best within two or three years of the harvest," an assertion that simply doesn't stand up to the taste test.
In fact, there's nothing lightweight about Dolcetto, a sturdy, gutsy Northern Italian red that's typically dark and robust and often astringently tannic - a wine that shows best in company with food.
Today's example comes from one of the best Dolcetto-producing villages, Dogliani, a few kilometers south of Alba.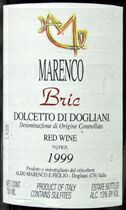 Marenco 2000 Bric Dolcetto di Dogliani ($12.99)
Clear but very dark garnet. Black cherry scent with smoky and "tarry" nuances. Fresh fruit and earthy flavors are consistent with the nose, mouth-filling and tartly acidic. A good food wine, if hardly a "little sweet one." U.S. importer: Kermit Lynch Wine Merchant, Berkeley, Calif. (March 28, 2002)
FOOD MATCH: A fresh arugula and caper topping turns a simple pizza into an exceptional match.
VALUE: Appropriate for the price.

A message for you from Chateau Palmer
Throughout Europe, wine lovers are making travel plans for Bordeaux as the region's producers will soon offer the 2001 vintage for sale "en primeur."
The noteworthy Chateau Palmer offers these comments on its wine of the vintage: "The 2001 vintage of Chateau Palmer has a strong personality that is both firm and fresh, revealing roundness and excellent length. At Palmer we believe we have achieved a very successful vintage, and we would like to invite you to discover all the aspects that have forged its character."
For a more complete report on 2001 at Chateau Palmer, you're invited to visit
http://chateau-palmer.com/wineadvisor.php
Administrivia
To subscribe or unsubscribe from The 30 Second Wine Advisor, change your E-mail address, switch from weekly to daily distribution, or for any other administrative matters, click to http://www.wineloverspage.com/wineadvisor/admin.phtml. In all administrative communications, please be sure to include the exact E-mail address that you used when you subscribed, so we can find your record. If you must unsubscribe, please take a moment to tell us why you're leaving, and to offer any comments or suggestions you may have.
We welcome feedback, suggestions, and ideas for future columns. To contact me, please click to http://wineloverspage.com/ask_a_question.phtml. You may also send E-mail to wine@wineloverspage.com, but the link above is the simplest way to reach me directly.
We do not use this E-mail list for any other purpose and will never give or sell your name or E-mail address to anyone.
All the wine-tasting reports posted here are consumer-oriented. In order to maintain objectivity and avoid conflicts of interest, I purchase all the wines I rate at my own expense in retail stores and accept no samples, gifts or other gratuities from the wine industry.
Friday, March 29, 2002
Copyright 2002 by Robin Garr. All rights reserved.
Subscribe to the 30 Second Wine Advisor
Wine Advisor archives