30 Second Wine Advisor: Today's Sponsor
• Chateau Palmer
http://chateau-palmer.com/wineadvisor.php
In This Issue
• Diary of a wine judge
• Le Pigeoulet en Provence 2000 Vin de Pays de Vaucluse
• A message for you from Chateau Palmer
• Administrivia
Diary of a wine judge
I've just returned home after rating about 200 wines from around the world during five busy days as a wine judge, and I thought you might be interested in a few details about formal wine judging and how it works.
I should point out that not all wine competitions use the exact same procedures. This week's Vino Ljubljana in Slovenia represents one approach to wine judging - the Sydney International ("Top 1OO") competition in Australia, which I discussed in the Nov. 20, 2000, Wine Advisor, gets to the same destination by a somewhat different road.
But the Ljubljana competition is the "grandfather" of such wine shows, with nearly 50 years of history behind it. An annual event since 1955, it is the longest-running annual competition certified by the Paris-based OIV, the Office International de la Vigne et du Vin.
All wine competitions have the basics in common: Wine producers submit their wares for consideration, and judges analyze and rank them on the basis of a consistent system. The wines scoring highest earn medals - and, most likely, will publicize this distinction by displaying a foil medal on the wine label.
The Vino Ljubljana organizers invited a panel of 25 judges from around the world, including wine makers, wine sellers and journalists. The judges were divided into five panels (mine included representatives from Slovenia, Portugal, Brazil, France and the U.S., plus panel chairman Marjan Kveder from Slovenia.)
The setting for judging is quite spartan analytical - a plain, white room with five booths, each equipped with a table, chair, glassware, a receptacle for spitting out wine after tasting, and detailed tasting and rating forms. Judges work independently - conferring or even expressing any verbal opinion about a wine is strictly forbidden, so each judge forms his or her own opinion without any outside influence. (This approach, by the way, is standard with OIV competitions but differs from many events in the U.S. and Australia, in which judges confer over each wine and try to build a consensus report.)
All wines are presented "blind," in plain glasses identified only by a four-digit registration number and a category code revealing only basic information about the wine's color and sweetness.
And, in another OIV rule that differs from many New World competitions, judges are presented the wines one at a time, completing one rating before moving on to the next. In some competitions, judges rate an entire "flight" - sometimes 50 wines or more - all at once. I like that method because it allows you to compare and contrast - but, said fellow Ljubljana judge Ghislan Laflamme of Montreal, who's also an OIV official, the one-at-a-time approach is intentional, aimed at rating each wine entirely on its own merits and not in comparison with different wines.
All competitions use a consistent rating form and scoring system. In Ljubljana, the score sheet is a matrix that yields a maximum score of 100 and a minumum of 40, checking off blocks in five quality levels ranging from "inadequate" to "excellent" under each of 10 sensory categories including visual, aromatic, flavor and overall impression. Each judge's score is averaged with his peers (and, as a matter of standard statistical procedure, the highest and lowest ratings discarded) to yield the wine's final score and medal status. (In addition, we were expected to supplement the numerical rating by filling in a second sheet with three-digit codes for specific characteristics we found in each wine, such as "aromatic," "fruity," "complex," "distinguished" and even "nice wine.")
Don't let anyone tell you that wine judging is not hard work. After rating about 200 wines each day, over a four-hour session that began promptly after breakfast and featured only two brief breaks, most of the judges eagerly asked for BEER with their lunch!
Results of the judging will be published online soon at the Vino Ljubljana Website,
http://www.ljubljanski-sejem.si/English/Eocen.htm
(English version), and the medals will be presented at the Vino Ljubljana fair, which is open to the public, beginning April 15 at the Ljubljana fairgrounds in the Slovenian capital city. As I've noted in previous columns, this charming little city is only a two-hour drive from Venice and one from Trieste, so if you're traveling in Europe next month, a visit to the wine fair might be a great excuse for you to discover Slovenia.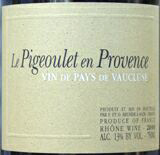 Le Pigeoulet en Provence 2000 Vin de Pays de Vaucluse ($9.99)
Clear ruby with an orange glint. Plums, pepper and spice mingle in a balanced and quaffable wine, with appropriately acidic structure to make it an excellent food match. U.S. importer: Kermit Lynch Wine Merchant, Berkeley, Calif. (March 27, 2002)
FOOD MATCH: Worked very well with a simple soup inspired by a dish enjoyed in a rural Slovenian gostilna (inn), thin-sliced wild and domestic mushrooms quickly cooked with mushroom broth and a bit of cream.
VALUE: Even if it lacks the complexity you might expect of a more pricey wine, its balance, fresh fruit and food-friendliness make it a fine value indeed for less than $10.
A message for you from Chateau Palmer
Throughout Europe, wine lovers are making travel plans for Bordeaux as the region's producers will soon offer the 2001 vintage for sale "en primeur."
The noteworthy Chateau Palmer offers these comments on its wine of the vintage: "The 2001 vintage of Chateau Palmer has a strong personality that is both firm and fresh, revealing roundness and excellent length. At Palmer we believe we have achieved a very successful vintage, and we would like to invite you to discover all the aspects that have forged its character."
For a more complete report on 2001 at Chateau Palmer, you're invited to visit
http://chateau-palmer.com/wineadvisor.php
Administrivia
To subscribe or unsubscribe from The 30 Second Wine Advisor, change your E-mail address, switch from weekly to daily distribution, or for any other administrative matters, click to http://www.wineloverspage.com/wineadvisor/admin.phtml. In all administrative communications, please be sure to include the exact E-mail address that you used when you subscribed, so we can find your record. If you must unsubscribe, please take a moment to tell us why you're leaving, and to offer any comments or suggestions you may have.
We welcome feedback, suggestions, and ideas for future columns. To contact me, please click to http://wineloverspage.com/ask_a_question.phtml. You may also send E-mail to wine@wineloverspage.com, but the link above is the simplest way to reach me directly.
We do not use this E-mail list for any other purpose and will never give or sell your name or E-mail address to anyone.
All the wine-tasting reports posted here are consumer-oriented. In order to maintain objectivity and avoid conflicts of interest, I purchase all the wines I rate at my own expense in retail stores and accept no samples, gifts or other gratuities from the wine industry.
Thursday, March 28, 2002
Copyright 2002 by Robin Garr. All rights reserved.
Subscribe to the 30 Second Wine Advisor
Wine Advisor archives