30 Second Wine Advisor: This Week's Sponsors
• California Wine Club
http://www.cawineclub.com

• Chateau Palmer
http://chateau-palmer.com/wineadvisor.php
In This Issue
• Slovene wine: Why should you care?
• Nautilus 2001 Marlborough Sauvignon Blanc
• Spring Fever Wine Sale at The California Wine Club!
• A message for you from Chateau Palmer
• Counting down to our Rhone trip
• Last Week's Wine Advisor Index
• Administrivia
Slovene wine: Why should you care?
Let's begin today's short special report from Slovenia with a blunt question: Why am I telling you about a small country where many of you may never travel and whose wines you may only rarely encounter?
It's a fair question, and I think it has a reasonable answer: If we enjoy wine enough to read about it and try to learn as much about it as we can, then it's worth taking an occasional scenic side trip off the main road.
Slovenia, as noted in last week's edition, is one of the former Yugoslav republics, free and independent only since the Iron Curtain fell in 1991. I'm here this week as a judge in the annual international wine competition held in Ljubljana, the capital, since 1955, and have spent the last several days visiting many of the country's wine regions and tasting the local wines.
Directly adjacent to the wine regions of Friuli in Italy and Steiermark in Austria, Slovenia produces wines fully competitive in quality with its neighbors. But because the country's wine production is tiny and, frankly, because Slovene wines aren't well-known, they're rarely seen on the world market.
And this brings us directly to the point of today's sermon: As wine consumers who want the experience of less-known wines like these and not just the same old stuff, how can we do it? (This question, of course, applies not just to Slovenia but to a dozen other countries, in Eastern Europe and elsewhere, from Slovenia to Slovakia to Malta and beyond, that make good wine but rarely export it thanks to lack of facilities and limited market demand.)
As a long-term expedient, it pays let your local merchants and their suppliers know that you WANT more variety. Although Slovene wines (for example) aren't widely exported, at least a few do reach the international market. One importer, a Slovene gentleman named Emil Gaspari, is here this week and told me that he hopes to expand the U.S. presence of the country's top wines, at least as "a niche market" to restaurants in and around New York City. Now, this may be of little use to most of us who don't live there (or in London or other great cities where a little Slovene wine may be found), but it's a start, and who knows? A tiny presence in a few major cities today may lead to a few bottles on your retailer's shelves next year. It can't hurt to ask.
Can't wait? I might seriously suggest a visit to Slovenia. There's already substantial tourist and wine-buying traffic across the borders from Italy and Austria, and it's easy to tack a day or two here onto your itinerary if you're visiting either country. Slovenia is no larger than New Jersey, and some of its most interesting wine regions lie only an hour or two from Venice and not much farther from Vienna. A border crossing as quick and painless as that between the U.S. and Canada offers quick access to a country where the scenery is stunning, the roads are good, the people are exceptionally welcoming (and many of them can get by in English) ... and where you can find your way to dozens of tiny wineries that make delicious wines and sell most of them in the range of US$3 to $7 per bottle.
Put it that way, and a short chat about Slovene wine suddenly doesn't seem all that exotic or obscure.
In the near future, I will continue expanding our Wines of Slovenia pages with more pictures, wine notes and travel information. I hope you'll feel free to check in periodically at
http://www.wineloverspage.com/slovenia/index.phtml
to see what's new. For a wine-and-food report on dinner last night at one of Ljubljana's best restaurants, see "Return to Gostilna AS,"
http://www.wineloverspage.com/wines/as032302.phtml.
ADMIN NOTE: Because of my travels, we have suspended publication of the daily Wine Advisor and the Thursday Wine Advisor's FoodLetter, and today's weekly edition is going out a day early.
It will also be difficult for me to keep up with personal E-mail while I'm traveling, so if you comment or ask me a question during the period, please be patient. I expect to be back at home base, and resume daily publication, at the end of this week.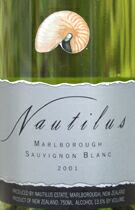 Nautilus 2001 Marlborough Sauvignon Blanc ($11.99)
Clear bright brass color. Very ripe and full, green chiles and juicy lime aromas and flavors, characteristic New Zealand Sauvignon Blanc. U.S. importer: Negociants USA Inc., Napa, Calif. (March 11, 2002)
FOOD MATCH: I find New Zealand Sauvignon Blanc an inspired match with smoked fish; this one went very well with smoked trout on corn pancakes.
VALUE: Much of the character and quality of the sought-after Cloudy Bay for hardly more than half the price. You do the math.
Spring Fever Wine Sale at The California Wine Club!
Save up to 50% on award-winning California wines! Visit
http://www.cawineclub.com
for unbeatable savings and be sure to take a look into this fun and unique Wine Club!
The California Wine Club has monthly subscriptions starting at $32.95 plus shipping. There's never any bulk wine, closeouts or private labels. Just fabulous wine, hand-selected from the best of California's small, family owned wineries! To join for yourself or send a gift, visit
http://www.cawineclub.com
or call (800) 777-4443. Special discounts on gifts of 3, 6, 9 or 12 months.
A message for you from Chateau Palmer
Throughout Europe, wine lovers are making travel plans for Bordeaux as the region's producers will soon offer the 2001 vintage for sale "en primeur."
The noteworthy Chateau Palmer offers these comments on its wine of the vintage: "The 2001 vintage of Chateau Palmer has a strong personality that is both firm and fresh, revealing roundness and excellent length. At Palmer we believe we have achieved a very successful vintage, and we would like to invite you to discover all the aspects that have forged its character."
For a more complete report on 2001 at Chateau Palmer, you're invited to visit
http://chateau-palmer.com/wineadvisor.php
Counting down to our Rhone trip
Speaking of wine and travel, once I get home from Slovenia we'll be moving into the final countdown for our week-long tour through the southern Rhone Valley and Provence in June.
I'll be joining wine experts Lauriann Greene and Jean-Pierre Sollin of French Wine Explorers, a high-quality American tour company that specializes in wine tours of France, to lead an in-depth exploration of these two beautiful regions and their vineyards and wines.
The mood will be relaxed and the attitude easy as we make our way through some of France's most enjoyable wine regions as a small community of wine-loving friends, taking a close-up, inside look at the wines and food of the region and meeting the people who make them.
Naturally I'll be filing reports for everyone to read on WineLoversPage.com, but this time, if you're so inclined, you can go along and help me write them! If you've been thinking about signing on, there are still a few spaces left. Interested? For more information about the tour, see
http://www.wineloverspage.com/tour.
And if you have any questions you would like to ask me first, please don't hesitate to use the form at
http://www.wineloverspage.com/ask_a_question.phtml
to get in touch.
Last Week's Wine Advisor Index
Because of my travels, the Wine Advisor was published only on Monday last week:
• Where is Slovenia? (March 18)
http://www.wineloverspage.com/wineadvisor/tswa020318.phtml
• Complete 30 Second Wine Advisor archive:
http://www.wineloverspage.com/wineadvisor/thelist.shtml
Administrivia
To subscribe or unsubscribe from The 30 Second Wine Advisor, change your E-mail address, switch from weekly to daily distribution, or for any other administrative matters, click to http://www.wineloverspage.com/wineadvisor/admin.phtml. In all administrative communications, please be sure to include the exact E-mail address that you used when you subscribed, so we can find your record. If you must unsubscribe, please take a moment to tell us why you're leaving, and to offer any comments or suggestions you may have.
We welcome feedback, suggestions, and ideas for future columns. To contact me, please click to http://wineloverspage.com/ask_a_question.phtml. You may also send E-mail to wine@wineloverspage.com, but the link above is the simplest way to reach me directly.
We do not use this E-mail list for any other purpose and will never give or sell your name or E-mail address to anyone.
All the wine-tasting reports posted here are consumer-oriented. In order to maintain objectivity and avoid conflicts of interest, I purchase all the wines I rate at my own expense in retail stores and accept no samples, gifts or other gratuities from the wine industry.
Monday, March 25, 2002
Copyright 2002 by Robin Garr. All rights reserved.
Subscribe to the 30 Second Wine Advisor
Wine Advisor archives