30 Second Wine Advisor: This Week's Sponsor
• MagnumWines.com
http://www.MagnumWines.com
In This Issue
• More Malbec
• Altos Las Hormigas 2000 Mendoza (Argentina) Malbec
• Administrivia
More Malbec
I've mentioned Malbec a couple of times recently, with admiration and praise for this increasingly popular variety that traces its roots to Bordeaux but that has become the flagship red wine of Argentina.
Although it's currently suffering from global economic issues that may have unpredictable effects on the wine industry, Argentina usually ranks among the world's top wine producing and consuming nations, battling with the U.S. for fifth-place in the production sweepstakes (behind Italy, France, Spain and Russia, another country whose wine production isn't widely familiar outside its own borders).
Argentina has been making wine since the 1500s, tracing its wine heritage back to Spain, France and, perhaps surprisingly, Italy. (Italian immigration is second only to Spanish in Argentine culture, and the flavors of Italy show up strongly in the nation's wine, food and cultural tradition.)
Much of Argentina's wine production comes from the cool northwestern province called Mendoza on the slopes of the Andes near the border with Chile. It's a region remarkably well-suited to vine culture, protected from the Pacific's cooling influence by the Andes and enjoying a long summer of cool nights and warm days, with a dry summer climate but plenty of water from the region's many rivers.
Historically, Argentina has kept much of its wine consumption at home, drinking most of the wine it makes. But we're starting to see more good Argentine wines north of the border, and Malbec is leading the charge.
Almost always producing a ripe and fruity, even plummy wine, Malbec can take oak aging or show well without it; it's juicy and quaffable when young but can benefit from aging, developing an intriguing complexity with time in the bottle. It's no wonder that - as discussed in Monday's edition - more and more wine lovers are learning to call for Malbec by name.
For a general overview of Argentine wines and wineries, one good resource is ArgentineWines.com, an online digested edition of Alan Young's "Wine Routes of Argentina." The English-language entry page is at
http://www.argentinewines.com/ing/.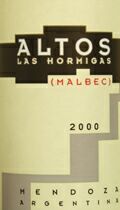 Altos Las Hormigas 2000 Mendoza (Argentina) Malbec ($8.99)
Earning a consistent reputation as a Malbec of exceptional value, the 2000 bottling is good but unusually "barnyardy." Black fruit, leather and a distinct "horsey" scent show up in the aroma; to be blunt, it's oddly reminiscent of an old, well-worn saddle. Earthy, organic nuances appear in the flavor as well, adding complexity to warm, plummy fruit. It's not for the faint of heart, but I have to confess: I like it. U. 5. importer: Vintner Select, Cincinnati, and other regional importers. (March 13, 2002)
FOOD MATCH: A natural match with pizza with mushrooms and goat cheese.
VALUE: A good value even by the bargain standard of Argentine Malbec, provided you don't object to "barnyard" qualities in a wine.
WEB LINKS: None found.

Administrivia
To subscribe or unsubscribe from The 30 Second Wine Advisor, change your E-mail address, switch from weekly to daily distribution, or for any other administrative matters, click to http://www.wineloverspage.com/wineadvisor/admin.phtml. In all administrative communications, please be sure to include the exact E-mail address that you used when you subscribed, so we can find your record. If you must unsubscribe, please take a moment to tell us why you're leaving, and to offer any comments or suggestions you may have.
We welcome feedback, suggestions, and ideas for future columns. To contact me, please click to http://wineloverspage.com/ask_a_question.phtml. You may also send E-mail to wine@wineloverspage.com, but the link above is the simplest way to reach me directly.
We do not use this E-mail list for any other purpose and will never give or sell your name or E-mail address to anyone.
All the wine-tasting reports posted here are consumer-oriented. In order to maintain objectivity and avoid conflicts of interest, I purchase all the wines I rate at my own expense in retail stores and accept no samples, gifts or other gratuities from the wine industry.
Thursday, March 14, 2002
Copyright 2002 by Robin Garr. All rights reserved.
Subscribe to the 30 Second Wine Advisor
Wine Advisor archives