30 Second Wine Advisor: This Week's Sponsor
• MagnumWines.com
http://www.MagnumWines.com
In This Issue
• California or Argentina?
• Terra Rosa 1999 Mendoza Cabernet Sauvignon
• Admin note: On the road again
• Administrivia
California or Argentina?
Today's wine poses a puzzle to those who are finicky about organizing wines geographically.
Produced by Laurel Glen (a Sonoma County winery that's one of my favorites), it's made from grapes grown in South America. But with a U.S. winery's name on the label, it usually turns up - at least at the local shops I most often visit - in the California section.
And therein lies a tale: This excellent, affordable "trans-equatorial" New World wine bears a label that Laurel Glen once used for its lower-end wines made from grapes grown in the California North Coast (Sonoma and Napa). But, owner/winemaker Patrick Campbell explains on the Laurel Glen Website, six years ago the winery turned to South America in an effort to keep Terra Rosa's price in the affordable range.
"When we started Terra Rosa in the early 1990s," he wrote, "plenty of delicious Sonoma and Napa cabernet wine could be produced for $10 retail."
But demand for North Coast fruit pushed the price out of line for a budget wine, with quality Napa and Sonoma Cabernet grapes doubling in price from $1,200 per ton in 1996 to nearly $2,500 per ton today. So, Campbell said, "in order to maintain Terra Rosa as an excellent and delicious $10 bottle of wine, we had only one choice: move the source to the abundant, old, high quality, and reasonably priced Cabernet vines of Chile and Argentina."
So Terra Rosa became a South American wine with a North American label. Sometimes made in Chile (where the Cabernet is usually blended with a little Carmenere), and sometimes in Argentina (where a taste of Malbec goes into the blend), the grapes are harvested and the wine is made by South American producers working with Laurel Glen. Then it's sent North in bulk, packed on shipboard in 24,000-liter stainless steel containers, to be finished, oak-aged and bottled in Laurel Glen's Sonoma facilities.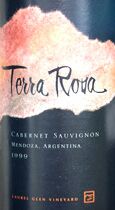 Terra Rosa 1999 Mendoza (Argentina) Cabernet Sauvignon ($10.99)
Dark garnet. Appetizing scents of juicy currants and spice. Fresh and clean fruit with a grace note of oak. Balanced and well made, pleasant sipping and fine at the dinner table. U.S. importer: Laurel Glen Winery, Santa Rosa, Calif. (March 3, 2002)
FOOD MATCH: Fine with beef in any form; I served it with a home-built Szechwanese shredded beef with carrots and celery, a cross-cultural match that works as long as the heat level is kept within reason.
VALUE: A red table wine of real quality, Terra Rosa has few serious competitors at this price.
WEB LINKS: Laurel Glen's fact sheet on Terra Rosa is at
http://www.laurelglen.com/terra-rosa.html
and wine maker Campbell's extended discussion of his decision to move Terra Rosa to South America is at
http://www.laurelglen.com/why-so-am.html.
For information on where to buy Laurel Glen wines in the U.S. and around the world, see
http://www.laurelglen.com/purchase.html.
Admin note: On the road again
The 30 Second Wine Advisor will go into travel mode again starting Sunday, when I leave for a 10-day trip to Slovenia, the beautiful and hospitable little nation at the northern end of the former Yugoslavia, where I'll be visiting wineries and serving as a judge, as I did at this time last year, at the annual international wine competition, Vino Ljubljana.
As usual when I'm away from home base, there will be some unavoidable changes in our production schedule. The full Wine Advisor usually distributed on Monday will be E-mailed on Sunday this week, and the March 25 edition may also go out a day early.
I won't distribute a regular daily Wine Advisor until I return home, around March 28, although if time and Internet connectivity permit, I'll try to send at least an occasional weekday edition as well as posting occasional travel and tasting reports online at WineLoversPage.com. And the Wine Advisor's FoodLetter will also take a one-week break, skipping publication next Thursday.
It will also be difficult for me to keep up with personal E-mail while I'm traveling, so if you comment or ask me a question during the period, please be patient. Stay tuned ... I'll bring you all (virtual) T-shirts.
Administrivia
To subscribe or unsubscribe from The 30 Second Wine Advisor, change your E-mail address, switch from weekly to daily distribution, or for any other administrative matters, click to http://www.wineloverspage.com/wineadvisor/admin.phtml. In all administrative communications, please be sure to include the exact E-mail address that you used when you subscribed, so we can find your record. If you must unsubscribe, please take a moment to tell us why you're leaving, and to offer any comments or suggestions you may have.
We welcome feedback, suggestions, and ideas for future columns. To contact me, please click to http://wineloverspage.com/ask_a_question.phtml. You may also send E-mail to wine@wineloverspage.com, but the link above is the simplest way to reach me directly.
We do not use this E-mail list for any other purpose and will never give or sell your name or E-mail address to anyone.
All the wine-tasting reports posted here are consumer-oriented. In order to maintain objectivity and avoid conflicts of interest, I purchase all the wines I rate at my own expense in retail stores and accept no samples, gifts or other gratuities from the wine industry.
Wednesday, March 13, 2002
Copyright 2002 by Robin Garr. All rights reserved.
Subscribe to the 30 Second Wine Advisor
Wine Advisor archives