30 Second Wine Advisor: This Week's Sponsor
• MagnumWines.com
http://www.MagnumWines.com
In This Issue
• Malbec: The next Merlot?
• Graffigna 1999 Tulum Valley (Argentina) Malbec
• Voting Booth: How do you store your best wines?
• From MagnumWines.com: Two Rhone Valley Highlights
• There's still time to sign up for our Rhone trip
• Last Week's Wine Advisor Index
• Administrivia
Malbec: The next Merlot?
If you have tasted a Merlot OR a Malbec lately, you may be shaking your head at today's subject, wondering what wild alley I'm loping down today. But bear with me for a paragraph or two, and I think you'll see the point.
From time to time, a wine name, grape or style will suddenly become popular, and generally with good reason. A generation ago, many people - if they asked for wine at all - might simply call for "a glass of white wine" or even a generic "chablis." Then "varietal" labeling became the rule, and the age of Chardonnay dawned on the land. The great white grape of Burgundy, transplanted in the U.S. and in wine regions around the world, became the "default" white wine for many people. (It remains the biggest-selling variety in U.S. supermarkets by a wide margin).
But then came news of "The French Paradox" - the intriguing hypothesis that French people can get away with consuming large amounts of buttery, creamy dishes because something in the red wine they drink protects against heart and circulatory diseases - and suddenly the rest of the world started asking for "a glass of RED wine."
In spite of competition from such noble red grapes as the Cabernets of Bordeaux and the Pinot Noir of Burgundy, it didn't take long for Merlot to jump into first place as the leading red-wine variety in the U.S. (with an asterisk reserved for Zinfandel, which outpaced Merlot but only in the guise of "White Zinfandel," actually a pink wine made from a red grape).
Merlot, like Chardonnay, became the mass-market leader because it makes a wine that's soft and fruity and easy to enjoy. In fact, it was just those characteristics that had prompted Bordeaux producers for many generations to think of Merlot as a mere "blending" grape, useful mostly for mixing in relatively small proportions with the more austere and tannic Cabernets to soften their harsh edges and make a balanced wine. By itself, the conventional wisdom had been, Merlot makes a wine that's pleasant but, well, bland. But don't tell that to the buying public, which made 100 percent Merlot a hit.
All of which brings us around finally to Malbec. Pronounced "Mahl-beck," this dark-red grape was an even more minor player in the Bordeaux blend, but where Merlot's role in the orchestra of varieties was to soften the finished wine, Malbec played bass to Merlot's tenor, bringing big, lusty and fruity flavors to the dance. Bordeaux, traditionally considered a wine of elegance and finesse, could only take a hint of such a boisterous grape. But in France's Cahors region, and even more prominently in Argentina, this grape came into its own.
Making Malbec as a big, fruity and forward wine, often bolstered in flavor by aging in oak, many Argentines declare Malbec their nation's trademark wine; they drink a lot of it and let a bit out for the rest of the world to enjoy.
And now, just as some wine enthusiasts are starting to look around at Pinot Gris/Grigio and other white alternatives to Chardonnay, Malbec is starting to show up as an intriguing option for those bored with Merlot. I see it taking up more shelf space in our town, and showing up even more as a by-the-glass option in local restaurants. It's a natural match with grilled beef (an Argentine specialty), and in my experience it goes very well with pizza.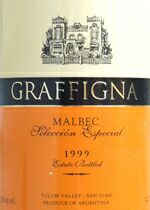 Graffigna 1999 Tulum Valley (Argentina) Malbec ($10.49)
This large producer, Bodegas y Vinedos Santiago Graffigna, was purchased last year by multinational Allied Domecq, and it's likely to start turning up widely in the world market. Dark garnet in color, it breathes a delicious ripe berry scent, raspberries and spicy vanilla. Full and ripe, big berry fruit and lemon-squirt acidity show in a flavor profile that reminds me of a fruity Zinfandel. U.S importer: T.G.I.C. Importers, Woodland Hills, Calif. (March 10, 2002)
FOOD MATCH: Excellent with a simple pizza Margherita topped with fresh plum tomatoes, creamy mozzarella and basil.
VALUE: Significantly exceeds expectations for a $10 wine.
WEB LINK: The importer's Web page is at
http://wineofakind.com/index.html,
with information about Graffigna at
http://wineofakind.com/graf.html.

Voting Booth: How do you store your best wines?
Even if you don't consider yourself a wine "collector," if you're like most of us, you find that you quickly accumulate more wine around the house than you can reasonably expect to consume during a few days or even weeks.
Is your cellar "active" (temperature-controlled storage with a powered unit) or "passive" (a dedicated but non-powered storage area for wine)? Or do you simply keep your wine at room temperature? How do you store your best wines? Please drop by the Wine Lovers' Voting Booth,
http://www.wineloverspage.com/votebooth/index.shtml,
and let us know.
From MagnumWines.com: Two Rhone Valley Highlights
These excellent Rhones are currently on auction at
http://www.MagnumWines.com:
Crozes Hermitage Cuvee Christophe Remizieres 1998
Stephen Tanzer: Bright ruby. Roasted black cherry, saddle leather, nuts, licorice and black pepper on the nose. Juicy, fresh and delineated, but currently quite tight in the middle; notes of black cherry, dark chocolate and mint. Finishes with building tannins but also strong blueberry and licorice flavor.
RMP: There are approximately 6,000 bottles (500 cases) of the 1998 Crozes-Hermitage Cuvee Christophe rouge. Bottled in March, 2000, it exhibits an opaque inky, plum/black color as well as aromas of prunes, cassis, and blackberries in its intense bouquet, low acid, rich, superbly concentrated flavors coat the palate, and a long, opulent finish. It is an outstanding choice for drinking over the next decade. 90 points.
Next Bid: 260 per case
http://www.magnumwines.com/scripts/osa/ViewPage.exe?templateName=item_form.htx&itemNumber=513343
http://www.magnumwines.com/scripts/osa/ViewPage.exe?templateName=item_form.htx&itemNumber=513344
Cote Rotie St Cosme 1998
Stephen Tanzer: Saturated ruby-red. Sexy aromas of blackberry, mocha, game, brown spices, bacon fat and woodsmoke.
RMP: The 1998 Cote Rotie exhibits a dense purple color as well as classic bacon fat, cassis, smoky, roasted aromas, explosive richness, and a deep, full-bodied palate with abundant quantities of sweet tannin. Anticipated maturity:2003-2020. 93 points.
Next Bid: 420 per case
http://www.magnumwines.com/scripts/osa/ViewPage.exe?templateName=item_form.htx&itemNumber=513340
http://www.magnumwines.com/scripts/osa/ViewPage.exe?templateName=item_form.htx&itemNumber=513341
There's still time to sign up for our Rhone trip
From time to time over the next few weeks I'll want to remind you about our week-long tour through the southern Rhone Valley and Provence that's planned for June.
I'll be joining wine experts Lauriann Greene and Jean-Pierre Sollin of French Wine Explorers, a high-quality American tour company that specializes in wine tours of France, to lead an in-depth exploration of these two beautiful regions and their vineyards and wines.
The mood will be relaxed and the attitude easy as we make our way through some of France's most enjoyable wine regions as a small community of wine-loving friends, taking a close-up, inside look at the wines and food of the region and meeting the people who make them.
We still have some space left, and - unless the group fills to capacity sooner - we will take reservations until March 31. If you've been thinking about coming along, I hope you'll get in touch with French Wine Explorers soon. We're going to have a great time!
For more information about the tour, click to the details at http://www.wineloverspage.com/tour. And if you have any questions you would like to ask me first, please don't hesitate to use the form at http://www.wineloverspage.com/ask_a_question.phtml to get in touch.
Last Week's Wine Advisor Index
For Monday-only readers who'd like to read specific daily Wine Advisor articles, here's last week's index:
• Comparing Notes (March 8)
http://www.wineloverspage.com/wineadvisor/tswa020308.phtml
• Wine and health: AWARE (March 7)
http://www.wineloverspage.com/wineadvisor/tswa020307.phtml
• An odd but tasty blend (March 6)
http://www.wineloverspage.com/wineadvisor/tswa020306.phtml
• Compare and contrast (March 5)
http://www.wineloverspage.com/wineadvisor/tswa020305.phtml
• Passover and kosher wine (March 4)
http://www.wineloverspage.com/wineadvisor/tswa020304.phtml
• Complete 30 Second Wine Advisor archive:
http://www.wineloverspage.com/wineadvisor/thelist.shtml
Administrivia
To subscribe or unsubscribe from The 30 Second Wine Advisor, change your E-mail address, switch from weekly to daily distribution, or for any other administrative matters, click to http://www.wineloverspage.com/wineadvisor/admin.phtml. In all administrative communications, please be sure to include the exact E-mail address that you used when you subscribed, so we can find your record. If you must unsubscribe, please take a moment to tell us why you're leaving, and to offer any comments or suggestions you may have.
We welcome feedback, suggestions, and ideas for future columns. To contact me, please click to http://wineloverspage.com/ask_a_question.phtml. You may also send E-mail to wine@wineloverspage.com, but the link above is the simplest way to reach me directly.
We do not use this E-mail list for any other purpose and will never give or sell your name or E-mail address to anyone.
All the wine-tasting reports posted here are consumer-oriented. In order to maintain objectivity and avoid conflicts of interest, I purchase all the wines I rate at my own expense in retail stores and accept no samples, gifts or other gratuities from the wine industry.
Monday, March 11, 2002
Copyright 2002 by Robin Garr. All rights reserved.
Subscribe to the 30 Second Wine Advisor
Wine Advisor archives