30 Second Wine Advisor: This Week's Sponsor
• Acker Merrall
http://www.ackerwines.com
In This Issue
• Comparing notes
• Taurino 1995 "Notarpanaro" Rosso del Salento
• Administrivia
Comparing notes
If I've said it once, I've said it 100 times: One of the most effective ways to learn about wine is to get in the habit of jotting down your impressions of all the wines you encounter in the form of a brief tasting note.
Even if you keep your notebook as private as a diary, you'll find that this practice helps focus your attention and fixes the details of each wine in memory, making it easier to compare and contrast past wine experiences with the glass in front of you.
But sharing your wine impressions with fellow enthusiasts can be fun and educational, too. This is the principle behind our Wine Tasting 101 forum on WineLoversPage.com, where you're invited to record your impressions of a monthly featured wine in a friendly community. And it is the inspiration that has prompted thousands of wine lovers to post notes on more than 100,000 wines in the archives of our Wine Lovers' Discussion Group.
For links to these and all our interactive forums, click to
http://www.wineloverspage.com/forum.
But all this talk of sharing wine impressions raises an interesting question: In a realm as subjective as wine tasting, how objective can a tasting report be? Can any two individuals really find the same elusive and obscure aromas and flavors in the same wine ... and express those impressions in a similar way?
Comparing your wine impressions with those of other tasters (or with your own impressions of the same wine, examined over time) can be an intriguing exercise, and may help you evaluate your tasting skills. And the growing body of wine notes on the Web offers plenty of data to work with.
I ran myself through this exercise today, after opening a familiar wine the other night: Taurino 1995 Notarpanaro, a ripe, warm and robust red made mostly from the Negroamaro grape in Apulia, the "boot heel" of Southern Italy. It was my second tasting of this item since last October, allowing me to compare the consistency of my own notes. And then, checking in on the Notarpanaro fact-sheet page on the importer's Website, I was intrigued to find notes on the same wine from a number of published critics - Robert M. Parker Jr. (Wine Advocate), Stephen Tanzer (International Wine Cellar), and The Wine Spectator - as well as my own tasting report from the Oct. 24, 2002, Wine Advisor.
How would my notes compare to those by these well-known critics? You be the judge. My tasting report from the other night is below. Here, from the Winebow Inc. Website, are the others:
Wine Spectator, March 31, 2002:
"Aromas of flowers and prunes, with hints of green tobacco. Medium-bodied, with medium, fine tannins and a light, fruity finish. A pleasant wine." 85 points.
International Wine Cellar, July/August 2001, Issue 97:
"Full, firm garnet. Sizeable on the nose, with notes of grilled cherry and roasted plum ... Round, warm, and long on the palate, with ripe, sweet cherry and plum fruit ..." 87 points.
Wine Advocate, Aug. 31, 2001, Issue 136, World's Greatest Wine Values:
"... a denser, richer, fuller-bodied wine displaying licorice, dried fruit, pepper, truffle, and spice characeristics. Filled with personality, it possesses rustic tannin, but plenty of depth as well as a chewy, muscular, robust finish ..." 89 points.
Robin Garr's Wine Lover's Page, Oct. 24, 2001, Escaping the Wine Rut:
"Dark ruby in color, it offers plummy fruit and spicy oak aromas with a hint of floral perfume. Flavors are consistent with the nose, black fruit and tart acidity with distinct tannins adding an astringent edge that's not unpleasant but suggests that the wine will benefit from aging. The sharp acidity adds a cleansing quality that makes it a winner with food ..." Best Wine Values of 2001.
Different ... but similar. Each taster presented the wine experience in his own way, but consistent themes recur: flowers, prunes, licorice, herbs and spices, oak. Based on this lone example, it appears that experienced tasters do somewhat consistently find similar aromas and flavors in wine.
If you want to give it a try, it's not complicated: Jot down your notes. Then do a quick Web search for similar reports, starting with our search engine at
http://www.wineloverspage.com/site_search
or sailing out onto the entire Web at
http://www.google.com.
If you try it, let me know how you fare!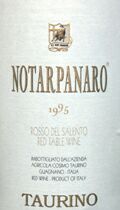 Taurino 1995 "Notarpanaro" Rosso del Salento ($12.99)
Very dark garnet, clear but nearly black. Warm and ripe, plums and a hint of prunes, with a distinct note of licorice in the background. Abundant plummy fruit over lemon-squirt acidity and perceptible tannins. U.S. importer: Winebow Inc., NYC.; Leonardo Locascio Selections. (March 6, 2002)
FOOD MATCH: Veal roast stracotto braised in Barbera. For the recipe see yesterday's Wine Advisor FoodLetter,
http://www.wineloverspage.com/wineadvisor/tsfl020307.phtml.
VALUE: Good value.
WEB LINK: You'll find the importer's fact sheet, with many tasting notes from published critics, at
http://www.winebow.com/shortdet.asp?ID=314.

Administrivia
To subscribe or unsubscribe from The 30 Second Wine Advisor, change your E-mail address, switch from weekly to daily distribution, or for any other administrative matters, click to http://www.wineloverspage.com/wineadvisor/admin.phtml. In all administrative communications, please be sure to include the exact E-mail address that you used when you subscribed, so we can find your record. If you must unsubscribe, please take a moment to tell us why you're leaving, and to offer any comments or suggestions you may have.
We welcome feedback, suggestions, and ideas for future columns. To contact me, please click to http://wineloverspage.com/ask_a_question.phtml. You may also send E-mail to wine@wineloverspage.com, but the link above is the simplest way to reach me directly.
We do not use this E-mail list for any other purpose and will never give or sell your name or E-mail address to anyone.
All the wine-tasting reports posted here are consumer-oriented. In order to maintain objectivity and avoid conflicts of interest, I purchase all the wines I rate at my own expense in retail stores and accept no samples, gifts or other gratuities from the wine industry.
Friday, March 8, 2002
Copyright 2002 by Robin Garr. All rights reserved.
Subscribe to the 30 Second Wine Advisor
Wine Advisor archives