30 Second Wine Advisor: This Week's Sponsor
• Acker Merrall
http://www.ackerwines.com
In This Issue
• An odd but tasty blend
• Au Bon Climat 1999 Santa Maria Valley Pinot Noir-Mondeuse
• Administrivia
An odd but tasty blend
Now and then I like to try wines that offer unexpected blends of grapes that are rarely seen in the same room, much less the same bottle.
Traditional blends like Bordeaux (Cabernet Sauvignon, Merlot, Cabernet Franc and minor players) and Chianti (Sangiovese, Canaiolo, Trebbiano and Malvasia) are based on centuries of experience and the collective wisdom of generations of wine lovers who've concluded that those grapes are natural companions, complementing each other to make a whole that's more than the sum of its parts.
But today we're talking about odd couples, new wines that mix grapes from diverse backgrounds and varying heritage in the pursuit of new and different aroma and flavor experiences. Blends, for example, like the Spanish Las Brisas Rueda (Sauvignon Blanc and Viura), the Northeastern Italian Due Uve (Sauvignon Blanc and Pinot Grigio) or the South African Goats Do Roam (a tasty if truly wild blend of Pinotage, Shiraz, Grenache, Cinsaut, Carignan, Mourvedre and Gamay) that I've reported in recent months.
Now let's point our tasting spotlight at a California wine that may be an even more unusual blend. From Au Bon Climat, an American winery with a very French name in the Santa Barbara region, we find the classic Burgundian grape Pinot Noir - a variety that (with the noteworthy exception of Champagne) is most often found standing proudly alone, not in blends - mixed in equal parts with Mondeuse ("Mawn-duhz"), a rare red grape that's usually found only in Savoie, a tiny French region in the foothills of the Alps near Switzerland.
No wimpy grape, Mondeuse alone makes an inky, dark wine; it's thought to be related to the Refosco of Friuli. In this unusual partnership with Pinot Noir, it seems to add richness, texture and perhaps a note of spice to the blend. It's a very good wine, one that impressed me sufficiently to rush out and buy more after I discovered it at a tasting last week.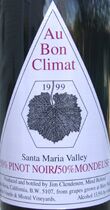 Au Bon Climat 1999 Santa Maria Valley Pinot Noir/50% - Mondeuse/50% ($18.49)
Slightly hazy ruby, a rich if unfiltered appearance. Distinct cherry-cola aroma, typical of Santa Barbara Pinot. Ripe and juicy fruit flavor, fresh and full, with hints of black olives and spice; it seems that the Mondeuse fills out and adds muscles to the Pinot. (March 5, 2002)
FOOD MATCH: We planned a Chinese-style dish to go with this wine, and its earthy flavors worked well: Stir-fried white and straw mushrooms and bok choy in a ginger-garlic sauce over rice pancakes.
VALUE: Although it's not an inexpensive wine, its drinkability and structure rate it well ahead of the pack in the $15-$20 range. Well worth the price tag.
WEB LINK: WineLoversPage.com advertising partner Brentwood Wine Co. offers Au Bon Climat's wines online at
http://www.brentwoodwine.com/shop/wine/restofcalifornia/abc.html.

Administrivia
To subscribe or unsubscribe from The 30 Second Wine Advisor, change your E-mail address, switch from weekly to daily distribution, or for any other administrative matters, click to http://www.wineloverspage.com/wineadvisor/admin.phtml. In all administrative communications, please be sure to include the exact E-mail address that you used when you subscribed, so we can find your record. If you must unsubscribe, please take a moment to tell us why you're leaving, and to offer any comments or suggestions you may have.
We welcome feedback, suggestions, and ideas for future columns. To contact me, please click to http://wineloverspage.com/ask_a_question.phtml. You may also send E-mail to wine@wineloverspage.com, but the link above is the simplest way to reach me directly.
We do not use this E-mail list for any other purpose and will never give or sell your name or E-mail address to anyone.
All the wine-tasting reports posted here are consumer-oriented. In order to maintain objectivity and avoid conflicts of interest, I purchase all the wines I rate at my own expense in retail stores and accept no samples, gifts or other gratuities from the wine industry.
Wednesday, March 6, 2002
Copyright 2002 by Robin Garr. All rights reserved.
Subscribe to the 30 Second Wine Advisor
Wine Advisor archives