30 Second Wine Advisor: This Week's Sponsor
• Acker Merrall
http://www.ackerwines.com
In This Issue
• Compare and contrast
• Riesling: Alsace vs. Mosel
• Administrivia
Compare and contrast
"Compare and contrast:" As our professors knew well, those words that struck fear into many of us during high-school and college exams actually represent an effective way to learn.
If we take the time to examine similar items and analyze them by comparing their similarities and contrasting their differences, we often gain a much clearer understanding of their nature and what makes them work.
And of course this approach works for wine tasting. One of the most effective ways I know of to improve your analytical tasting skills is to set up an occasional "compare and contrast" tasting.
There's nothing really complicated about it: Simply open two (or more) bottles, choosing a pair that share something in common. Two Merlots or two Pinot Grigios, for example, from different producers or even from different regions or countries. Or two wines made from different grapes: Compare a Cabernet Sauvignon and Cabernet Franc, or a Cabernet and a Merlot. Choose a pair with distinctive differences (like Pinot Noir vs. Zinfandel) or a pair that's quite similar (two 1995 Bordeaux from neighboring producers in St.-Julien). Try matching a cheap wine against an expensive one of similar style, to judge for yourself the difference that price makes.
You can taste with the labels in front of you, or increase the challenge by trying it "blind," having someone pour the wines out of your sight and present them to you in unmarked glasses so you don't know which is which. (This can be particularly interesting if you're matching a low-cost wine and a more pricey item ... what if you like the cheap one better?)
Well, you get the idea. The possibilities are endless, and the concept is simple: When you have two similar items at hand, you can learn more about them by examining what they have in common and how they differ.
If you're worried about wasting wine, invite wine-loving friends over to share the wine and the learning experience. Or, as we discussed in last week's articles about keeping leftover wine, recork the originals and refrigerate them to enjoy over the next few days. (If you're not finicky, you can even pour two similar leftovers together to fill a single bottle, making a "house blend" that's perfectly acceptable for casual enjoyment.) Or if you don't want to return to the leftovers for drinking, use them in cooking.
Riesling: Alsace vs. Mosel
I tried the "blind" technique with the Alsatian Riesling featured this month in our interactive Wine Tasting 101 Forum,
http://www.wineloverspage.com/forum/wt101.phtml.
It wasn't hard to tell the dry, minerally Alsatian from the sweetish, fruity Mosel Riesling that I put up against it. But the comparison certainly made clear what a tremendous shift in wine-making style occurs when you cross the Rhine!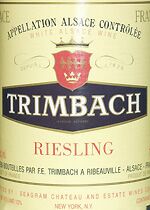 Trimbach 1999 Alsace Riesling ($16.99)
Very pale straw color. Mineral character presides over simple white fruit on the nose and palate. Clean and lean, not overly complex but a wine of noteworthy balance, with fresh, crisp fruit flavors and Alsatian minerality over a cleansing acidity that makes it an inviting accompaniment to food. U.S. importer: Seagram Chateau & Estate Wines Co., NYC. (March 4, 2002)
WEB LINK: Trimbach has a Website in French at
http://www.maison-trimbach.fr/,
with the English version at
http://www.maison-trimbach.fr/b_sommaire.htm.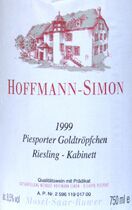 Hoffmann-Simon 1999 Piesporter Goldtröpfchen Riesling Kabinett ($11.99)
Clear, bright straw color. White fruit and complex floral-herbal aromas that segue from apples to aromatic pine. Fresh and quite sweet for a Kabinett, with a pleasant acidic edge of tangerine peel. U.S. importer: Michael Skurnik Wines Inc., Syosset, NY; a Terry Theise Selection. (March 4, 2002)
FOOD MATCH: Both wines made natural partners with an ethnic dish crafted to match: Flammenkuchen, a German dish with onions and bacon and an egg and sour cream custard on a pizza-like flatbread.

Administrivia
To subscribe or unsubscribe from The 30 Second Wine Advisor, change your E-mail address, switch from weekly to daily distribution, or for any other administrative matters, click to http://www.wineloverspage.com/wineadvisor/admin.phtml. In all administrative communications, please be sure to include the exact E-mail address that you used when you subscribed, so we can find your record. If you must unsubscribe, please take a moment to tell us why you're leaving, and to offer any comments or suggestions you may have.
We welcome feedback, suggestions, and ideas for future columns. To contact me, please click to http://wineloverspage.com/ask_a_question.phtml. You may also send E-mail to wine@wineloverspage.com, but the link above is the simplest way to reach me directly.
We do not use this E-mail list for any other purpose and will never give or sell your name or E-mail address to anyone.
All the wine-tasting reports posted here are consumer-oriented. In order to maintain objectivity and avoid conflicts of interest, I purchase all the wines I rate at my own expense in retail stores and accept no samples, gifts or other gratuities from the wine industry.
Tuesday, March 5, 2002
Copyright 2002 by Robin Garr. All rights reserved.
Subscribe to the 30 Second Wine Advisor
Wine Advisor archives