30 Second Wine Advisor: This Week's Sponsor
• Acker Merrall
http://www.ackerwines.com
In This Issue
• Passover and kosher wine
• Six kosher wines
• Marc de Grazia at Acker Merrall
• There's still time to sign up for our Rhone trip
• Last Week's Wine Advisor Index
• Administrivia
Passover and kosher wine
Passover begins at sunset on March 27 this year. It celebrates a story that is central to the Jewish faith and that is revered by Christians and Muslims and others. The story of Moses leading the Israelites out of bondage in search of their Promised Land contains elements that speak to every human.
Its celebration begins with a meal called the "seder," a dinner that invariably includes the retelling of the story of Exodus ... unleavened bread, or matzoh ... and the consumption of four cups of wine, with a fifth cup left unfinished on the table, traditionally meant for the enjoyment of the Prophet Elijah.
The wine must be kosher, of course - ritually approved for consumption by observant Jews. As the annual holy day approaches, a number of wine-loving Jewish readers have asked that I devote a column to a quick discussion - and a few tasting notes - about kosher wine.
Many people think of kosher wine as a thick, sweet and grapey drink, but this is not a religious requirement but simply a style of kosher wine that became popular in the United States more than a century ago, when many Jewish immigrants lived in the Northeast and had easy access to Concord and other native American grapes with a distinct "grape-jelly" flavor that needs sweetening to make it palatable. Necessity became the mother of tradition, and for many years "kosher" in wine almost always meant heavy and sweet.
But "Kosher" simply means "fit and proper" in Hebrew. Any food or drink that conforms to Jewish dietary laws and is made under the supervision of a rabbi may be certified and labeled as kosher. No non-kosher product may be used to make kosher wine. This provision, by the way, makes kosher wine of interest to vegetarians, who can be confident that kosher wines have not used animal products for clarification.
The wine-making equipment in kosher wineries must be used exclusively for kosher products, and only Sabbath-observant Jews may handle the wine throughout production, from crushing the grapes to serving the wine. (There's an exception to this, however: If the wine is boiled or pasteurized - "mevushal," in Hebrew - it may be handled by anyone, Jewish or otherwise, without being rendered unfit.)
Some kosher wines will also be labeled "made from grapes that are not 'orla'," meaning that the vineyard followed the Talmudic requirement of not using grapes from vines less than four years old ... a practice that, by the way, is also followed for non-ritual reasons by many quality vineyards where the producers simply understand that immature grapevines don't make the best wine.
In short, none of the kosher requirements prevent making wines in an international style, and indeed, many modern kosher wines have won awards in major competitions. And you don't have to be Jewish to enjoy them.
For a little more information about kosher wines, see the Manischewitz wines Website,
http://www.manischewitzwine.com/glossary/glossary.htm,
and the Royal Wines Website,
http://207.168.91.7/royalwines/index1.html
(Click "Company Profile," then page down to "Kosher Wine: The World's Original All-Natural Product.")
Six kosher wines
Wine lovers seeking quality kosher wines will probably have the best luck shopping in larger cities with substantial Jewish population. In middle-size Louisville, the selection is somewhat limited even at the largest wine shops, and some bottles appear to have been on the shelf for several years. The following is a representative selection.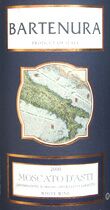 Bartenura 2000 Moscato d'Asti (Italy) ($12.99)
Very pale straw; not fizzy, but many small bubbles line the glass. Light peach scent with herbal notes. Crisp, light sweetness and snappy acidity; low in alcohol and refreshing. Kosher for Passover. U.S. importer: Royal Wine Corp., NYC.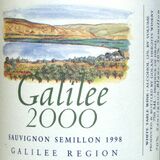 Golan Heights Winery 1998 "Galilee 2000" Galilee Region (Israel) Sauvignon Semillon 1998 ($9.49)
Clear pale gold. Pleasant citric scent with a sharp edge of lemon peel and a hint of almond. Dry and crisp, tart and refreshing. Kosher for Passover; additional information in Hebrew. U.S. importer: Golan Heights Winery USA, NYC.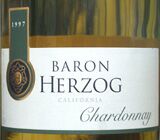 Baron Herzog 1997 California Chardonnay ($10.99)
Bright gold. Buttery and full, oaky and off-dry, a crowd-pleasing style. If you like New World Chardonnay in the fat and buttery fashion, you'll like this one. Mevushal, kosher for Passover.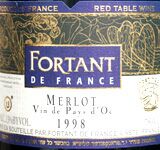 Fortant de France 1998 Vin de Pays d'Oc (France) Merlot ($7.99)
Very dark garnet. Simple fruit overwhelmed by a sulfury "burnt-match" scent. Soft and simple fruit, one-dimensional, funky. Not an enjoyable wine, I can't recommend it. Mevushal. U.S. importer: Kobrand Corp., NYC.

Golan Heights Winery 2000 Yarden Galilee (Israel) Mount Hermon Red ($9.99)
Very dark blackish-purple. Attractive black-cherry and plum aromas with an earthy back note that develops an almost "ripe cheese" quality with time in the glass. Ripe and juicy flavors follow the hose, black fruit and zippy acidity. Good table wine. Kosher for Passover, grapes not orla. U.S. importer: Royal Wine Corp., NYC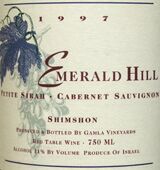 Gamla Winery 1997 "Emeraid Hill" Shimshon (Israel) Petite Sirah/85%- Cabernet Sauvignon/15% ($8.99)
Inky dark garnet, almost black. Warm black fruit aroma; distinct scents of prunes and raisins and a whiff of walnuts, not quite oxidized but a bit Sherry-like. More impressive on the palate, black fruit and fragrant pepper framed by lemony acidity. Kosher for Passover, grapes not orla. U.S. importer: Golan Heights Winery USA, NYC.

For notes on three more kosher wines - Baron Herzog 1996 Clarksburg Chenin Blanc ($6.99); Hagafen 1996/5757 Napa Valley Cabernet Sauvignon ($21.99), and Manischewitz American Concord Grape Kosher Wine ($3.99) - see last year's Passover wine report,
http://www.wineloverspage.com/wineadvisor/tswa010409.shtml.
Marc de Grazia at Acker Merrall
This special announcement comes from John Kapon, president and auction director of New York's Acker Merrall & Condit:
"Many of you who know me personally are already aware that I have become involved again in the retail operation of Acker Merrall in addition to our auction business. I have decided to do one thing immediately: taste wines and make personal selections for our clientele.
"One of the first tastings that I attended was Marc de Grazia's portfolio tasting a couple of weeks ago. Marc is to Italy what Cult Cabernet is to California. Many of the winemakers were here in New York and it was a spectacular event of over 200 wines. Well, we did not taste all of them ... but got pretty darn close! I have selected the following wines from 12 producers that really stood out for us as being extra-special."
• Vie di Romans "Vie di Romans" Chardonnay 1999 $29.99 now $22.99 or $229/case
• Gini Soave Classico "Superiore" 2000 $13.99 now $11.99 or $119/case
• Gini Soave Classico Superiore "Salvarenza" 2000 $29.99 now $23.99 or $120/6-pack
• Villa Monte Rico IGT 1997 $29.99 now $25.99 or $259/case
• Podere Il Palazzino Chianti Classico "Argenina" 1999 $17.99 Now $14.99 or $149/case
• San Giusto a Rentannano Chianti Classico Riserva 1998 $29.99 Special $149/6-pack
• Pertimali Brunello di Montalcino 1996 $45 Special $39.99 or $375/case
• Ciacci Piccolomini Rosso di Montalcino 1999 $24.99 now $22.99 or $229/case
• Ciacci Piccolomini "Ateo" 1999 $29.99 now $26.99 or $269/case
• Luigi Pirra Dolcetto d'Alba 2000 $14.99 now $13.99 or $139/case
• La Spinetta Chardonnay "Lidia" 1999 $29.99 Special $289/case
• La Spinetta Monferato Rosso "Pin" 1999 $49.99 Special $499/case
• Domenico Clerico Barbera d'Alba "Trevigne" 1999 $26.99 now $22.99 or $229/case
• Domenico Clerico "Arte" 1999 $49.99 Special $44.99 per bottle
• Domenico Clerico "Arte" 1999 Magnums $99.99 Special $89.99 Extremely Paolo Scavino "Sorriso" White 1999 $29.99 Special $299/case
• Paolo Scavino Barolo 1997 $67.99 Special $679/case
• Paolo Scavino "Bric del Fiasc" Barolo 1997 (Special $999/case - only 1 left!)
• Paolo Scavino "Carobric" Barolo 1997 3.0L $475 (only 1 dmag available!)
• Sandrone Dolcetto 2000 $22.99 Now $19.99 or $199/case
• Sandrone Nebbiolo "Valamaggione" 1999 $39.99 now $34.99 or $349/case
• Sandrone Langhe Rosso "Pe Mol" 1999 $34.99 now $29.99 or $299/case
• Sandrone Barolo Le Vigne 1997 3.0L $499 (only 1 dmag available!)
• Sandrone Barolo Cannubi Boschis 1997 3.0L $750 (only 1 dmag available!)
• Altos Las Hormigas Malbec 2001 $8.99 or $89.99 per case
• Not Marc de Grazia, but we wanted to tell you anyway…1999 Solengo $64.99 (10 6-packs left at this rock-bottom price!)

"Many of these wines are available in limited quantities, so do not wait. All orders will be on a first-come, first-serve basis, and I have a hunch most of these will be gone soon, as well they should.
"If you want to assort a case or two, take 10 percent off. If you buy three cases or more assorted take 15 percent off. These discounts do not apply to special case prices."
For details call (212) 787-1700, fax (212) 799-1984 or click to
http://www.ackerwines.com.
There's still time to sign up for our Rhone trip
From time to time over the next few weeks I'll want to remind you about our week-long tour through the southern Rhone Valley and Provence that's planned for June.
I'll be joining wine experts Lauriann Greene and Jean-Pierre Sollin of French Wine Explorers, a high-quality American tour company that specializes in wine tours of France, to lead an in-depth exploration of these two beautiful regions and their vineyards and wines.
The mood will be relaxed and the attitude easy as we make our way through some of France's most enjoyable wine regions as a small community of wine-loving friends, taking a close-up, inside look at the wines and food of the region and meeting the people who make them.
We still have some space left, and - unless the group fills to capacity sooner - we will take reservations until March 31. If you've been thinking about coming along, I hope you'll get in touch with French Wine Explorers soon. We're going to have a great time!
For more information about the tour, click to the details at http://www.wineloverspage.com/tour. And if you have any questions you would like to ask me first, please don't hesitate to use the form at http://www.wineloverspage.com/ask_a_question.phtml to get in touch.
Last Week's Wine Advisor Index
For Monday-only readers who'd like to read specific daily Wine Advisor articles, here's last week's index:
• Celebrating Louis M. Martini (March 1)
http://www.wineloverspage.com/wineadvisor/tswa020301.phtml
• LBV ... Traditionally (Feb. 28)
http://www.wineloverspage.com/wineadvisor/tswa020228.phtml
• Rehabilitating Soave (Feb. 27)
http://www.wineloverspage.com/wineadvisor/tswa020227.phtml
• More on keeping opened wine(Feb. 26)
http://www.wineloverspage.com/wineadvisor/tswa020226.phtml
• Extending the "drinkability window" (Feb. 25)
http://www.wineloverspage.com/wineadvisor/tswa020225.phtml
• Complete 30 Second Wine Advisor archive:
http://www.wineloverspage.com/wineadvisor/thelist.shtml
Administrivia
To subscribe or unsubscribe from The 30 Second Wine Advisor, change your E-mail address, switch from weekly to daily distribution, or for any other administrative matters, click to http://www.wineloverspage.com/wineadvisor/admin.phtml. In all administrative communications, please be sure to include the exact E-mail address that you used when you subscribed, so we can find your record. If you must unsubscribe, please take a moment to tell us why you're leaving, and to offer any comments or suggestions you may have.
We welcome feedback, suggestions, and ideas for future columns. To contact me, please click to http://wineloverspage.com/ask_a_question.phtml. You may also send E-mail to wine@wineloverspage.com, but the link above is the simplest way to reach me directly.
We do not use this E-mail list for any other purpose and will never give or sell your name or E-mail address to anyone.
All the wine-tasting reports posted here are consumer-oriented. In order to maintain objectivity and avoid conflicts of interest, I purchase all the wines I rate at my own expense in retail stores and accept no samples, gifts or other gratuities from the wine industry.
Monday, March 4, 2002
Copyright 2002 by Robin Garr. All rights reserved.
Subscribe to the 30 Second Wine Advisor
Wine Advisor archives