30 Second Wine Advisor: This Week's Sponsor
• California Wine Club
http://www.cawineclub.com
In This Issue
• Extending the "drinkability window"
• Hardy's Whiskers Blake Tawny Port
• If you're in Louisville, you're invited ...
• Voting Booth: Lately I'm buying more wine from ...
• Spring Fever Wine Sale at The California Wine Club!
• There's still time to sign up for our Rhone trip
• Last Week's Wine Advisor Index
• Administrivia
Extending the "drinkability window"
How long does wine keep once the bottle has been opened? This perennial query is one of our most frequently asked questions, and reasonably so: Many people find a single 750 ml ("fifth") bottle of wine to be a bit more than a couple can comfortably finish at a sitting, and a lot more than an individual should.
Unfortunately, though, the "window" for enjoying a good wine after the cork is pulled is uncomfortably short. Air is the enemy of fine wine, and once exposed, most wines will deteriorate all too quickly. And sadly, the better the wine, the more complex and balanced, the more rapidly it will lose those very elements that make it enjoyable. Even 24 hours will work changes in most wines, and not for the better; three or four days and it's rarely worth drinking. (It should be noted for the record that wine doesn't become toxic or unhealthy - unlike that leftover food lost in the back of your refrigerator, it won't rot or turn moldy. It may become unpalatable, but never hazardous.)
Refrigerating the leftovers may extend the wine's useful life a day or two, but in my harsh opinion based on rigorous testing, the commercial "wine preservation" accessories that suck some air out of the bottle or pump inert gases in don't make any real difference. It's best to enjoy your wine over a two-day span ... or invite friends in to share ... or use a portion in cooking (which eliminates most if not all of the alcohol through heating) and drink the rest.
But today let's take a look at a possible exception to the rule as we consider styles of wine that may hold up longer than most under exposure to air.
What elements help a wine last? Most wine lovers believe that stronger alcohol is one factor; it presumably acts as a preservative. The conventional wisdom also holds that sweet wines seem to remain relatively enjoyable from an opened bottle. And, considering that most wines develop a nutty, rather "Sherry-like" quality as they oxidize, it makes sense that oxidation's effects are less noticeable in a wine that already tastes like that.
So this brings us around to our exception that proves the rule: Fortified, sweet and naturally oxidized wines will hold up longer than dry table wines. Tawny Port (and the Australian equivalent), Madeira and the sweeter styles of Sherry are the wines that will keep, at least relatively speaking, if you simply stick the cork back in to the opened bottle.
How long? Well, that's a matter of taste. To push the limit, though, I experimented with one of my favorite midrange Australian "Ports," Hardy's "Whiskers" Blake. We opened this wine on Feb. 6, enjoyed a glass (my notes are below), put the cork back in the bottle, and - to set up a worst-case situation - left it upright on the shelf at room temperature.
Last night, about 2 1/2 weeks later, we tried another glass. Somewhat to my surprise, frankly, it was still quite palatable. Comparing my notes from the two occasions, it had clearly changed somewhat, losing some of its complexity and acid. But it still made a pleasant after-dinner sip, with good brown-sugar and caramel flavors and enough acidic "snap" to provide balance and flavor interest. I can't imagine a Cabernet, Merlot or Chardonnay holding up so well for so long.
Moral of the story? In almost any "conventional wisdom" about wine, it's easy enough - and can be educational - to check it out for yourself. Next time you find yourself with leftover wine at the end of the meal, give it a try: Put the cork back in, wait a few days, and then taste the wine again. (Ideally, jot down a brief note each time to reinforce your memory.) If you learn anything interesting, let me know!
Whiskers Blake, by the way, is this month's topic wine for our Wine Tasting 101 Forum feature, http://www.wineloverspage.com/forum/wt101.shtml. If you try the wine, you're invited to drop by this interactive forum to try your hand at posting a tasting report!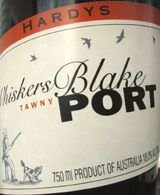 Hardy's non-vintage Whiskers Blake Tawny Port ($14.99)
Clear dark reddish-orange, more coppery than brown. Warm spicy aroma and flavor, brown sugar and vanilla and a whlff of something like church incense; sugar-sweet with a firm acidic grip and a warm presence of alcohol. After 2 1/2 weeks in an open bottle it loses some of its complexity to a brown-sugar sweetness, but retains a surprising degree of freshness and acidic "snap." U.S. importer: International Cellars, Chantilly, Va. (Feb. 6, 2002)
FOOD MATCH: Served alone for after-dinner sipping.
VALUE: At $15 retail, Whiskers Blake is around the U.S. median for Australian Port, but well under the typical price for the genuine Portuguese original.
WEB LINK: A fact sheet about Whiskers Blake is at http://www.hardys.com.au/productpages/aust_blake.html. The main winery page is at http://www.hardys.com.au/.
If you're in Louisville, you're invited ...
If you're in Kentucky or Southern Indiana or plan to be traveling in the region this coming weekend, you're invited to a Friday fund-raising event where I'll be playing the role of "wine expert" and answering wine-related questions.
It's "Viva il Vino," a wine-tasting prelude to Kentucky Opera's major fund-raising wine auction, In Vino Veritas. This fun-filled event will offer something for wine enthusiasts and novices alike: Wine tasting, hors d'oeuvres, games and a silent auction as well as the "ask the wine expert" booth where I'll spend the evening taking questions.
That's Friday, March 1, from 6-8:30 p.m., at Glassworks, Ninth and Market streets in Louisville. Admission is $25 a person, with proceeds going to Kentucky Opera. For reservations call (502) 584-4500 or (800) 690-9236.
Wine Lovers' Voting Booth: Lately I'm buying more wine from ...
Many wine lovers' tastes change over time, as we observed in a January survey about whether your vinous preferences had switched from New World to Old or vice versa, or stayed the same.
Now let's follow up a little more specifically as we ask you to consider whether your buying patterns have changed in terms of the country or region most represented in the wines you buy. Please drop by the Wine Lovers' Voting Booth, http://www.wineloverspage.com/votebooth/, and fill in the blank in the phrase, "Lately I'm buying more wine from ..."
Spring Fever Wine Sale at The California Wine Club!
Save up to 50 percent on award-winning California wines! Visit http://www.cawineclub.com for unbeatable savings and be sure to take a look into this fun and unique Wine Club!
The California Wine Club has monthly subscriptions starting at $32.95 plus shipping. There's never any bulk wine, closeouts or private labels. Just fabulous wine, hand-selected from the best of California's small, family owned wineries! To join for yourself or send a gift, visit http://www.cawineclub.com or call (800) 777-4443. Special discounts on gifts of 3, 6, 9 or 12 months.
There's still time to sign up for our Rhone trip
From time to time over the next few weeks I'll want to remind you about our week-long tour through the southern Rhone Valley and Provence that's planned for June.
I'll be joining wine experts Lauriann Greene and Jean-Pierre Sollin of French Wine Explorers, a high-quality American tour company that specializes in wine tours of France, to lead an in-depth exploration of these two beautiful regions and their vineyards and wines.
The mood will be relaxed and the attitude easy as we make our way through some of France's most enjoyable wine regions as a small community of wine-loving friends, taking a close-up, inside look at the wines and food of the region and meeting the people who make them.
We still have some space left, and - unless the group fills to capacity sooner - we will take reservations until March 31. If you've been thinking about coming along, I hope you'll get in touch with French Wine Explorers soon. We're going to have a great time!
For more information about the tour, click to the details at http://www.wineloverspage.com/tour. And if you have any questions you would like to ask me first, please don't hesitate to use the form at http://www.wineloverspage.com/ask_a_question.phtml to get in touch.
Last Week's Wine Advisor Index
For Monday-only readers who'd like to read specific daily Wine Advisor articles, here's last week's index:
• Favorite Wine Link: Fun with Grapes (Feb. 22)
http://www.wineloverspage.com/wineadvisor/tswa020222.phtml
• Trophies and second labels (Feb. 21)
http://www.wineloverspage.com/wineadvisor/tswa020221.phtml
• Remembering Spain (Feb. 20)
http://www.wineloverspage.com/wineadvisor/tswa020220.phtml
• The degrees of fizz (Feb. 19)
http://www.wineloverspage.com/wineadvisor/tswa020219.phtml
• Alcohol: Creeping upward? (Feb. 18)
http://www.wineloverspage.com/wineadvisor/tswa020218.phtml
• Complete 30 Second Wine Advisor archive:
http://www.wineloverspage.com/wineadvisor/thelist.shtml
Administrivia
To subscribe or unsubscribe from The 30 Second Wine Advisor, change your E-mail address, switch from weekly to daily distribution, or for any other administrative matters, click to http://www.wineloverspage.com/wineadvisor/admin.phtml. In all administrative communications, please be sure to include the exact E-mail address that you used when you subscribed, so we can find your record. If you must unsubscribe, please take a moment to tell us why you're leaving, and to offer any comments or suggestions you may have.
We welcome feedback, suggestions, and ideas for future columns. To contact me, please click to http://wineloverspage.com/ask_a_question.phtml. You may also send E-mail to wine@wineloverspage.com, but the link above is the simplest way to reach me directly.
We do not use this E-mail list for any other purpose and will never give or sell your name or E-mail address to anyone.
All the wine-tasting reports posted here are consumer-oriented. In order to maintain objectivity and avoid conflicts of interest, I purchase all the wines I rate at my own expense in retail stores and accept no samples, gifts or other gratuities from the wine industry.
Monday, Feb. 25, 2002
Copyright 2002 by Robin Garr. All rights reserved.
Subscribe to the 30 Second Wine Advisor
Wine Advisor archives