30 Second Wine Advisor: In This Issue
• Trophies and second labels
• Ornellia 1999 Le Volte dell'Ornellaia Toscana
• Administrivia
Trophies and second labels
When wine enthusiasts attain a certain level of self-confidence, we tend to start questioning the established wisdom; and you don't have to hang around a group of wine hobbyists for long before someone will start bashing the powerful critic Robert M. Parker Jr. or the slick mass-market magazine, Wine Spectator.
In fact, there's seldom a target riper for parody than The Spectator's annual "Top 100" picks, subtitled "the most exciting wines of the year," and topped by the editors' selection of Wine of the Year.
A couple of years ago, many of us stood by in mute incomprehension as the magazine awarded this honor to Chateau St. Jean 1996 Cinq Cepages Sonoma County Cabernet Sauvignon, a perfectly quaffable California red that had frankly never struck most people as a likely contender for Wine of the Year honors. A good $20 wine, it quickly jumped to $30 and beyond at retail, and now commands up to $100 a bottle at auction.
Last month, unveiling the new Wine of the Year for 2001, the editors turned to a more established "trophy wine," Antinori's 1998 Ornellaia (Or-neh-lie-yah"), a Super Tuscan blend that's pricey but at least marginally credible at a then-suggested retail price of $110. Within days of the announcement, wine shops were offering Ornellaia at $145 and up; it appeared on at least one Internet wine-auction site at an asking price of $275 (a price that, happily, found no bidders).
All of which leads us to today's topic: Since we rarely indulge in $100-plus wines around here but always watch out for wines of great value, is there any way to enjoy a hint of a Wine of the Year without paying the price?
This philosophical question led me inexorably to Ornellia's Le Volte, a "secondary label." This Tuscan red is made in part from the producer's own Cabernet Sauvignon and Merlot vines that are currently too young to be used for the leading brand, and in part from Sangiovese grapes purchased from other Tuscan growers. Then it is aged for five months in barrels previously used for Ornellaia (echoing a similar practice in Australia where Penfolds matures its Bin 389 Cabernet/Shiraz in some of the barrels previously used for the noteworthy Grange).
Ornellaia: $110 or more. Le Volte: $20. I can do the math. I lugged a bottle home, fashioned a fine Italian meal, and pulled the cork. Not bad! Juicy and ripe, fresh and tart, it offers the basic ingredients of a warm and easy-drinking Tuscan, if a bit on the simple side. But when I compare it with the trio of Tuscans that we reported last week - the $28 Ateo, the $12 Altesino and the $10 Monte Antico - it's hard to justify even a $20 price tag.
The moral of today's lesson? Fancy prices, shiny medals or slick magazines to the contrary, the truth of the tasting is what's in the bottle. Caveat emptor!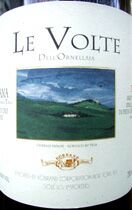 Ornellaia 1999 Le Volte dell'Ornellaia Toscana ($19.99)
Very dark garnet. Spicy red fruit aromas, strawberry and plum. Fresh and bright flavor, crisp and tart. it's an interesting wine, balanced and full, but on the simple side, and it doesn't give a strong impression that it's likely to gain much with cellar time. I can't really say it stands above the competition at this price point. U.S. importer: Kobrand Corp., NYC, (Feb. 14, 2002)
FOOD MATCH: Stereotype it may be, but Tuscan reds really do sing with hearty Italian tomato dishes, and this one gains stature alongside a simple dish of eggplant Parmigiana.
VALUE: It's a good wine, but not really competitive at $20.
WEB LINK: The U.S. importer has an information page about Le Volte at http://www.kobrandwine.com/it_73.html.

Administrivia
To subscribe or unsubscribe from The 30 Second Wine Advisor, change your E-mail address, switch from weekly to daily distribution, or for any other administrative matters, click to http://www.wineloverspage.com/wineadvisor/admin.phtml. In all administrative communications, please be sure to include the exact E-mail address that you used when you subscribed, so we can find your record.
We welcome feedback, suggestions, and ideas for future columns. We do not use this list for any other purpose and will never give or sell your name or E-mail to anyone.
All the wine-tasting reports posted here are consumer-oriented. In order to maintain objectivity and avoid conflicts of interest, I purchase all the wines I rate at my own expense in retail stores and accept no samples, gifts or other gratuities from the wine industry.
Thursday, Feb. 21, 2002
Copyright 2002 by Robin Garr. All rights reserved.
Subscribe to the 30 Second Wine Advisor
Wine Advisor archives