30 Second Wine Advisor: In This Issue
• Remembering Spain
• Sierra Cantabria Cosecha 1997 Crianza Rioja
• And speaking of wine travel ...
• CORRECTION: Make that "Mousseux"
• Administrivia
Remembering Spain
One of the special pleasures of wine for me is the way that a glass from a winery or region that I've visited will bring back memories of the place, the people and the landscape from which it came.
The more I travel, the more multi-dimensional becomes the experience of tasting wine, and this, I think, is a very good thing. I can't open a Marlborough Sauvignon Blanc without seeing the hazy peak of Mount Riley in my memory's eye and remembering the friends who joined me on our visit there ... or taste a Tuscan red without recalling the golden warmth of Chianti's dusty hills in October ... or uncork a Bandol (or just about any Provence wine) without evoking the memory of bouncing up a rutted mountain road in Ste. Anne d'Evenos in the back of the wine maker's jeep.
Wine memories are made of this, as I mused last night while enjoying a Rioja from Sierra Cantabria (a winery that we visited in the spring of 1998, named after the mountain range that separates this Spanish Basque region from the Bay of Biscay). This wine, picked in the autumn of 1997, would probably have just gone into oak barrels there at the time of our visit.
While we're at it, let's have a quick refresher on a couple of Spanish wine terms that appear on the label of this affordable and tasty red:
• CRIANZA ("Cree-ahn-zah") Somewhat akin to the Italian "Riserva," wines designated "Crianza" - akin to the Spanish word for "nursed" or "nurtured" - must be at least two years old before they are sold, and they must have spent at least one of those years aging in oak barrels.
• COSECHA ("Coe-say-kah"), literally "crop," is synonymous with "vintage" - the year the grapes were harvested.
Here's to the memories! For a report on the wines tasted at two Rioja wineries and a memorable lunch at the Sierra Cantabria winery, along with a few pictures, you'll find my May 1998 report at http://www.wineloverspage.com/wines/rioja.shtml.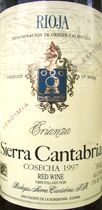 Sierra Cantabria Cosecha 1997 Crianza Rioja ($11.99)
Very dark garnet, almost black. Delicious fresh-fruit aroma, cherries and vanilla with a whiff of spice. Flavors are consistent with the nose, juicy cherry fruit and lemony acidity. Good with dinner and quite sippable alone. U.S. importer: Cutting Edge Selections, Cincinnati. (Feb. 19, 2002)
FOOD MATCH: Rioja would be fine with steaks or lamb chops, of course; but we fashion a remarkably good meatless match with a hearty mushroom and red-wine sauce over fusilli (corkscrew) pasta.
VALUE: Very good buy, exceeds expectations at this $12 point.
WEB LINK: The Madrid newspaper El Mundo may be the world's best online source of information about Spanish wine, although it's in Spanish only. There's a Sierra Cantabria page at http://www.elmundovino.com/elmundovino/des_bodega.html?param=286. Click the link "Vinos catados de esta bodega" on that page for more about specific wines.

And speaking of wine travel ...
Seguing from today's topic, we're hoping to build a gallery of wine memories of Southern France when I guide a week-long tour through the southern Rhone Valley and Provence in June.
With my wife along to keep me in line, I'll be joining wine experts Lauriann Greene and Jean-Pierre Sollin of French Wine Explorers, a high-quality American tour company that specializes in wine tours of France, for this in-depth exploration of the wines of these two beautiful regions.
As anyone who knows my approach to wine and food and the people who enjoy them will immediately appreciate, this is going to be a far cry from your usual regimented, climb-on-the-tour-bus-if-this-is-Thursday-it-must-be-Avignon trip. The mood will be relaxed and the attitude easy as we make our way through some of France's most enjoyable wine regions as a small community of wine-loving friends, taking a close-up, inside look at the wines and food of the region and meeting the people who make them. It will be a rare and memorable week.
I'm told that more Wine Advisor readers have signed on for the trip within the past week, but there are still a few spaces left. Lauriann tells me that we can continue taking reservations until March 31 (or until the group is filled to capacity, if that happens sooner), so if you've been thinking about joining our merry little band but putting off a decision, I hope you'll get in touch with French Wine Explorers soon. We're going to have a great time!
For more information about the tour, click to the details at http://www.wineloverspage.com/tour. And if you have any questions you would like to ask me first, please don't hesitate to use the form at http://www.wineloverspage.com/ask_a_question.phtml to get in touch.
Make that "Mousseux"
My multilingual online buddy Richard K., who is rarely loath to point out (and rightly so) when I make a mess of a French reference, notes that we added an extra letter to one of the sparkling-wine terms in yesterday's article about "the degrees of fizz." It's not "Mousseaux" but "Mousseux," and it's pronounced "Moo-suh," more or less. Thanks, Dick!
Administrivia
To subscribe or unsubscribe from The 30 Second Wine Advisor, change your E-mail address, switch from weekly to daily distribution, or for any other administrative matters, click to http://www.wineloverspage.com/wineadvisor/admin.phtml. In all administrative communications, please be sure to include the exact E-mail address that you used when you subscribed, so we can find your record.
We welcome feedback, suggestions, and ideas for future columns. We do not use this list for any other purpose and will never give or sell your name or E-mail to anyone.
All the wine-tasting reports posted here are consumer-oriented. In order to maintain objectivity and avoid conflicts of interest, I purchase all the wines I rate at my own expense in retail stores and accept no samples, gifts or other gratuities from the wine industry.
Wednesday, Feb. 20, 2002
Copyright 2002 by Robin Garr. All rights reserved.
Subscribe to the 30 Second Wine Advisor
Wine Advisor archives