30 Second Wine Advisor: Today's Sponsor
• Magnum Wines: The Online Auction House for Specialty Wines
http://www.magnumwines.com
In This Issue
• The degrees of fizz
• Huet 1998 Vouvray Pétillant Brut
• Magnum Wines: The Online Auction House for Specialty Wines
• Administrivia
The degrees of fizz
Sparkling, cremant, perlant, petillant, mousseux ... what's the difference? Let's expand our wine vocabulary today with a quick exploration of the degrees of fizz.
You didn't know that there WERE different names for sparkling wines, from slightly prickly all the way up to bursting with foam? Some might call this one of those fine distinctions that makes wine complicated. Others might call it a subtlety that makes wine fun. Either way, we'll give you a quick-reference card that you can use in knowing what to expect when you pop the cork.
SPARKLING wine is the broad, generic term for any wine that contains carbon dioxide (CO2) in solution, and it would be hard to argue that it reaches its pinnacle in Champagne, where the French may or may not have made it first but arguably do it best.
MOUSSEAUX ("moo-so" or, more or less, "foamy") is the French term for sparkling. Fully sparkling wines like Champagne have CO2 under 5 to 6 times normal atmospheric pressure in the bottle, which helps explain why Champagne bottles are made of heavy glass and have the cork wired down.
CREMANT ("cray-mawN" with a nasal French "N," meaning "creamy") is like Mousseaux only less so, with CO2 under about 2 to 4 atmospheres of pressure, resulting in a wine that pours with a, well, "creamy" froth, without the intensely sparkling nature of fully sparkling wines. Confusingly, Crémant is also used in modern times for fully sparkling wines made outside the Champagne region.
Continuing down the bubble scale, PETILLANT ("Peh-tee-yawN") is a lightly sparkling wine, with less than 2 atmospheres of CO2. Called "Frizzante" ("free-zahn-tay") in Italian, these wines will pour with a quick froth but usually go still quickly in the glass, leaving just a prickly impression on the tongue. However, see my tasting report below for a much more fizzy expression of petillance in a fine Loire wine.
And both last and least (at least in terms of carbon dioxide), PERLANT ("Pair-lawN" or "pearly") contains just a hint of carbonation, barely enough to make it prickle.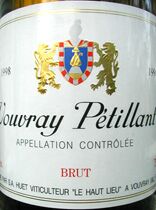 Huet 1998 Vouvray Pétillant Brut ($17.99)
Despite the label, this wine shows much of the fizz of a true "mousseaux" sparkling wine, showing its lighter carbonation only by going still relatively shortly in the glass. Clear gold, its bubble stream is both fine and persistent. Fresh and appetizing aromas and flavors present crisp apples and a pleasing mineral note on the nose and palate. Excellent wine, Champagne style, at a discount price. U.S. importer: Europvin USA, Emeryville, Calif. (Feb. 18, 2002)
FOOD MATCH: The wine's crisp earthiness makes it an exceptional match with tortellini in a white-wine mushroom sauce.
VALUE: Fine sparkling wines don't come cheap, but this one stands competition with Champagnes that sell for $10 more.
WEB LINK: The importer's Website is http://www.europvin.com/, but only limited information is available without registration ... which is limited to people in the "wine trade."
Magnum Wines: The Online Auction House for Specialty Wines
Magnum Wines' current sale offers some of the best wines available. For this sale Magnum is offering $10 shipping per case for new registered bidders who respond from The 30 Second Wine Advisor on WineLoversPage.com.
Delivery is guaranteed 7 - 10 days after the close of the sale.
Highlights include:
• A superb selection of wines from Italy featuring wines of Angelo Gaja
• A fine selection on Burgundy whites featuring the wines from Leflaive
• Bordeaux legends in large and small formats
• A great collection of California wines, including some very rare large format offerings
• A large collection of Australian wines at unbeatable prices

To register please go to http://www.magnumwines.com.
Administrivia
To subscribe or unsubscribe from The 30 Second Wine Advisor, change your E-mail address, switch from weekly to daily distribution, or for any other administrative matters, click to http://www.wineloverspage.com/wineadvisor/admin.phtml. In all administrative communications, please be sure to include the exact E-mail address that you used when you subscribed, so we can find your record.
We welcome feedback, suggestions, and ideas for future columns. We do not use this list for any other purpose and will never give or sell your name or E-mail to anyone.
All the wine-tasting reports posted here are consumer-oriented. In order to maintain objectivity and avoid conflicts of interest, I purchase all the wines I rate at my own expense in retail stores and accept no samples, gifts or other gratuities from the wine industry.
Tuesday, Feb. 19, 2002
Copyright 2002 by Robin Garr. All rights reserved.
Subscribe to the 30 Second Wine Advisor
Wine Advisor archives