30 Second Wine Advisor: This Week's Sponsor
• California Wine Club
http://www.cawineclub.com
In This Issue
• Wine, chocolate and your Valentine
• Two wines to match with chocolate
• Voting Booth: What wine with chocolate?
• California Wine Club: Wine Adventure!
• Administrivia
Wine, chocolate and your Valentine
In a world where it sometimes seems that anything that tastes good can't be good for you, it's reassuring to learn that scientists have found apparent health benefits not only in wine but chocolate.
A box of chocolates ... a glass of red wine ... what could be a more appropriate topic as Valentine's Day draws near?
Scientists at the University of California at Davis have been studying the potential health benefits of wine for years, and their focus on dietary antioxidants - chemicals like flavonoids and phenolics that seem to enhance favorable blood chemistry - has led them to take a closer look at chocolate.
"We not only have observed an increase in antioxidant capacity after chocolate consumption, but also modulation of certain compounds which affect blood vessels and now, platelet function," the university's Prof. Carl Keen told the annual meeting of the British Association for the Advancement of Science last year.
Those findings were based on blood tests drawn from volunteers after they ate measured doses of chocolate; earlier research based on laboratory studies at Davis had shown that a 1.5-ounce (45-gram) piece of milk chocolate contained nearly as much phenolic flavonoids as a 5-ounce glass of red wine.
Flavonoids, which are also found in some fruit juices and green tea, are considered desirable because they attacking the "free radicals" that damage tissue cells; they appear to deter bacteria and perhaps even viruses that can cause inflammation and allergic reactions in the body.
While scientists stop short of prescribing chocolate as a kind of tasty medicine (and the British Heart Foundation, responding to the Davis studies, bashed any such claim as "reckless"), it seems beyond dispute that it does have an antioxidant effect, as does red wine.
Can't hurt ... might help. I prescribe a chocolate and a bit of wine as a happy and perhaps even healthy way to toast your Valentine.
For more background on this topic, check the following links:
• Antioxidants in Chocolate: Questions and Answers (UC Davis)
http://wineserver.ucdavis.edu/chocolate/choc1.htm
• News in Science (Australian Broadcasting Corp.)
http://www.abc.net.au/science/news/stories/s357611.htm
Two wines to match with chocolate
Now, here's something you won't see every day: Tasting notes on a pair of sweet red wines that actually go well with chocolate: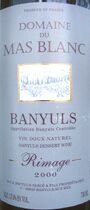 Docteur Parce Rimage 2000 Domaine de Mas Blanc Banyuls ($30.99)
Very dark reddish-purple, almost black. Red fruit and herbal notes; a whiff of leather like a freshly polished new shoe adds an odd but pleasant aromatic edge. Flavors follow the nose, sweet and tart, raspberries and a whiff of damp hay. U.S. importer: Vineyard Brands Inc., Birmingham, Ala. (Feb. 9, 2002)
CHOCOLATE MATCH: Pleasant enough on its own, like a light, herbaceous Port; but a taste of dark chocolate transforms it, bringing up the raspberry flavor dramatically. Amazing! It's OK with a chocolate-chip cookie, but not as spectacular.
WEB LINK: The U.S. importer has a page about the Docteur Parce Banyuls at http://www.vineyardbrands.com/brandsheets/parce.html.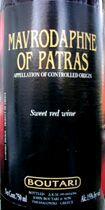 Boutari non-vintage Mavrodaphne of Patras ($12.99)
The Achaia Clauss brand of this popular Greek red dessert wine has become hard to find locally, but the Greek producer Boutari has recently filled the gap at a slightly higher price point. Clear cherry red with an orange glint, it offers candied red fruit and caramel aromas and a sweet and fruity flavor, soft but with sufficient acidity for balance. U.S. importer: Paterno Imports, Lake Bluff, Ill. (Feb. 10, 2002)
CHOCOLATE MATCH: Tasted with the same dark-chocolate dessert as the Banyuls, it shows a similar effect: A bite of chocolate heightens the sweet fruit in the wine, although in this case it's strawberries and blueberries in contrast with the remarkable burst of raspberry in the Banyuls.
WEB LINK: Boutari has a Web page in English at http://www.libver.gr/boutarienglish/public.htm and in Greek at http://www.boutari.gr/. The importer's information page on Boutari is at http://www.paternoimports.com/products/boutari/.

Wine Lovers' Voting Booth: What wine with chocolate?
It's almost Valentine's Day, and many of us will mark the occasion by presenting our sweethearts with chocolate. But what's a wine lover to do? Is it possible to put chocolate and wine together in a happy marriage?
Whether you're nibbling chocolate candies from a sampler box or diving into a decadent chocolate dessert, will you match it with wine? For this week's Valentine Voting Booth, we hope you'll take a moment to tell us, "What wine goes best with chocolate?" To take part, just click to the Voting Booth,
http://www.wineloverspage.com/votebooth/index.shtml
to cast your ballot.
California Wine Club: Wine Adventure!
Keep your Valentine warm with a California Wine Adventure!
The California Wine Club offers two bottles of award-winning wine, hand-selected from the best of California's boutique wineries. Each month is just $32.95 plus shipping and includes the fun and entertaining newsletter, Uncorked!
No bulk wine, no closeouts and no private labels! Give them a try! Click to http://www.cawineclub.com or call (800) 777-4443.
Administrivia
To subscribe or unsubscribe from The 30 Second Wine Advisor, change your E-mail address, switch from weekly to daily distribution, or for any other administrative matters, click to http://www.wineloverspage.com/wineadvisor/admin.phtml. In all administrative communications, please be sure to include the exact E-mail address that you used when you subscribed, so we can find your record.
We welcome feedback, suggestions, and ideas for future columns. We do not use this list for any other purpose and will never give or sell your name or E-mail to anyone.
All the wine-tasting reports posted here are consumer-oriented. In order to maintain objectivity and avoid conflicts of interest, I purchase all the wines I rate at my own expense in retail stores and accept no samples, gifts or other gratuities from the wine industry.
Monday, Feb. 11, 2002
Copyright 2002 by Robin Garr. All rights reserved.
Subscribe to the 30 Second Wine Advisor
Wine Advisor archives