30 Second Wine Advisor: This Week's Sponsor
• Acker Merrall: Auction Love is in the Air
http://www.ackerwines.com/onlineauctions
In This Issue
• One more Tuscan
• Altesino 1998 Rosso di Altesino Toscana
• Follow-up: About that "QPR" question
• Administrivia
One more Tuscan
Let's wrap up the work week by staying with a good thing for one more day: Up for tasting is another red from Tuscany, a reasonably priced Chianti-style wine that bears the regional name "Toscana" ("Tuscan") because it's made at variance from the relatively strict rules that govern Chianti.
Those rules, which go back to the 14th century or earlier but were updated in 1967 and again in 1984, require that Chianti be made from a blend of Sangiovese (currently 75 to 90 percent of the mix), Canaiolo (a less-known red grape, 5 to 10 percent of the blend), and a dash of Tuscan white grapes, Trebbiano and/or Malvasia (between 5 and 10 percent, limited to 2 to 5 percent for Chianti Classico). The most recent rules also permit as much as 10 percent of "non-traditional" varieties in Chianti - typically Cabernet Sauvignon and/or Merlot.
Until recent times, Chianti was often a "field blend," with all the different grape varieties grown intermingled in the vineyards, all brought in together at harvest time. Nowadays, most modern producers separate the varieties in different vineyard plots, allowing the components to be picked separately when they're ripe.
Today's wine, however, wears the "Toscana" label, not Chianti, because its components don't quite fit the Chianti formula. It's 95 percent Sangiovese with a 5 percent splash of Cabernet Sauvignon. I was a bit surprised to find the 1998 vintage still on sale locally, as it has been around for more than a year, and the 1999 has been released. No harm done, though, as a bit of age in the bottle has served it well.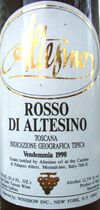 Altesino 1998 Rosso di Altesino Toscana ($11.99)
Very dark garnet, almost black at the core. Earthy "barnyard" aromas surround ripe black fruit; flavors follow the nose, black-cherry fruit and tart, lemony acidity, with an aromatic whiff of menthol and that earthy but pleasant "barnyard" persisting in a long finish. U.S. importer: Winebow Inc., NYC. (Feb. 7, 2002)
FOOD MATCH: Tuscan reds in general are fine with beef and with red-sauced Italian dishes, but we tried something a bit more exotic with a meatless match: Porcini tortellini in a thick potato-leek puree with zucchini, garnished with a roasted red bell-pepper puree.
WEB LINK: The importer has a fact sheet on Rosso di Altesino at http://www.winebow.com/shortdet.asp?ID=349.

Follow-up: About that "QPR" question
Well, you have done it again. Yesterday I invited your comments on the idea of my incorporating some kind of value reference or score (quantifying a wine's "Quality-Price Ratio") in our tasting reports. I figured maybe a couple of dozen of you would respond. In fact, your comments arrived by the hundreds and are still coming in.
Many thanks to you all, although the huge response makes it difficult for me to send personal replies as I prefer. My apologies for that, but I would like to take a few moments this morning to summarize a few key points.
First, it's clear that I'm not going to be able to satisfy everyone. Your comments ranged all the way from "Great idea" to "it's a tricky business" to "I hate it."
Overall, a substantial majority - probably more than 80 percent of responses - were in favor of some kind of signal or code to denote wines that I consider particularly good bargains. Some of you offered suggestions ranging from simple point systems to rigorous graphs or multi-dimensional data arrays. I've enjoyed reviewing them, and special thanks to those who took the time to outline your ideas in detail.
Based on the consensus, it seems clear that I should highlight wines that I consider of particularly good value. Of course, I do that already, by simply mentioning it when I consider a wine of good value. As a minimum, I'll keep on doing so, and I will continue looking for an effective way to highlight these bargains. If I do come up with any kind of value rating or code, I'll keep it very simple, as most of you suggested.
Finally, I should clarify, since some of your responses indicated uncertainty, that I am NOT proposing an overall point rating system for the wines I review. As noted in yesterday's E-letter, I prefer not to assign point scores, in contrast with many of the print-media wine publications. I believe that tastes vary so widely that it's better for me simply to describe the wine as I tasted it, with the idea that you can form your own judgement as to whether you would like the wine.
And the beauty of this interactive publication is that, unlike print media, if you have a question about a particular wine review, asking me for a follow-up is as easy as clicking your mouse on http://www.wineloverspage.com/ask_a_question.phtml.
Thanks again for your comments, and your kind support. I appreciate hearing from you.
Administrivia
To subscribe or unsubscribe from The 30 Second Wine Advisor, change your E-mail address, switch from weekly to daily distribution, or for any other administrative matters, click to http://www.wineloverspage.com/wineadvisor/admin.phtml. In all administrative communications, please be sure to include the exact E-mail address that you used when you subscribed, so we can find your record.
We welcome feedback, suggestions, and ideas for future columns. We do not use this list for any other purpose and will never give or sell your name or E-mail to anyone.
All the wine-tasting reports posted here are consumer-oriented. In order to maintain objectivity and avoid conflicts of interest, I purchase all the wines I rate at my own expense in retail stores and accept no samples, gifts or other gratuities from the wine industry.
Friday, Feb. 8, 2002
Copyright 2002 by Robin Garr. All rights reserved.
Subscribe to the 30 Second Wine Advisor
Wine Advisor archives