30 Second Wine Advisor: This Week's Sponsor
• Acker Merrall: Auction Love is in the Air
http://www.ackerwines.com/onlineauctions
In This Issue
• Irreverent Italian
• Ateo 1997 Rosso di Toscana
• Administrivia
Irreverent Italian
"The Atheist" might seem like an awfully strange name to put on a wine label, but believe it or not, that's the literal meaning of "Ateo" ("Ah-tay-oh") in Italian.
This irreverently named Italian red doesn't take its name from any religious aspect of atheism, though. Rather, it mocks the strict Italian wine laws.
The producer, Ciacci Piccolomini d'Aragona, is known primarily for Brunello di Montalcino, a noteworthy Tuscan red wine made from a Sangiovese clone called Brunello - a sort of upscale cousin of Chianti.
But the perfectionist wine maker at Ciacci Piccolomini d'Aragona, Roberto Cipresso, doesn't make Brunello except in the best vintages, the importer Marc de Grazia explains. In lesser years, Cipresso defies the regulations to fashion a non-traditional wine that blends Cabernet Sauvignon and Merlot in with the Italian grape and then ages the result in French-oak casks.
The wine is called "Ateo," de Grazia writes, because it goes against Brunello's fixed dogma: "The quidelines Roberto follows for making Ateo are his own and remain flexible, thus allowing for the particular nature of the harvest."
Today I report on the currently available 1997 Ateo, a wine that pushes the upper end of our usual budget but that remains toward the low end of the pricey range of modern "Super Tuscans."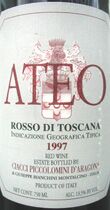 Ateo 1997 Rosso di Toscana ($27.99)
Clear dark purple in color, this hearthy red breathes full and open scents of black fruit - plums and dried cherries - with good, complex earthy notes on the nose and palate. Soft tannins and gentle but sufficient acidity provide structure and balance, with pleasantly bittersweet dried-fruit notes in a long finish. U.S. importer: Marc de Grazia selections are imported by Michael Skurnik in New York, Vin Divino in Chicago, and regional importers including Vintner Select in Cincinnati. (Feb. 5, 2002)
FOOD MATCH: Lamb chops and Friulian orzotto (barley risotto) with spinach.

Administrivia
To subscribe or unsubscribe from The 30 Second Wine Advisor, change your E-mail address, switch from weekly to daily distribution, or for any other administrative matters, click to http://www.wineloverspage.com/wineadvisor/admin.phtml. In all administrative communications, please be sure to include the exact E-mail address that you used when you subscribed, so we can find your record.
We welcome feedback, suggestions, and ideas for future columns. We do not use this list for any other purpose and will never give or sell your name or E-mail to anyone.
All the wine-tasting reports posted here are consumer-oriented. In order to maintain objectivity and avoid conflicts of interest, I purchase all the wines I rate at my own expense in retail stores and accept no samples, gifts or other gratuities from the wine industry.
Wednesday, Feb. 6, 2002
Copyright 2002 by Robin Garr. All rights reserved.
Subscribe to the 30 Second Wine Advisor
Wine Advisor archives