<!TODAY'S TEXT STARTS HERE!>

30 Second Wine Tasting Tip:
Organic Provence


Is there any particular benefit in "organic" wine?

Trendy, sometimes controversial, the concept of organic growing has come to the artisanal vineyard as it has to agriculture in general. And there's not much to criticize in a natural approach to farming that treads lightly on the earth, avoiding the use of industrial pesticides, herbicides and fungicides that certainly do farmland no good and may not be much better for the humans who consume the residue in their food and drink.

I enjoyed an educational tour of all-organic Bonterra Vineyard in Mendocino County, California, on a balmy day last November; and I'm looking forward to a visit to the the Cartier family's organic winery Mas de Gourgonnier in Provence this summer, when the tour group we're organizing through French Wine Explorers visits this pretty vineyard in les Baux de Provence on June 13. (Tasting notes below, and tour details are at http://www.wineloverspage.com/tour/index.shtml).

Personally, I find the concept of organic vine production intriguing and reserve special praise for producers like Bonterra, the Cartiers, the Perrin family in France and others who pursue it. But I think it's fair to point out that the fine-wine industry in general - in contrast with some larger agribusiness sectors - tends toward natural agriculture simply because industrial techniques aren't well suited for the production of great wines.

If you're an advocate of organic farming, it makes sense for you to support natural producers. But if the evidence is in the glass, I have yet to be convinced that you can detect an organic wine product by tasting the wine.

But organic or no, today's wine is a favorite. Always fully organic, I've found it consistently one of the best French wine values around. A blend of Grenache, Carignan, Mourvedre, Syrah and Cabernet Sauvignon, it's clearly a cousin to its neighbor Cotes-du-Rhone, but with an herbal, earthy complexity all its own.

By the way, you'll often see that word "Mas" in wine names from Provence and Languedoc. It's the Southern French equivalent of "Maison" or "house"); and in the regional dialect the final "s" is pronounced (as it is in the wine regions Cornas and Gigondas) - say it "Mahss."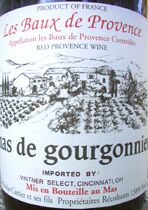 Mas de Gourgonnier 1999 Les Baux de Provence ($9.99)
Very dark ruby with a reddish glint. Earthy black fruit with distinct but muted "barnyard" aromas over delicious, subtle herbal notes. Flavors are consistent with the nose, ripe and tart; fragrant pepper and zippy acidity in a long finish. U.S. importer: Vintner Select, Cincinnati, North Berkeley Wine Merchant and other regional distributors. (Jan. 26, 2002)

FOOD MATCH: The wine's earthy fruit makes for an exceptional match with an aromatic Asian dish, braised home-style pork with bok choy and spinach and lots of ginger and garlic.

Administrivia


To subscribe or unsubscribe from The 30 Second Wine Advisor, change your E-mail address, switch from weekly to daily distribution, or for any other administrative matters, click to http://www.wineloverspage.com/wineadvisor/admin.phtml. In all administrative communications, please be sure to include the exact E-mail address that you used when you subscribed, so we can find your record.

We welcome feedback, suggestions, and ideas for future columns. We do not use this list for any other purpose and will never give or sell your name or E-mail to anyone.

All the wine-tasting reports posted here are consumer-oriented. In order to maintain objectivity and avoid conflicts of interest, I purchase all the wines I rate at my own expense in retail stores and accept no samples, gifts or other gratuities from the wine industry.

Wednesday, Jan. 30, 2002
Copyright 2002 by Robin Garr. All rights reserved.

<!TODAY'S TEXT ENDS HERE!>

Subscribe (free) to The 30 Second Wine Advisor