<!TODAY'S TEXT STARTS HERE!>

30 Second Wine Tasting Tip:
Old vines and Zinfandel


Let's follow up on yesterday's report on the newly discovered origins of Zinfandel with a tasting of a California Zin in a classic "benchmark" style.

Kempton Clark - actually not a winery but a label for a line of wines from R.H. Phillips - offers this Zinfandel from an unexpected quarter. Far from the usual California wine-growing regions, the Cucamonga Valley east of Los Angeles was the source of a lot of ripe and fruity Zinfandel nearly a century ago. Today this valley, once known for its truck farms and fruit orchards, has become a textbook example of suburban sprawl. But a few old vineyards remain, including Lopez Ranch, where 85-year-old Zinfandel vines produced the grapes that made this wine.

"Old vines" is a magical term when it comes to Zinfandel. As grapevines grow older, they produce less fruit, and the harsh economics of the wine business dictate that many old vineyards are replanted after 25 or 30 years. But a contrary theory holds that the fruit grown on ancient, gnarled vines may be short on quantity but long on quantity, growing intense and flavorful grapes that make memorable wine. This is particularly true of Zinfandel, and some of California's most favored Zin patches boast a history of 80 years to a century or more.

Consumers should note, however, that "old vines" is not a legally regulated term but may be used at the maker's option, and an occasional "old vines" item may come from vineyards of 20 years' standing. Unless the label is explicit about the age of the vines, there are no promises. But this one is legitimate, as the Lopez Ranch Zin vines date back to 1915.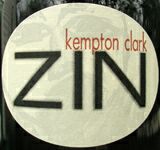 Kempton Clark 1997 "ZIN" Lopez Ranch Cucamonga Valley Zinfandel ($14.99)
Very dark reddish-purple, clear but almost black. Classic Zin aroma, exuberant mixed-berry fruit, with a distinctly "green," "sappy" quality. The flavor is just as big and forward, juicy berries and an almost Bourbon-like quality, sweet caramel, smoky and warm with 14.5 percent alcoholic warmth. (Jan. 24, 2002)

FOOD MATCH: My No. 1 recommendation for a Zinfandel food match is chargrilled rare steak, and Zin's exuberant New World fruit makes it a good match with hearty American fare from hamburgers to spicy chile con carne. But we went with a more exotic Asian dish, and found the wine's ripe berry fruit went as well as PB&J with eggplant in a spicy peanut sauce.

WEB LINK: The R.H. Phillips Website is at http://www.rhphillips.com/, with a Kempton Clark page at http://www.rhphillips.com/KC.html. It's heavy on "flash" programming, so it may be inaccessible to text browsers and difficult for slow dial-up connections.

Emeril Sweepstake On WineLoversPage.Com!


WineLoversPage.com has joined with Emerils.com to bring the fun of celebrity chef Emeril Lagasse and his cooking to wine lovers on the World Wide Web.

"Emeril's Missing Ingredient Sweepstake" will present a recipe for a good wine-pairing dish from Lagasse's latest book, "Prime Time Emeril" ... with one essential ingredient missing. Your challenge is to study the recipe and figure out what key ingredient has been left out. Winners will get a free, autographed copy of Lagasse's latest book, "Prime Time Emeril," and the Grand Prize winner will win an entire Emeril Cookbook collection.

To join the fun, click to http://www.wineloverspage.com/emeril/index.phtml for the entry form and instructions.

Administrivia


This is the daily edition of The 30 Second Wine Advisor. To subscribe or unsubscribe, change your E-mail address, switch from daily to weekly (Mondays only) distribution, or for any other administrative matters, click to http://www.wineloverspage.com/wineadvisor/admin.phtml. In all administrative communications, please be sure to include the exact E-mail address that you used when you subscribed, so we can find your record.

Friday, Jan. 25, 2002
Copyright 2002 by Robin Garr. All rights reserved.

<!TODAY'S TEXT ENDS HERE!>

Subscribe (free) to The 30 Second Wine Advisor