<!TODAY'S TEXT STARTS HERE!>

30 Second Wine Tasting Tip:
A bargain from Savoie


When we think of France and wine, most of us jump immediately to the well-known regions that we have come to know and love ... Bordeaux, Burgundy, or perhaps the Rhone, Alsace or the Loire; for the bargain-hunters among us, maybe it's Provence and the Languedoc.

Today, though, let's break out of the box and take a quick taste of one of the many country-French regions that rarely turns up on anybody's list of favorites but that justifies a second look.

This is Savoie ("Sah-vwah"), an out-of-the-way section of Eastern France, bordering Switzerland on Lake Geneva at the source of the Rhone. It's an Alpine region, probably better-known to skiiers and hikers and nature watchers than wine enthusiasts. The wines are mostly white, and - like this one - typically made from a regional grape called Jacquere ("Zhock-air").

Memorable wines? Maybe not. But drink them young and fresh, and their crisp fruit can be as refreshing as a thirsty quaff from a mountain spring. They're well matched with cheeses - try one with a Swiss raclette - and go well, too, with chicken dishes or vegetarian fare.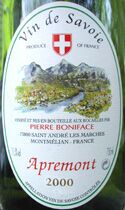 Pierre Boniface 2000 Apremont Vin de Savoie ($8.99)
Clear light straw color. Apples and pears plus a hint of fresh green peas on the nose and palate. Crisply acidic, light in texture but full in flavor. A distinct green-apple flavor adds notes of ripe pears and a fresh citric tang in a long finish. U.S. importer: Hand Picked Selections, Warrenton, Va. (Jan. 21, 2002)

FOOD MATCH: Pleasant with a lightly spicy South Indian potato and green-bean curry with coconut milk, but would also work very well with cheese, chicken or veal.

WEB LINK: The importer's Website is http://www.winemerchant.net/, with a fact sheet on Apremont at http://www.winemerchant.net/hps_top40_wine_descriptions/
wm_boniface_apremont_2001.htm.


Two quick reminders:
Food E-letter and reader survey

Just in case you missed these announcements in yesterday's weekly Wine Advisor:
Based on your strong encouragement, we're launching The 30 Second Wine Advisor's Food Letter this week. Usually distributed on Thursdays, each edition will contain a short fact of interest about food and wine. We will send this publication only to those who register. For more information, or to register, click to http://www.wineloverspage.com/wineadvisor/foodletter.shtml. (NOTE: Several of you who use older versions of Netscape reported being unable to reach this page yesterday. We believe we've got the bug exterminated, so please try again today.)

Marking The Wine Advisor's anniversary (yesterday was Issue No. 1 of Volume No. 4), we're inviting you to give us your comments and suggestions in an online survey. If you haven't already done so, please visit http://www.wineloverspage.com/votebooth/tswaques2002.shtml to chime in with your opinions.
Administrivia


This is the daily edition of The 30 Second Wine Advisor. To subscribe, change your E-mail address, switch from daily to the weekly (Mondays only) distribution, or for any other administrative matters, E-mail wine@wineloverspage.com. In the unhappy event that you must leave us, please take a moment to let us know how we could have served you better. In all administrative communications, please be sure to include the exact E-mail address that you used when you subscribed, so we can find your record.

Tuesday, Jan. 22, 2002
Copyright 2002 by Robin Garr. All rights reserved.

<!TODAY'S TEXT ENDS HERE!>

Subscribe (free) to The 30 Second Wine Advisor