<!TODAY'S TEXT STARTS HERE!>

30 Second Wine Tasting Tip:
Trends and blends


What's new on the wine market?

As a wise wine guru (actually it was my pal Hoke Harden) pointed out recently, "The wine business can be very trendy and flighty, with varieties, blends, styles and brands coming in and out of favor."

Just when we thought the old standard wine-grape varieties were here to stay and got ourselves comfortable with Cabernet Sauvignon, Merlot, Pinot Noir, Chardonnay and Sauvignon Blanc, what should hit the market but exotic and less-familiar grapes like Grüner Veltliner, Mourvèdre and Albariño.

I tremendously enjoyed a tasting on this topic that Mr. Harden presented at a Brown-Forman Global Wine Education program in California in November. Yesterday I borrowed his idea to offer a similar tasting for the annual meeting of the Thomas Jefferson Chapter of the American Wine Society at the Louisville Country Club.

We tasted and talked about eight specific varieties - four whites and four reds, ranging in local retail price from $8 to $45 - that are enjoying current popularity or even trendiness.

As I told the group, no one advocates that we abandon the standards. It's always a safe bet to go back to the familiar varieties or our favorite blends like Bordeaux or Chianti. These styles will always be popular, because they are good.

But if you believe, as I do, that one of the most enjoyable things about wine is its infinite variety, then I hope you'll enjoy a quick tour of some less familiar byways of wine as I summarize the highlights of yesterday's tasting.

WHITE WINES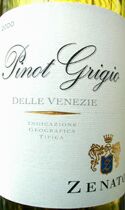 Zenato 2000 Pinot Grigio delle Venezie ($7.99)
Pinot Grigio (and Pinot Gris, the same grape in French) has become decidedly trendy lately as more and more wine enthusiasts seek alternatives to the ubiquitous Chardonnay. Particularly now that so many Chardonnays are being made in a fat, buttery, oaky and off-dry style that's hard to match with food, there's a growing market for crisp, dry and acidic whites that sing at the dinner table.
While some inexpensive Pinot Grigios are frankly bland, this one offers great value in a crisp, lemony white that adds flavor interest with subtle nuances of bananas and wool. Try it with shrimp or just about any seafood dish. Twenty-one participants turned in rating sheets and gave this wine an average rating of 14.16 on the 20-point AWS scale, a tie for sixth place.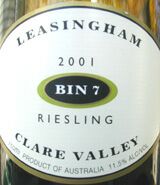 Leasingham 2001 Bin 7 Clare Valley Riesling ($7.99)
Most of us would probably include Riesling among the "classic" grapes, so you may wonder why I included it in a survey of new and trendy varieties. The answer is simple enough: It's only in the past couple of years that we've begun to get a reliable supply of dry Riesling from Down Under. In contrast with the slightly sweet and piercingly acidic style of most German Rieslings or the sweet and soft U.S. West Coast Rieslings, the Aussies and New Zealanders make Riesling as a crisp and dry wine focused on fresh, snappy and citric fruit.
This one - which to my delight came packaged not with a traditional cork but the high-quality Stelvin-brand metal screwcap now adopted as standard for Clare Valley Rieslings - was a fine example, fresh and clean, loaded with tasty lime and white-fruit aromas and flavors. At the same bargain-basement price as the Pinot Grigio, it's another great value. The group rated it 15.83 for fifth place.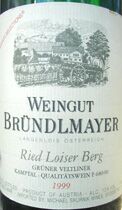 Weingut Bründlmayer 1999 Ried Loiser Berg Kamptal (Austria) Grüner Veltliner ($13.99)
Still a relative rarity in the New World, Grüner Veltliner has been a mainstay in Austria for generations. Old-timers may recall the Austrian wine scandal of the early 1980s, when a few producers were convicted and jailed for adulterating some wines with dangerous antifreeze. Although only a few producers were implicated, Austrian wine almost completely disappeared from the export market, and has only recently started coming back.
As with German wines, complicated and hard-to-pronounce labels have also stifled the popularity of Austrian wine. But as wine enthusiasts begin to discover the bone-dry, austere mineral character and steely fruit of Grüner Veltliners like this fine wine, it's starting to gain attention again.
("GV" also makes a stunning match with Southeast Asian and Pacific Rim fare, so it's turning up on the wine lists of some fine restaurants that feature this cuisine, like San Francisco's excellent Slanted Door.)
This one divided the group; some loved its "stony" minerality while others wished it offered more fruit. At a still-respectable average score of 13.19, it trailed the pack. I thought it was better than that.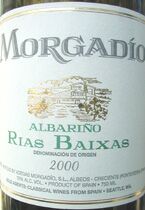 Morgadío 2000 Rias Baixas (Spain) Albariño ($15.99)
Another wine grape variety all but unknown in the U.S. until recently, Albariño is still generally available from only a handful or producers. It's grown primarily in a limited area - Galicia in Northwestern Spain and the adjacent section of Portugal, where it's known as Alvarinho.
A delicious, aromatic white, it deserves wider notice, and like so many wines grown in regions of seacoast and river, it's a wonderful match with seafood. This one is a good example, with heady scents of peaches and almonds and a crisp, rather full flavor. The group gave it a 14.16 average rating, placing it in a dead heat with the Pinot Grigio for sixth place.

RED WINES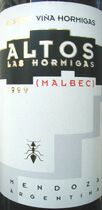 Altos las Hormigas 1999 Reserva Viña Hormigas Mendoza (Argentina) Malbec ($21.99)
As most wine fanciers know, the great red wines of Bordeaux are made from a blend of as many as five grapes. There's Cabernet Sauvignon and Merlot ... Cabernet Franc ... and then those other two, the less-familiar varieties that make good questions in wine-trivia games: Petit Verdot and, um, Malbec.
Malbec is a minor player in Bordeaux, however. It makes a dark, extracted and intense wine that's used only in small portions to add color and body to the other more "elegant" participants in the Bordeaux dance. But Malbec stands alone in two widely separated places: Cahors in Southwestern France, and across the Atlantic in Argentina, where it's used in robust, fruity but oaky reds that are among the country's most popular wines.
This powerful wine, full of cherry-berry fruit and spicy oak aromas that seemed to leap from the glass, is the upscale "Reserva" edition of Altos las Hormigas's popular budget Malbec. It got the crowd's attention as we moved from whites into the red wines that most of the group preferred; and its rating reflected that: At an average of 16.34 on a 20-point scale, it ranked second in the tasting.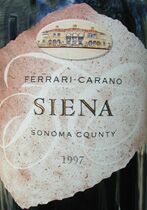 Ferrari-Carano 1997 Sonoma County (California) Siena ($27.99)
Like Riesling, Sangiovese is hardly a new grape in the marketplace. It has been the dominant grape of Tuscany in Italy, where it's the leading player in the Chianti blend and stands alone in Brunello di Montalcino and Vino Nobile di Montepulciano, for well over 700 years.
But it has gained new popularity in recent years for two reasons: First, a it has enjoyed a burst of interest in California and Australia among wineries that specialize in Italian varieties. And the Californians in particular have been quick to adopt a growing Italian trend - the "Super Tuscans," red wines in a new and international style that blend the traditional Sangiovese with Cabernet Sauvignon or Merlot.
This one from Ferrari-Carano is one of my favorite California Italian-style wines. It blends the warmth and snappy acidity of Sangiovese with the elegance of California Cabernet Sauvignon in a wine that exceeds the sum of its parts. Not quite Italian, more than New World, it incorporates some of the best of both. The group rated it in third place with a 15.75 score.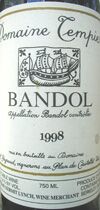 Domaine Tempier 1998 Bandol (France) ($28.99)
Here's another grape that has gone from virtual obscurity to significant popularity within the past few years. Long a staple of Provence and the Languedoc, Mourvèdre is the second most widely planted red grape in Spain, where it's known as Monastrell. Now it's becoming a hot variety in California and in Australia, where it is often blended with Syrah and Grenache to make a combination recognized by its initials, GSM.
It makes a wine with a distinctly earthy "old world" quality that mixes dark, ripe fruit with herbs - specifically, the wild thyme, rosemary and fennel that grow wild in Provence - with "organic" characteristics that show "barnyardy" and "grilled meat" (what the French call "animale") and often evoke woodsy notions like dried leaves and tree bark.
Domaine Tempier earns its status as one of the most sought-after Bandols with its earthy complexity. Although it really needs years in the cellar to reach its peak, the ripe fruit of the 1998 vintage makes it easy to enjoy this one already. The group rated it 14.8 for fourth place.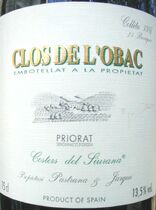 Clos de l'Obac 1997 Costers del Siurana Priorat (Spain) ($44.99)
The Spanish Garnacha and the French Grenache are the identical grape, a widely grown variety that's gaining favor in both countries and the U.S. and Australia. But it may be most popular in Spain, where it's the No. 1 red grape.

Made as a 100 percent varietal wine, Garnacha/Grenache can be a real "fruit bomb" with a signature aroma of ripe raspberries. I think it's best, though, as a major player in a blend, and would argue that it reaches its peak in Chateaneuf-du-Pape (where Grenache is usually the primary ingredient in a blend of up to 13 grapes) and Priorat in Spain, where it's usually mixed with Carinyena (Carignan).

This big and robust wine, showing its ripe Grenache berries over a sturdy structure of acidity and tannins, puts a Spanish spin on the Super-Tuscan theme by blending equal amounts of Garnacha and Cabernet Sauvinon - about 35 percent of each - plus smaller amounts of Carinyena, Merlot and Syrah. The group gave it a two-thumbs-up rating with a 16.59 score, making it the No. 1 wine of the night.


What do you think? Join in a discussion on this and other topics in our interactive Wine Lovers' Discussion Group at http://www.wineloverspage.com/cgi-bin/sb/index.cgi?fn=1. Or send E-mail to wine@wineloverspage.com. I regret that the growing circulation of the "Wine Advisor" makes it difficult for me to reply individually to every note. But I'll respond to as many as I can and do my best to address specific questions. Please be assured that all your input helps me do a better job of writing about wine.

Please tell your wine-loving friends about The 30 Second Wine Advisor, and invite them to register for their own free subscription at http://www.wineloverspage.com/wineadvisor.

Wine Lovers' Voting Booth
Old World or New?


As we discussed in the Wine Advisor on Sept. 10, an interesting geographical dichotomy has emerged recently in wine-tasting language, as we increasingly identify wines as being either "Old World" or "New World" in style. This vast oversimplification separates the Old World (Europe, and perhaps South Africa) from the New World (the Americas and Australasia) on the basis of the style of wines they produce.

We're trying to measure this phenomenon in this week's Voting Booth, as we ask, "Which style of wine to you prefer: Old World or New?" To join in the fun, click to http://www.wineloverspage.com/votebooth/. After you've cast your "vote," see how your opinion stacks up with those of other wine lovers around the globe.

Discover, Learn and Indulge
with the California Wine Club


Treat yourself to a monthly wine adventure! Two bottles of award-winning wine, hand selected from the best of California's small, family owned wineries!

Each shipment is just $32.95 plus shipping and includes the club's fun and entertaining newsletter, Uncorked. You can even reorder your favorites at up to 50 percent off normal retail prices!

Join today and receive 3 bottles of wine for the price of 2 in your first shipment! http://www.cawineclub.com or call (800) 777-4443.

Makes a great gift idea!

30 Second Administrivia

This free E-mail publication is distributed to subscribers every Monday, and our daily Wine Advisor Express is E-mailed Tuesday through Friday. Previous editions are archived at http://www.wineloverspage.com/wineadvisor/thelist.shtml.

You are on the subscription list because you registered during a visit to Robin Garr's Wine Lovers' Page. To change your E-mail address, switch from the weekly (Mondays only) to daily distribution, or for any other administrative matters, E-mail wine@wineloverspage.com. In the unhappy event that you must leave us, please take a moment to let us know how we could have served you better. In all administrative communications, please be sure to include the exact E-mail address that you used when you subscribed, so we can find your record.

We welcome feedback, suggestions, and ideas for future columns. We do not use this list for any other purpose and will never give or sell your name or E-mail to anyone.

All the wine-tasting reports posted here are consumer-oriented. In order to maintain objectivity and avoid conflicts of interest, I purchase all the wines I rate at my own expense in retail stores and accept no samples, gifts or other gratuities from the wine industry.

More time for wine?

You don't need to wait for Mondays to read about wine! Drop in any time at the Wine Lovers' Page, http://www.wineloverspage.com, where we add new tasting notes several times each week and frequently expand our selection of wine-appreciation articles, tips and tutorials. If you'd like to talk about wine online with fellow wine enthusiasts around the world, click to our interactive, international Wine Lovers' Discussion Group forums, http://www.wineloverspage.com/forum.

Vol. 3, No. 52, Monday, Jan. 14, 2002

<!TODAY'S TEXT ENDS HERE!>

Subscribe (free) to The 30 Second Wine Advisor