<!TODAY'S TEXT STARTS HERE!>

We're back!

I had a great time visiting California's Napa and Sonoma wine regions last week, but I'm happy to be back at the editor's desk; and today's edition of The 30 Second Wine Advisor is a very special one, marking the first bulletin in Volume Two. That's right, we've passed our first birthday, looking back on a busy year that has seen subscriptions rise past the 10,000 point, with readers on all seven continents including Antarctica. (You guys at McMurdo Station, I hope you're keeping warm down there!) Naturally we're eager to keep on growing, so if you enjoy our bulletin, please tell your wine-loving friends about us. (And if you'd like to read my tasting notes on about 60 wines sampled during my California trip, you'll find them at "Winter in the Wine Country," www.wineloverspage.com/wines/cal011900.shtml.)

30 Second Wine Tasting Tip:
What's in a wine glass?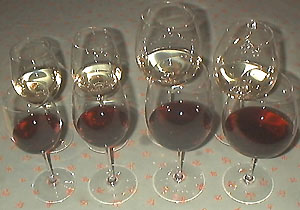 If the only purpose of a wine glass is to keep the wine from spilling, then why don't we use tumblers or coffee mugs to drink our wine?

It's not that simple, of course. The modern wine glass has developed over centuries as the most practical way to show wine at its best.

A good wine glass should be large enough to hold a reasonable serving of wine (three to five ounces) with enough space left to swirl and aerate the wine to help open up its aromas.

It should be "tulip" shaped, a large bowl with slightly inward curving edges at the top, to help hold the aromas in the glass so you can sniff them.

It will normally have a stem to hold it by, a tradition based on the idea of keeping your hands and fingers off the bowl, both to avoid greasy fingerprints and to keep your hands from warming the wine.

It should be of clear glass or crystal, of course; colored or opaque glass would keep you from enjoying the natural color of the wine.

And, although this is not critical, most people find that very thin glass conveys a sense of luxury and elegance that isn't present with a thick, heavy wine glass.

Just for fun, I recently auditioned a set of four expensive crystal glasses from Riedel Crystal, trying a good Rioja (notes below) and an inexpensive French white wine in each of four different glasses purportedly designed to showcase, respectively, Chardonnay, Sauvignon Blanc, Bordeaux and Burgundy. (The glasses are pictured above in our HTML edition; plain-text subscribers may click to the picture at www.wineloverspage.com/wineadvisor/glasses.shtml.)

Frankly, I couldn't detect a huge difference in the way each of the glasses presented either wine. In the case of both wines, the glass that seemed to show off the aromas and flavors best was the large, tall "Bordeaux" glass - third from left in the picture - an oversize vessel that if filled to the top would hold 20 ounces of wine. If you're looking for a classy glass that will show off your wine at its best, the Riedel "Bordeaux" or any tall, large-bowled, high-quality glass of this general size and shape should serve you well. Similar glassware, at a lower price, is available from a number of producers including Mikasa and Spiegelau.

Do you have a favorite wine glass? Tell me your story in E-mail to wine@wine-lovers-page.com. I regret that the growing circulation of the "Wine Advisor" makes it difficult for me to reply individually to every note, but I'll answer as many as I can; and please be assured that all your input helps me do a better job of writing about wine. Please feel free to get in touch if you'd like to comment on our topics and tasting notes, suggest a topic for a future bulletin, or just talk about wine.

If you're enjoying The 30 Second Wine Advisor, we hope you'll tell your wine-loving friends to register for their own free weekly copy at http://www.wine-lovers-page.com/wineadvisor.

30 Second Tasting Notes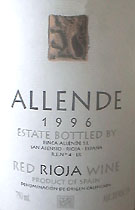 Allende 1996 Rioja ($16.99)
Inky blackish ruby in color with a day-glo purple edge, this good Spanish red breathes appetizing black-cherry aromas and elusive spicy notes of cinnamon and cloves. Big and ripe, black-fruit and fennel flavors are so fresh that the wine almost seems soft at first, but snappy acidity provides ample structure for balance. U.S. importer: Cutting Edge Selections, Cincinnati. (Jan. 23, 2000)

FOOD MATCH: Marries nicely with a vegetarian entree of "funky" mashed potatoes and turnips whipped with Stilton cheese, milk and butter and a dash of truffle oil.


New York Times praises Wine Lovers' Page

We were delighted to see a plug for The Wine Lovers' Page last Thursday in the "Circuits" section of The New York Times, declaring that our site "outdoes all others" for our sheer quantity of friendly, well-written information about wine. The article did offer one bit of constructive criticism, judging The Wine Lovers' Page "slightly disorganized." I prefer to think of it as "pleasantly cluttered," frankly, but I'd like to know what you think. To join in the fun, I've set up a special online ballot offering you the chance to tell us how organized or disorganized you think we are ... and, if you like, to send us E-mail suggestions as to how we can get it together. To add your opinion to the list, click www.wineloverspage.com/votebooth/vborg.shtml.

Wine Lovers' Voting Booth:
Best wine magazine?

Remember the old party game in which participants must choose one item to take along if they had to spend the rest of their lives on a desert island? Our current survey topic is something like that, but with a wine-related twist: If you had to choose just one wine magazine that you consider best, which would it be? The ballot offers a choice of 17 representative publications, plus a fill-in-the-blank option if we left your favorite out. If you haven't done so already, this is your invitation to drop by our Wine Lovers' Voting Booth and cast your vote.

30 Second Wine Link

Unusual wines. Unusual varieties, wines from unusual places, wines with weird or funny labels. Peter May, a British wine lover who's perhaps best known as a leading authority on Pinotage with his Pinotage Club, also hosts Unusual Wine Labels, an amusing and educational site.

30 Second Advertising Partner

California Wine Club, www.cawineclub.com, is the perfect, affordable way to get two different bottles of excellent wine every month, along with its fun and fact-filled newsletter Uncorked. Commercially unavailable, these wines are like secret treasures we hand-select from California's small, award-winning wineries. Join for as many months as you like, or use The California Wine Club as a special, unique gift for friends, family, customers and colleagues. You can reach the Club at the link above or, in the U.S., by calling 1-800-777-4443.

30 Second Administrivia

This free weekly E-mail publication is distributed to subscribers every Monday. Previous editions are archived on The Wine Lovers' Page. See www.wine-lovers-page.com/wineadvisor/thelist.shtml.

You are on the subscription list because our records indicate that you registered during a visit to Robin Garr's Wine Lovers' Page. If for any reason you don't want to receive this publication, simply send E-mail to 'wine@wine-lovers-page.com' and we'll remove your name from the list. We do not use this list for any other purpose and will never give or sell your name or E-mail to anyone.

If your E-mail program is having trouble handling the images in this edition, feel free to request that we switch you from the HTML to TEXT edition ... or vice versa. We welcome feedback, suggestions, and ideas for future columns. Send us E-mail at wine@wine-lovers-page.com.

All the wine-tasting reports posted here are consumer-oriented. In order to maintain objectivity and avoid conflicts of interest, I purchase all the wines I rate at my own expense in retail stores and accept no samples, gifts or other gratuities from the wine industry.

More time for wine?

You don't need to wait for Mondays to read about wine! Drop in any time on Robin Garr's Wine Lovers' Page, where we add new tasting notes several times each week and frequently expand our selection of wine-appreciation articles, tips and tutorials.

If you'd like to talk about wine online with fellow wine enthusiasts around the world, we'd be delighted to have you visit the interactive forums in our Wine Lovers' Discussion Group. If you're from another part of the world and don't feel entirely comfortable chatting in English, visit our International Forum and introduce yourself in the language of your choice.

Vol. 2, No. 1, Jan. 24, 2000

<!TODAY'S TEXT ENDS HERE!>

Subscribe (free) to The 30 Second Wine Advisor