<!TODAY'S TEXT STARTS HERE!>

Happy New Year!


A very happy New Year's Day to you all! We will not distribute the Wine Advisor Express tomorrow, but daily bulletins will resume Wednesday (for those who are registered for the daily edition). Weekly readers will hear from us again next Monday as usual.

30 Second Wine Tasting Tip:
Are you tasting your share?


My Sonoma County pal John Ash sent me a note the other day, jocularly fretting about how Americans aren't doing our part in the worldwide wine-production sweepstakes.

According to the latest statistics from Wine Institute, a major trade association of California wine producers, the United States ranks fourth in international wine PRODUCTION. But when it comes to wine CONSUMPTION, Americans rank a puny 34th around the world per capita.

Although we make and drink a lot of wine, only a small percentage of Americans enjoy it regularly. A lot of teetotalers and an even larger number of people who drink wine only on rare occasions drag our average down to just two gallons per year (10 bottles) on average. Compare that with 16 gallons consumed annually (80 bottles) by the thirsty folks in Luxembourg; France, Italy and Portugal follow not far behind.

Among other recently recorded wine statistics, the U.S. ranks fifth in vineyard acreage (just behind Turkey); and Americans are third in total consumption (after France and Italy) consuming more than 553 million gallons of wine in 1999. But share all that among 289 million Americans, and - on average - you're looking at a nation of virtual teetotalers when it comes to wine.

This is actually a drop in rank, Ash noted: "Five years ago we were 30th. If all reliable medical evidence now shows that consuming wine (or alcohol) in moderate amounts (2-4 glasses of wine per day) is beneficial to our health, we are clearly not taking the most pleasurable route to a good, long life."

The typical Australian, by the way, consumes 2 1/2 times as much wine in a year as his American cousins. Australia ranks 18th around the world in per capita consumption. The UK, where the average citizen consumes nearly twice as much wine in a year as Americans, ranks 22nd in per capita consumption. Canada is barely ahead of the U.S. in 32nd place. The list includes 66 wine-consuming nations; Egypt ranks last with just 0.01 gallons per capita.)

For the statistics mavens among us, you'll find full details on the Wine Institute Website at the following links. (Take care to keep each link all on one line as you copy-and-paste it into your Web browser.)

What do you think? Join in a discussion on this and other topics in our interactive Wine Lovers' Discussion Group at http://www.wineloverspage.com/cgi-bin/sb/index.cgi?fn=1. Or send E-mail to wine@wineloverspage.com. I regret that the growing circulation of the "Wine Advisor" makes it difficult for me to reply individually to every note. But I'll respond to as many as I can and do my best to address specific questions. Please be assured that all your input helps me do a better job of writing about wine.

Please tell your wine-loving friends about The 30 Second Wine Advisor, and invite them to register for their own free subscription at http://www.wineloverspage.com/wineadvisor.

Wine Lovers' Voting Booth:
What's YOUR 2001 wine tally?

Now that we've pondered the rest of the world's wine consumption, how about you? For New Year's, let's pause for a moment and try to quantify our enjoyment of wine during the past year as we reprise, and slightly revise, one of our first Wine Lovers' Voting Booth topics: "How many wines did you taste during 2001?"

Pleasee note that we're only asking how many wines you TASTED. For many of us who taste wine as a hobby or business interest, the number of bottles we open might be a dangerous amount if we actually finished them all. But just for the record, and for bragging rights, we invite you to think back over all your dinners, wine tastings, tours and other events and give us your best guess.

To participate, simply drop by the Voting Booth, http://www.wineloverspage.com/votebooth, and cast your ballot.

30 Second Tasting Notes:
Two affordable Italians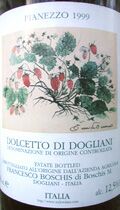 Francesco Boschis 1999 "Pianezzo" Dolcetto di Dogliani ($9.99)
Very dark garnet, almost black. Heady floral and earthy scents with pleasant "barnyard" notes. Black fruit and lemony acidity with just a whiff of something intriguingly akin to blue-veined cheese. U.S. importer: Vintner Select, Cincinnati; a Marc de Grazia Selection. (Dec. 29, 2001)

FOOD MATCH: Beef stracotto (Italian pot roast) on fennel pancakes.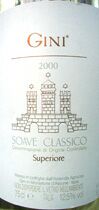 Gini 2000 Soave Classico Superiore ($10.99)
Clear bright straw color, with a pleasant scent of white fruit and almonds. Fresh and crisp, citric flavors focused on tart lemon, cleansing and long. U.S. importer: Vintner Select, Cincinnati; a Marc de Grazia Selection. (Dec. 28, 2001)

FOOD MATCH: Fine vegetarian match with a Savoy cabbage risotto.


Wine Toon Calendar 2002:
A year of wine and laughter


It's New Year's Eve, and we've still got a small supply remaining of our new Wine Toon Calendar! This monthly wall calendar, exclusive from WineLoversPage.com, contains a chuckle-worthy collection of cartoonist Chuck Stoudt's zany wine 'toons ... plus dozens of favorite wine quotes for every season, AND more than 100 highlighted Wine Web Links, two every week!

Buy one for your wine cellar and another for your office ... and they make great gifts! There's still time to get your Wine Toon Calendar before Jan. 1, but don't delay: Check out the details and order yours at http://www.wineloverspage.com/calendar/2002toon.shtml. It's only $11.99 (plus $2 shipping and handling for U.S. shipments, $4 for all other countries).

And don't forget: Your purchase helps support WineLoversPage.com and The 30 Second Wine Advisor!

30 Second Administrivia

This free E-mail publication is distributed to subscribers every Monday, and our daily Wine Advisor Express is E-mailed Tuesday through Friday. Previous editions are archived at http://www.wineloverspage.com/wineadvisor/thelist.shtml.

You are on the subscription list because you registered during a visit to Robin Garr's Wine Lovers' Page. To change your E-mail address, switch from the weekly (Mondays only) to daily distribution, or for any other administrative matters, E-mail wine@wineloverspage.com. In the unhappy event that you must leave us, please take a moment to let us know how we could have served you better. In all administrative communications, please be sure to include the exact E-mail address that you used when you subscribed, so we can find your record.

We welcome feedback, suggestions, and ideas for future columns. We do not use this list for any other purpose and will never give or sell your name or E-mail to anyone.

All the wine-tasting reports posted here are consumer-oriented. In order to maintain objectivity and avoid conflicts of interest, I purchase all the wines I rate at my own expense in retail stores and accept no samples, gifts or other gratuities from the wine industry.

More time for wine?

You don't need to wait for Mondays to read about wine! Drop in any time at the Wine Lovers' Page, http://www.wineloverspage.com, where we add new tasting notes several times each week and frequently expand our selection of wine-appreciation articles, tips and tutorials. If you'd like to talk about wine online with fellow wine enthusiasts around the world, click to our interactive, international Wine Lovers' Discussion Group forums, http://www.wineloverspage.com/forum.

Vol. 3, No. 50, Monday, Dec. 31, 2001

<!TODAY'S TEXT ENDS HERE!>

Subscribe (free) to The 30 Second Wine Advisor