<!TODAY'S TEXT STARTS HERE!>

Season's Greetings!


My warmest holiday wishes to you all for Christmas, Hanukkah, Kwanzaa, Ramadan, Winter Solstice or whatever seasonal festival you celebrate in your home. There'll be no Wine Advisor Express tomorrow or next Tuesday, New Year's Day, but we'll publish the rest of the week and next Monday as usual.

30 Second Wine Tasting Tip:
Lead crystal: Is it safe?


It's the holiday season, and festive gatherings may prompt us to pull out and polish our finest table service ... the china, the silverware, and of course the crystal glasses and fancy decanter.

But wait! What's this warning notice?

A reader sent me a note the other day, worried because his prized new crystal wine glasses came packaged with a ominous warning that they may "contain chemicals known to the state of California to cause cancer, birth defects or other reproductive harm."

Naturally he was concerned: "I hate to send them back, but if I am going to get lead poisoning from enjoying my wine, I will stick with regular glass."

Here's the story: California's voters in their wisdom passed a law in 1986 - Proposition 65 - requiring product warnings on any consumer item that contains anything that may cause cancer or birth defects. Lead is on the warning list, and appropriately so: In sufficient quantity, it's a killer.

Lead is toxic, not only in large doses but even, over the long term, in small but continuing doses. That's why lead-based paint and lead as a gasoline additive have been phased out; and lead-foil capsules on wine bottles have been banned in the U.S. since the early 1990s. And yes, fine crystal glassware contains lead oxide, a 300-year-old technology intended to make glassware brilliant, clear and strong.

But the California electorate probably erred on the side of excess. The U.S. federal government prohibits the sale of dinnerware that releases lead in amounts greater than 2,000 parts per billion. Canada and many other countries have similar requirements. But California's law requires warning labels on any dishware that releases lead in amounts greater than 224 parts per billion.

Is this much stricter measure necessary? Or does California's law fall into the same silly-season category as the warning printed on auto-windshield sun screens advising motorists not to drive with the screen in place?

In the opinion of most experts, there's no need to worry about using lead crystal glassware to serve wine. Tests indicate that only a minimal amount of lead "leaches" from lead-crystal glassware into wine in the glass. However, it's prudent to avoid using crystal decanters for longer-term storage, especially for stronger drinks like liquors or even fortified wines like Port or Sherry, which over time may extract enough lead from the glass to be a health concern.

I think the Canadian government has the right approach, outlined in its "Health Canada" Website under "Lead Crystal And Your Health:"

To reduce your exposure to lead, here are some simple steps to follow:
Do not store alcoholic or non-alcoholic beverages in crystal decanters - use decanters only for serving.
Soak new crystal in vinegar for 24 hours and follow by a thorough rinsing before the first use to remove some of the surface lead.
Do not wash crystal in a dishwasher as the harsh detergents can increase the release of lead.
To reduce a child's exposure to lead, do not serve children drinks in crystal glasses or drink from crystal if you are pregnant.
Limit the use of crystal to special occasions.
Want to read more? The Health Canada page about lead crystal and health is at http://www.hc-sc.gc.ca/english/pdf/iyh/leadcrystal_e.pdf (PDF file, requires Adobe Acrobat). The California Safe Drinking Water And Toxic Enforcement Act Of 1986 (Proposition 65) is detailed at http://www.oehha.ca.gov/prop65/law/p65.html.
What do you think? Join in an active discussion on this topic in our interactive Wine Lovers' Discussion Group at http://www.wineloverspage.com/cgi-bin/sb/index.cgi?fn=1&tid=24249. Or send E-mail to wine@wineloverspage.com. I regret that the growing circulation of the "Wine Advisor" makes it difficult for me to reply individually to every note. But I'll respond to as many as I can and do my best to address specific questions. Please be assured that all your input helps me do a better job of writing about wine.
Please tell your wine-loving friends about The 30 Second Wine Advisor, and invite them to register for their own free subscription at http://www.wineloverspage.com/wineadvisor.
30 Second Tasting Notes:
Good value red for a party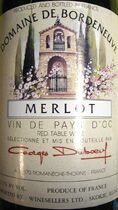 Domaine de Bordeneuve 2000 Merlot Vin de Pays d'Oc ($6.99)
This Languedoc Merlot comes from Georges Duboeuf, a producer best known for his ubiquitous, tutti-frutti flavor Beaujolais. This one's a crowd-pleaser, simple but fresh and abundantly fruity, sold at a price that makes it a natural for casual enjoyment at parties and gatherings where the focus is as much on socializing as on wine appreciation; it's simple enough that it doesn't require contemplation, but shows sufficient balance and flavor interest that you won't be embarrassed to uncork it. Very dark ruby in color, it offers a fresh scent of cherries. Soft and supple, cherries continue on the palate, nicely structured with soft balancing acidity. U.S. Importer: Winesellers Ltd., Skokie, Ill. (Dec. 21, 2001)

FOOD MATCH: Its simple, fruity quality made it a quaffable partner with a variety of party buffet fare, from goat cheese wrapped in prosciutto to Brie in puff pastry to thick-sliced ham to spicy meatballs.

WEB LINK: You'll find Georges Duboeuf's Website at http://www.duboeuf.com/. Click the French or British flag icon to read it in the language of your choice.


Bonus Tasting Note:
This week's Champagne

During the holiday season, I will offer occasional tasting reports on Champagnes and other festive sparkling wines. Because these fine wines tend to exceed the Wine Advisor's usual budget range for wines of value, I present them as "bonus" extras in addition to our regular wine notes.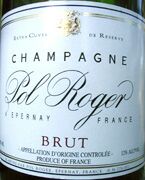 Champagne Pol Roger non-vintage Brut ($29.99)
Clear bright gold, rich color likely signals Pinot in the blend; pinpoint, persistent bubble stream. Appetizing aromas, toasty and fruity, fresh apple butter and a hint of cocoa. Creamy mouthfeel, crisp and long. Delightful Champagne in the full-bodied style, a personal favorite. U.S. importer: Frederick Wildman and Sons Ltd., NYC. (Dec. 20, 2001)

FOOD MATCH: Surprisingly well-matched with a simple omelet stuffed with diced red bell peppers and onions.

WEB LINKS: The importer's Website is at http://frederickwildman.com/, with a fact sheet on Pol Roger non-vintage Brut at http://frederickwildman.com/wildmansite/wmphp/wine.php3?wine_id=260.


Great Last-Minute Gift:
Burghound.com


Looking for last-minute holiday shopping ideas? If you have a Burgundy enthusiast on your list, it would be hard to imagine a more appropriate gift than a year's subscription to the online or print edition of Burghound.com.

Even if you've put off buying until the last minute, you can place your order today and have your recipient receive notification and password information by E-mail within 24 hours ... even on Christmas Day!

Burghound.com is the result of my friend Allen "Burghound" Meadows's lifelong passion for the wine of Burgundy. He has been collecting the wines of Burgundy and visiting the region for more than 20 years; last year alone, he spent almost three months visiting, researching, tasting, exploring and evaluating these great wines. Burgundy is his obsession.

His quarterly newsletter, Burghound.com, is for all Burgundy enthusiasts - whether newly enthusiastic or grizzled old guzzlers. Because Burgundy is so fiendishly complex, so frustratingly inconsistent and maddeningly difficult to separate the real deal from the look-alike pretenders, he has created Burghound.com to make understanding Burgundy easier.

For information on subscribing to this market-leading Burgundy newsletter, simply click to http://www.Burghound.com.

Wine Toon Calendar 2002:
A year of wine and laughter


As the New Year approaches, we've still got a small supply remaining of our new Wine Toon Calendar! This monthly wall calendar, exclusive from WineLoversPage.com, contains a chuckle-worthy collection of cartoonist Chuck Stoudt's zany wine 'toons ... plus dozens of favorite wine quotes for every season, AND more than 100 highlighted Wine Web Links, two every week!

Buy one for your wine cellar and another for your office ... and they make great gifts! There's still time to get your Wine Toon Calendar before Jan. 1, but don't delay: Check out the details and order yours at http://www.wineloverspage.com/calendar/2002toon.shtml. It's only $11.99 (plus $2 shipping and handling for U.S. shipments, $4 for all other countries).

And don't forget: Your purchase helps support WineLoversPage.com and The 30 Second Wine Advisor!

Join me on a trip to
the Rhone and Provence


I invite you to join me next June in a seven-day journey through the southern Rhone Valley and Provence, sponsored by French Wine Explorers, a high-quality American tour company that specializes in wine tours of France.

Lauriann Greene and Jean-Pierre Sollin, sommeliers-conseil who live in France, will join me to present this tour, which will feature a week of in-depth exploration of the wines of these two beautiful regions.

The tour is limited to 16 participants, so reservations will remain open only until these places are filled. For more information, click to the details at http://www.wineloverspage.com/tour.

30 Second Administrivia

This free E-mail publication is distributed to subscribers every Monday, and our daily Wine Advisor Express is E-mailed Tuesday through Friday. Previous editions are archived at http://www.wineloverspage.com/wineadvisor/thelist.shtml.

You are on the subscription list because you registered during a visit to Robin Garr's Wine Lovers' Page. To change your E-mail address, switch from the weekly (Mondays only) to daily distribution, or for any other administrative matters, E-mail wine@wineloverspage.com. In the unhappy event that you must leave us, please take a moment to let us know how we could have served you better. In all administrative communications, please be sure to include the exact E-mail address that you used when you subscribed, so we can find your record.

We welcome feedback, suggestions, and ideas for future columns. We do not use this list for any other purpose and will never give or sell your name or E-mail to anyone.

All the wine-tasting reports posted here are consumer-oriented. In order to maintain objectivity and avoid conflicts of interest, I purchase all the wines I rate at my own expense in retail stores and accept no samples, gifts or other gratuities from the wine industry.

More time for wine?

You don't need to wait for Mondays to read about wine! Drop in any time at the Wine Lovers' Page, http://www.wineloverspage.com, where we add new tasting notes several times each week and frequently expand our selection of wine-appreciation articles, tips and tutorials. If you'd like to talk about wine online with fellow wine enthusiasts around the world, click to our interactive, international Wine Lovers' Discussion Group forums, http://www.wineloverspage.com/forum.

Vol. 3, No. 49, Monday, Dec. 24, 2001

<!TODAY'S TEXT ENDS HERE!>

Subscribe (free) to The 30 Second Wine Advisor