<!TODAY'S TEXT STARTS HERE!>

30 Second Wine Tasting Tip:
To swirl or not to swirl?


Do you swirl before you sniff? Many of us who enjoy wine swirl our glasses so habitually that we automatically do it whether we're drinking wine or iced tea or chocolate milk.

The idea behind swirling is simple and sensible: Rocking and turning your glass so the wine spins up and coats the sides is a good way to "open up" the wine's aromas. The thin coating of wine that you've spun onto the inside walls of the glass evaporates rapidly, releasing volatile aromas. Insert nose, sniff, and you can enjoy much of what the wine has to offer before you take the first taste.

This is so much a part of the wine-tasting tradition that it's customary to fill wine glasses less than half full, leaving plenty of room to slosh and sniff.

But many experts now advise that you sniff before you swirl, particularly you're taking a taste to approve the wine before it's poured.

According to Ralph Hersom, the sommelier at Le Cirque 2000 in New York City, (quoted in a recent article in Wine Enthusiast magazine), because swirling accentuates the appealing volatile aromas in wine, it may briefly cloak the unpleasant musty stench of a wine afflicted by a bad natural cork, perhaps persuading you to accept a wine that should have been rejected.

Even when the wine is sound, many experts say, smelling the wine both before and after swirling is one more way to enhance your enjoyment, as you compare the difference in aroma before and after. You'll find that some wines don't change much with swirling, while others gain an altered personality. Like a lot of other wine-tasting tricks, it's not mandatory to spend time with this. Like most other hobby interests, you don't HAVE to analyze your wine in order to enjoy it. But if this kind of thing appeals to you, try it next time you pull a cork. Pour the wine, sniff it, then swirl before you sniff again, and see whether you can detect a difference.

Care to comment on this week's topic? You'll find an active discussion of the issue on our interactive Wine Lovers' Discussion Group at http://www.wineloverspage.com/cgi-bin/sb/index.cgi?fn=1&tid=23922. Or send E-mail to wine@wineloverspage.com. I regret that the growing circulation of the "Wine Advisor" makes it difficult for me to reply individually to every note. But I'll respond to as many as I can and do my best to address specific questions. Please be assured that all your input helps me do a better job of writing about wine.

Please tell your wine-loving friends about The 30 Second Wine Advisor, and invite them to register for their own free subscription at http://www.wineloverspage.com/wineadvisor.

30 Second Tasting Notes:
Value Languedoc red

Although prices of some well-known labels have begun to escalate, the Coteaux du Languedoc ("Coat-toe duh Lang-guh-dawk") in Southern France remains one of the better sources for red wines of real value; and today's wine - a blend of Syrah, Grenache, Cinsaut and Mourvedre from Sylvain Fadat's Domaine d'Aupilhac - is a particularly good example.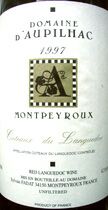 Domaine d'Aupilhac 1997 Montpeyroux Coteaux de Languedoc ($14.99)
Very dark ruby, almost black. I tried the two-step "nosing" method and found deep cherry and blueberry scents at first, which gained intensity and added herbal notes after swirling. Full and tart in flavor, black fruit and fragrant pepper, softly but perceptibly tannic. A "rustic" but complex and interesting wine, excellent with food and worth putting away for a few years of cellar time. U.S. importer: Kermit Lynch Wine Merchant, Berkeley, Calif. (Dec. 9, 2001)

FOOD MATCH: The wine's earthy and fruity flavors make it a fine match with light lamb meatballs with a puree of potatoes, turnip and celeriac.

WEB LINK: I can't find a Website for the producer, and perhaps surprisingly, Kermit Lynch doesn't have one. But you might enjoy a wine consumer's report of a visit to the winery, in Andy Abramson's "Road Reports" on WineLoversPage.com: http://www.wineloverspage.com/roadreports/road6.shtml.


California Wine Club
has a gift for you!


The California Wine Club wants to give you a Holiday gift! Send a California wine adventure to four or more people and earn a One-Month Subscription for yourself!

Your gift recipients will receive two bottles of award-winning wine, hand-selected from the best of California's small, family-owned wineries. Each month is just $32.95 per month plus shipping. Send as many months as you wish! Each shipment also includes a fun and entertaining eight-page newsletter, Uncorked!

Call (800) 777-4443 or visit the California Wine Club website at http://www.cawineclub.com. Ask about specially discounted prices on gifts of 3, 6, 9 and 12 months. Be sure to mention The 30 Second Wine Advisor to get your One Month Subscription!

Delivery is limited to locations where interstate wine shipping is permitted by law.

2000 Years Ferreira's Port Vintage


A.A. Ferreira, S.A., is celebrating its 250th anniversary this year with the presentation of two limited collections of Vintage Port Wine, providing all collectors, scholars and lovers of wine and Port wine with a unique opportunity to enhance their wine cellars.

2000 Years Ferreira's Vintage Port Cabinet is made up of 24 bottles of Vintage Ferreira Port Wine, whose summed ages amount to 2,000 years in 2001.

250 Years Ferreira's Vintage Port Cabinet is made up of 6 bottles of Vintage Ferreira Port Wine, whose summed ages amount to 250 years in 2001.

Come and visit these exclusive collections at www.2000yearsvintage.com by clicking to http://www.wineloverspage.com/wineadvisor/porto.html.

Bonus Tasting Note:
This week's Champagne

During the holiday season, I will offer occasional tasting reports on Champagnes and other festive sparkling wines. Because these fine wines tend to exceed the Wine Advisor's usual budget range for wines of value, I present them as "bonus" extras in addition to our regular wine notes.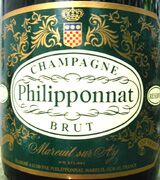 Champagne Philipponnat non-vintage "Royale Reserve" Brut ($29.99)
Very pale gold in color, with a fine, constant stream of pinpoint bubbles. Crisp apples and subtle buttered toast aromas lead into a tart and cleansing flavor, creamy yet delicate; it's toward the lighter end of the Champagne style spectrum, but elegant and balanced. The wine gains increasing complexity as it warms in the glass; more toast and a hint of cocoa appear. U.S. importer: Ex Cellars Wine Agencies Inc., Solvang, Calif. (Dec. 8, 2001)

FOOD MATCH: It makes an excellent pairing with a slice of medium-rare veal roast served on an airy "pancake" of chopped spinach and pureed celeriac.

WEB LINK: You'll find the winery Website at http://www.champagnephilipponnat.com/; click the flag icons for English or French.


30 Second Administrivia

This free E-mail publication is distributed to subscribers every Monday, and our daily Wine Advisor Express is E-mailed Tuesday through Friday. Previous editions are archived at http://www.wineloverspage.com/wineadvisor/thelist.shtml.

You are on the subscription list because you registered during a visit to Robin Garr's Wine Lovers' Page. To change your E-mail address, switch from the weekly (Mondays only) to daily distribution, or for any other administrative matters, E-mail wine@wineloverspage.com. In the unhappy event that you must leave us, please take a moment to let us know how we could have served you better. In all administrative communications, please be sure to include the exact E-mail address that you used when you subscribed, so we can find your record.

We welcome feedback, suggestions, and ideas for future columns. We do not use this list for any other purpose and will never give or sell your name or E-mail to anyone.

All the wine-tasting reports posted here are consumer-oriented. In order to maintain objectivity and avoid conflicts of interest, I purchase all the wines I rate at my own expense in retail stores and accept no samples, gifts or other gratuities from the wine industry.

More time for wine?

You don't need to wait for Mondays to read about wine! Drop in any time at the Wine Lovers' Page, http://www.wineloverspage.com, where we add new tasting notes several times each week and frequently expand our selection of wine-appreciation articles, tips and tutorials. If you'd like to talk about wine online with fellow wine enthusiasts around the world, click to our interactive, international Wine Lovers' Discussion Group forums, http://www.wineloverspage.com/forum.

Vol. 3, No. 47, Monday, Dec. 10, 2001

<!TODAY'S TEXT ENDS HERE!>

Subscribe (free) to The 30 Second Wine Advisor