<!TODAY'S TEXT STARTS HERE!>

30 Second Wine Tasting Tip:
Rehabilitating Petite Sirah


California's Petite Sirah grape traditionally hasn't received a great deal of respect beyond a small corps of loyalists.

Because of its similar name, Petite Sirah is sometimes mistakenly assumed to be a form of the Syrah grape of France (which the Australians call "Shiraz").

In fact, it is a different grape entirely. For years, the conventional wisdom has been that Petite Sirah is actually the French Durif, a variety that most critics airly dismiss as a "lesser" grape. The chances are that the name was chosen consciously, perhaps to encourage the comparison, when California growers began planting it some 120 years ago.

Recent studies using DNA analysis, however, suggest a more confusing scenario in which a number of different and not necessarily related vines have been identified as Petite Sirah: A few prime patches are now actually thought to be genuine Syrah; some are Durif, some Peloursin (another obscure southern French grape that may be one parent in a cross that produced the original Petite Sirah), and still others may be "field blends" of anonymous old vines growing intermingled in the vineyard.

In other words, when you buy a Petite Sirah, you may not be quite sure just what's in the bottle.

But whatever it is, its image seems to be improving. Even those who dismiss Petite Sirah as rather one-dimensional and simple will usually acknowledge that it makes a gutsy, robust, full-bodied and tannic red, a fine accompaniment with red meat, games and strong cheeses, capable of cellaring for many years and eventually evolving into something more complex. When you think about it, that description offers a lot to like. Moreover, wine makers are learning to tame some of Petite Sirah's wildness to make a big but enjoyable wine with abundant fruit that can carry a good component of oak to add flavor interest and spice.

If you haven't tried a Petite Sirah lately, you might give it another chance. Do you have a favorite? Post a comment about it on our interactive Wine Lovers' Discussion Group, http://www.wineloverspage.com/cgi-bin/sb/index.cgi?fn=1, or tell me about it in an E-mail to wine@wineloverspage.com. I regret that the growing circulation of the "Wine Advisor" makes it difficult for me to reply individually to every note. But I'll respond to as many as I can and do my best to address specific questions. Please be assured that all your input helps me do a better job of writing about wine.

Please tell your wine-loving friends about The 30 Second Wine Advisor, and invite them to register for their own free subscription at http://www.wineloverspage.com/wineadvisor.

30 Second Tasting Notes:
A fine Petite Sirah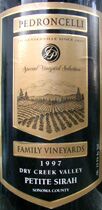 Pedroncelli 1997 Dry Creek Valley Sonoma County Petite Sirah ($14.99)
Inky blackish-purple in the glass, typical of this variety; it breathes plummy, grapey aromas and sweet oak, with a hint of brown sugar in a forward, appealing scent. Big and full, mouth-filling black fruit and caramel flavors; a lemon-squirt of acidity and distinct but palatable tannins give it structure. Very interesting wine, more complex than many young Petite Sirahs; it would be well worth putting a few aside to see how they age. (Dec. 1, 2001)

FOOD MATCH: I turn again to Fred Plotkin's "La Terra Fortunata," full of recipes and lore of Friuli-Venezia Giulia, for a hearty lamb stew with onions that makes a fine match for this robust red.

WEB LINK: You'll find the Pedroncelli Website at http://www.pedroncelli.com/.


250 Years Ferreira´s Vintage Port Cabinet


Made up of six bottles of Vintage Ferreira Port Wine, whose summed ages amount to 250 years, in 2001. The Vintages presented on this collection are from the harvest 1863, 1917, 1990, 1994, 1995, 1997.

Come and visit these exclusive collections at www.2000yearsvintage.com by clicking to http://www.wineloverspage.com/wineadvisor/porto.html.

Wine Lovers' Voting Booth:
Best values from France?


A single bottle of 2000 Chateau Petrus might set you back $1,000, and you'll find plenty of triple-digit wines in Bordeaux and Burgundy. France may lead the world in wine quality. But is it reasonable to look to France for VALUE?

We think so, and we suspect that you do, too. That's what this week's Wine Lovers' Voting Booth is all about, as we ask you to survey the wine-making map of France and tell us, "What French wine region provides the best value?" Please click to http://www.wineloverspage.com/votebooth to cast your "vote" and compare your opinion to those of wine lovers from around the world.

Windows of Hope report


Quite a number of you responded generously when we invited you to contribute to the Windows of Hope Family Relief Fund, a non-profit charity established to raise money for the families of workers at Windows on the World and other food-service workers lost in the Sept. 11 World Trade Center tragedy.

I thought you would be interested in a report from Michael Skurnik Wines, which was instrumental in setting up this effort:

* Windows of Hope raised just over $2 million, and was fortunate to have The Community Service Society of New York (CSS) volunteer its expertise and services to assist with needs assessment and fund disbursement. CSS has been in operation for 150 years, helping residents of New York City in need.

* Last week, each of the 120 families identified as beneficiaries of the Windows of Hope Family Relief Fund received their first disbursement of $10,000 each.

* Now, two specially appointed case workers will meet with each family to assess their further needs. The remainder of the funds will be disbursed accordingly. Many other services are being offered to the families free of charge, including grief counseling and financial counseling. A Holiday party is also planned for the families this month.

Michael Skurnik said: "I would like to thank all of you who have supported The Windows of Hope Fund for your kindness, thoughtfulness, generosity and solidarity in the face of difficult times. Wishing all of us a Happy Holiday and a better, safer New Year!"

Wine Tasting 101:
Champagne!


Learn to taste wine analytically in a friendly, supportive environment where there are no "wrong" answers. This month, celebrating the approaching holiday season and New Year's Eve, we're featuring Champagne. Click to Wine Tasting 101, http://www.wineloverspage.com/forum/wt101.shtml, for information on participating in this free online wine-education community.

Bonus Tasting Note:
This week's Champagne

During the holiday season, I will offer occasional tasting reports on Champagnes and other festive sparkling wines. Because these fine wines tend to exceed the Wine Advisor's usual budget range for wines of value, I present them as "bonus" extras in addition to our regular wine notes.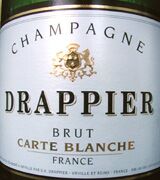 Champagne Drappier non-vintage "Carte Blanche" Brut ($31.99)
Clear light gold, with a persistent stream of pinpoint bubbles, this fine Champagne presents an inviting aroma of milk chocolate and fresh apples. Mouth-filling and creamy, it offers fresh apple-jelly and toast flavors with crisp, pleasantly cleansing acidity. U.S. importer: Wine Markets International, Inc., Woodbury, N.Y. (Dec. 2, 2001)

FOOD MATCH: Fashioning a light meal to complement Champagne, I came up with a simplified version of lamb quenelles (light "meatballs" of ground lamb, bread crumbs and egg) on a thick soup of celeriac, leeks and potato with a distinct dash of white pepper.

WEB LINK: You'll find the winery Website at http://www.champagne-drappier.com/; follow the national flag icons to pages in French, English, German or Spanish.


30 Second Administrivia

This free E-mail publication is distributed to subscribers every Monday, and our daily Wine Advisor Express is E-mailed Tuesday through Friday. Previous editions are archived at http://www.wineloverspage.com/wineadvisor/thelist.shtml.

You are on the subscription list because you registered during a visit to Robin Garr's Wine Lovers' Page. To change your E-mail address, switch from the weekly (Mondays only) to daily distribution, or for any other administrative matters, E-mail wine@wineloverspage.com. In the unhappy event that you must leave us, please take a moment to let us know how we could have served you better. In all administrative communications, please be sure to include the exact E-mail address that you used when you subscribed, so we can find your record.

We welcome feedback, suggestions, and ideas for future columns. We do not use this list for any other purpose and will never give or sell your name or E-mail to anyone.

All the wine-tasting reports posted here are consumer-oriented. In order to maintain objectivity and avoid conflicts of interest, I purchase all the wines I rate at my own expense in retail stores and accept no samples, gifts or other gratuities from the wine industry.

More time for wine?

You don't need to wait for Mondays to read about wine! Drop in any time at the Wine Lovers' Page, http://www.wineloverspage.com, where we add new tasting notes several times each week and frequently expand our selection of wine-appreciation articles, tips and tutorials. If you'd like to talk about wine online with fellow wine enthusiasts around the world, click to our interactive, international Wine Lovers' Discussion Group forums, http://www.wineloverspage.com/forum.

Vol. 3, No. 46, Monday, Dec. 3, 2001

<!TODAY'S TEXT ENDS HERE!>

Subscribe (free) to The 30 Second Wine Advisor